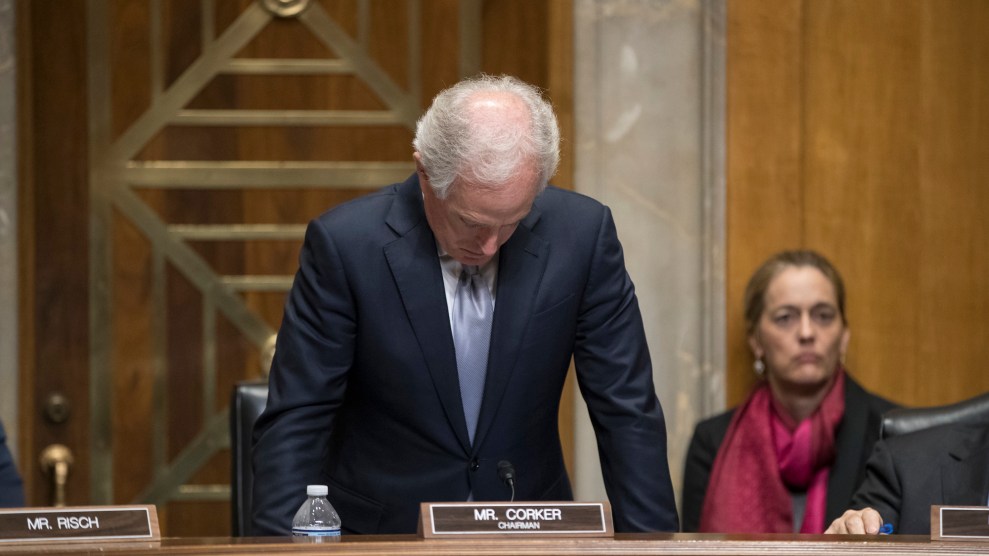 Fight disinformation:
Sign up
for the free
Mother Jones Daily
newsletter and follow the news that matters.
President Donald Trump can only lose two votes in the Senate if he hopes to push through a massive corporate tax cut before the midterm elections. On Tuesday morning, the president doubled down on doing everything he can to lose one of them.
In a string of tweets, Trump mocked Sen. Bob Corker's (R-Tenn.) stature, called him "incompetent," and said he couldn't get elected dog catcher. Trump's comments came in response to Corker saying on Tuesday that Trump should leave writing tax legislation to Congress. On Monday, Trump tweeted that there will be no changes to 401(k) plans.
Bob Corker, who helped President O give us the bad Iran Deal & couldn't get elected dog catcher in Tennessee, is now fighting Tax Cuts….

— Donald J. Trump (@realDonaldTrump) October 24, 2017
…Corker dropped out of the race in Tennesse when I refused to endorse him, and now is only negative on anything Trump. Look at his record!

— Donald J. Trump (@realDonaldTrump) October 24, 2017
Isn't it sad that lightweight Senator Bob Corker, who couldn't get re-elected in the Great State of Tennessee, will now fight Tax Cuts plus!

— Donald J. Trump (@realDonaldTrump) October 24, 2017
Sen. Corker is the incompetent head of the Foreign Relations Committee, & look how poorly the U.S. has done. He doesn't have a clue as…..

— Donald J. Trump (@realDonaldTrump) October 24, 2017
…the entire World WAS laughing and taking advantage of us. People like liddle' Bob Corker have set the U.S. way back. Now we move forward!

— Donald J. Trump (@realDonaldTrump) October 24, 2017
Corker fired back, as he has before, by saying that Trump's untruths have turned the White House into an adult daycare center.
Same untruths from an utterly untruthful president. #AlertTheDaycareStaff

— Senator Bob Corker (@SenBobCorker) October 24, 2017
Corker has previously said he will not vote for tax reform if it adds to the deficit. Last week, Corker voted for a budget resolution that allows the Senate to add $1.5 trillion of deficit spending over 10 years in order to fund tax cuts. But the senator has not yet said whether he will vote for the final tax cut package. (An initial estimate from the nonpartisan Tax Policy Center showed that nearly 80 percent of the benefits from Republicans' tax framework would go to the top 1 percent of Americans.)
Corker followed up later Tuesday morning, telling reporters that Trump is not even particularly good at being untruthful. "You would think he would try to focus on things where there wasn't a witness, but the whole world is a witness to these untruths," he said. When asked if Trump is a liar, Corker said his family hasn't used that word.
Corker added that Trump's principal legacy will be his "debasing" of the nation. When CNN asked Corker if he would support Trump again, he responded: "No, no way."