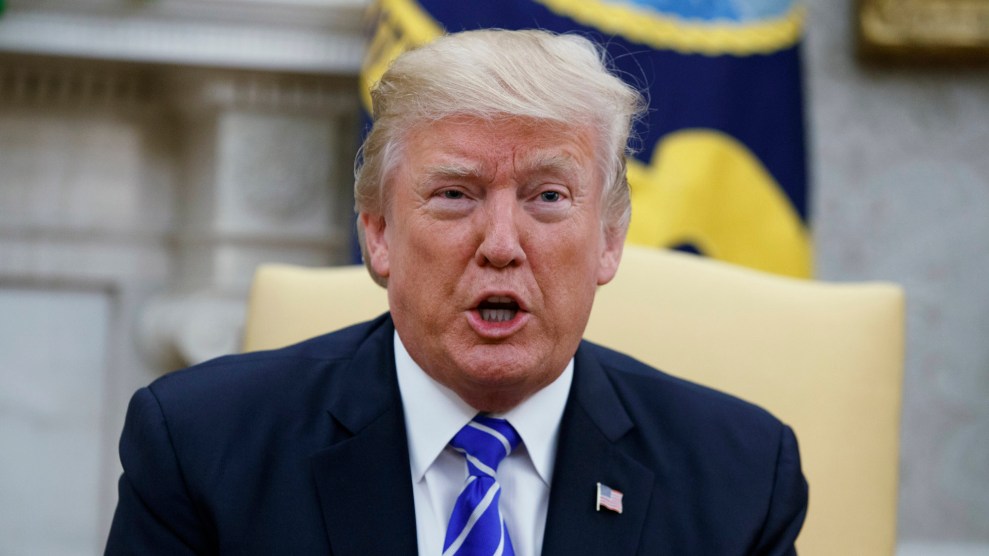 Fight disinformation:
Sign up
for the free
Mother Jones Daily
newsletter and follow the news that matters.
In a bizarre late-night email exchange, President Donald Trump's top White House lawyer working on the Russia scandal, Ty Cobb, said that he was serving in the White House because "more adults" were needed there and noted that he had made a financial sacrifice in order to take the job.
Cobb, a high-profile Washington, DC, lawyer well-known for defending companies and individuals facing government investigations, was put on the White House payroll by Trump in July. His mission: to serve as counsel handling matters related to the assorted Russia investigations under way. The hiring of Cobb, a distant relative of the famous baseball player whose name he shares, was widely regarded as an acknowledgement that White House counsel Don McGahn, a specialist in elections and fundraising law, was not equipped to deal with the expanding Russia scandal, as well as a response to problems within Trump's team of outside lawyers. One of those attorneys, Marc Kasowitz, a longtime legal hand for Trump, earned a dose of bad press when a story broke revealing that he had sent profanity-laced and threatening emails to a stranger who had urged him to quit Trump's legal crew. Soon after, Kasowtiz reduced his role as Trump's lead outside lawyer. 
Cobb's appointment was a sign that Trump—who has denounced the Russia scandal as "fake news" and the various probes as a "witch hunt"—was concerned about the Russia-related inquiries. He signed up Cobb, who boasts extensive criminal defense expertise, days after the news hit that Donald Trump Jr., Jared Kushner, and Paul Manafort—Trump's closest advisers—had met privately in June 2016 with a Kremlin emissary who was supposed to share with them dirt on Hillary Clinton. 
Cobb has not said much publicly since taking the post. He did draw media attention this past weekend when he took issue with a story by a Business Insider reporter and emailed her, "Are you on drugs?"
But on Tuesday night, in a combative email exchange with a stranger, Cobb explained why he took the job and stated that he had given up millions of dollars in annual income to join the Trump White House. He also noted he might not hold the job for long. 
Cobb's interlocutor was, improbably, the owner of a Washington noodle shop called Toki. This restauranteur, Jeff Jetton, has been something of a mixer or an amateur investigator in the Russia scandal. On his own initiative, he has reached out to players in the controversy—including Carter Page and Sergei Millian—and published interviews with them on a pop-culture blog called Brightest Young Things. As the Daily Beast reported in May, "Jetton also began a correspondence with Paul Manafort's alleged one-time travel partner to Ukraine after finding her name mentioned in one of the Manafort daughter's hacked texts." Jetton provided his emails with Cobb to Mother Jones. 
On Tuesday evening, Jetton emailed Cobb out of the blue, having figured out Cobb's White House email address. The two had never met or corresponded.
Jetton started off aggressively, asking Cobb, "How are you sleeping at night? You're a monster." Cobb replied, "Like a baby." Jetton ratcheted up: "Like a human baby or a baby monster? I envy you, with your ability to catch a good night's zzzs. Despite all of the havoc you and your ilk are causing." In this note, Jetton continued in an obscene vein, using graphic sexual terms to describe what he considered to be Cobb's sycophantic relationship with Trump. Cobb replied, "Enjoy talking to the Secret Service."
At this point, one might expect Cobb to be done with his email intruder. But the correspondence continued into the night. Jetton wrote, "Are you suggesting I have done something wrong?" He accused Cobb of having "sick pizzagate fantasies," adding, "You're disgusting." Cobb's reply was brief: "More for the Secret Service." Jetton parried, "You keep talking about the secret service as if they are your Schutzstaffel, Ty. As if I should be afraid." And Jetton threw in more obscenity, referring to Cobb performing a sexual act on Trump.

Still, Cobb kept replying. "More for you to deal with—deranged impotent and unimportant[.] hope you get help!" Cobb wrote Jetton. The noodle shop owner countered with more vulgar sexual references and outrage that Cobb was (in his view) threatening to sic the Secret Service on him. Cobb answered, "See this is the height of paranoia. Help yourself. Call some one who loves you and ask them to commit you. You may not be a bad person, but get the help you need. Best wishes."
It could have also ended there. But Jetton pushed on, telling Cobb that he was "probably going to lose access to affordable healthcare" and that Trump was busy "screwing everyday Americans." Now Cobb seemed to lose his patience or his temper. He responded:
Dude U have no idea! I walked away from $4 million annually to do this, had to sell my entire retirement account for major capital losses and lost a shitload to try to protect the third pillar of democracy. Your hate I will never understand as an American. Hope you get help!
Jetton was not sympathetic. He shot back:
Omg I'm so sorry that you had to give up your cush job with tasty perks to crush the hopes and dreams of everyday Americans by figuring out technicalities to try to get your idiot boss out of his crimes and treasons. There is no vioilin small enough to play the rightful tune that captures the correct amount of sorrow that I feel for you right now. How will your children eat without that 4 million coming in each year? Perhaps Manafort can lend you some dough. Sycophant. 
At this point, the conversation took an odd turn. After Cobb noted that Jetton had a "weird and disconnected view" but hoped he had a good doctor, Jetton asked Cobb to tell him how he justified working in the Trump White House. "If you cared I would," Cobb wrote. Adopting a more sympathetic tone, Jetton replied, "I care more than anyone else. Trust me on that. I'm listening."

Cobb responded, "Not sure that's true but can say assertively the more adults in the room will be better. Me and Kelly among others. Over and out."
Cobb was referring to retired Gen. John Kelly, the White House chief of staff. And he seemed to be saying that the Trump White House did not have enough "adults" in its ranks and that was why it was important for Cobb to be working there. 
Jetton responded with civility:
If you knew me you'd understand that despite my gradeschool humor I'm as capable of polite discourse and dialogue as anyone. I'm actually genuinely curious as to what drives folks like you to give up their legacies and careers to stand side by side with him. Especially given the white supremacist dog whistles and heartless immigration tactics. Please explain. I take back the fellatio references. Can't promise I'll seek medical help though.
Cobb took it down a notch, too, and continued to justify himself to Jetton:
Forgiven—you should check out my record, Chairman of the Grand Canyon Trust, largest donor to Mercy Corps, significant donor to Historically black colleges, Feed the Children and other needy and important groups to the tuber of over $4 million in last ten years, among others. Three pillars of govt. All deserve a defense. Particularly with phony allegations and fake news. I am on't be here for long but will be I my piece against bullshit Russian bullshit that hurts us now and is totally political limiting Russian cooperation against [North Korea]. This shit is real and real time. Got to go: Best, Ty. 
It was now 10:00 pm, and the back and forth had been going on for two and a half hours. Jetton signed off, too: "Alright, I will check it all out tomorrow. Let's chat soon after I've had a chance to look at all this stuff. Im off to bed. Sleep well, amigo. Like a baby."
It's unlikely there will be a follow-up conversation. 
Asked by Mother Jones about the exchange on Wednesday morning, Cobb said, "I was trying to turn someone who appeared angry into a friend. And privately. My bad. This was what I believed to be a private conversation. There are many pros and talented people in the White House. I am proud to be there. It was not for public consumption but it appears I was catfished." He noted he was "disappointed" that Mother Jones would report on these emails. 
In response to a request for comment, White House press secretary Sarah Sanders said, "I can attest that Ty has been nothing but professional and helpful to the entire team and we are all working together well and glad he is part of the administration."
In a statement, Jetton expressed no sympathy for Cobb:
Just as Mr. Cobb feels obligated by some warped sense of duty to the three pillars of government to add rocket fuel to Tump's bastardized version of democracy, it's our duty as citizen to speak up and voice our displeasure at every chance we get. I have done nothing wrong. Make no bones about it, if you are standing besides these monsters you are one of them. I do not care if you donated money to charity or registered as a Democrat, if you throw your principals away to board the train, you're one of them…I do not feel sorry for Cobb and the capital losses on his retirement accounts. He's made his bed and he can sleep it. And he seems to do so quite comfortably.
Perhaps the most intriguing piece of information Cobb shared with Jetton was that he won't be in the White House "for long." He didn't explain that any further. But if he continues to have these sorts of exchanges with people he doesn't know, that prediction will likely prove correct.