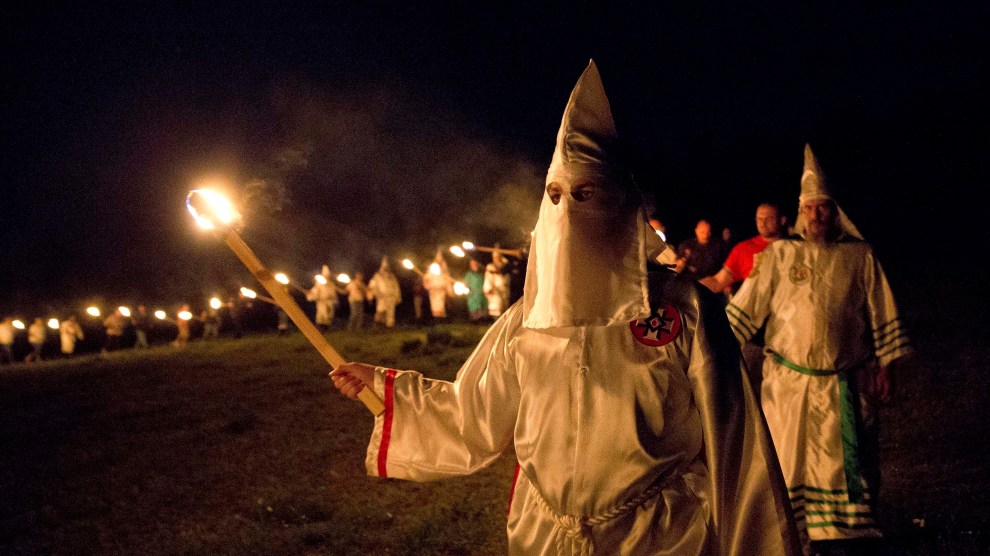 Fight disinformation:
Sign up
for the free
Mother Jones Daily
newsletter and follow the news that matters.
On Tuesday, Congress passed a joint resolution condemning the deadly "domestic terrorist attack" and other violence perpetrated in August by far-right extremists in Charlottesville, Virginia. The resolution urged President Donald Trump to reject far-right hate groups and "to use all available resources to address the threats posed by those groups."
In contrast to Trump's various equivocating comments about the violence a month ago—calling some white nationalists in Charlottesville "very fine people" and pointing a finger at the media and the "alt-left"—the congressional resolution makes plain what fomented the crisis:
[O]n the night of Friday, August 11, 2017, a day before a White nationalist demonstration was scheduled to occur in Charlottesville, Virginia, hundreds of torch-bearing White nationalists, White supremacists, Klansmen, and neo-Nazis chanted racist, anti-Semitic, and anti-immigrant slogans and violently engaged with counter-demonstrators on and around the grounds of the University of Virginia in Charlottesville.
The resolution—which the White House has indicated Trump will sign—describes how a car attack by a neo-Nazi sympathizer killed peaceful counterdemonstrator Heather Heyer and injured multiple others. It notes that far-right extremists are organizing rallies in other cities, and calls on Trump to deploy the US Justice Department and Homeland Security to address "the growing prevalence of those hate groups in the United States."
Trump may finally be forced to sign off, literally, on a full-throated rejection of far-right extremism. But will he really marshal the resources of the federal government to confront what many experts consider a growing threat?
On Wednesday, Trump met in the Oval Office with Republican Sen. Tim Scott of South Carolina, who drew notice in the wake of Charlottesville for saying that Trump's response had "compromised" the president's "moral authority." Press secretary Sarah Huckabee Sanders told reporters that the conversation focused on "potential solutions moving forward to bring the country together," and that Trump continues to condemn hatred, bigotry, and racism "of all forms." (At the same press conference, Sanders also called for the firing of high-profile ESPN sportscaster Jemele Hill, who'd recently called the president a white supremacist, saying hers was "one of the more outrageous comments that anyone could make.")
Sen. Scott told CBS News that he came away from the meeting believing that Trump had "reflected" on the controversy and felt that his comments had been misconstrued. But according to CNN, Scott also said Trump expressed no regret about his remarks on Charlottesville—and once again tried "to convey that there was an antagonist on the other side."
That fits with Trump's take on the matter at a campaign-style rally in Phoenix on August 22. Pulling notes from the pocket of his jacket and launching into a long rehash of how he'd responded to the mayhem in Virginia, Trump made clear where he stood: The "totally dishonest" media "was having a hard time" with his condemnation of the violence "because I said everything. I hit 'em with neo-Nazi. I hit them with everything. I got the white supremacists, the neo-Nazi. I got them all in there, let's see. KKK, we have KKK. I got them all. So they're having a hard time."
In the speech, Trump never mentioned his various remarks blaming the left for the violence, instead attacking "anarchists" and "antifa" once again. And he warned his fervent, predominantly white audience that critics of Confederate statues "are trying to take away our history and our heritage."
Such language could be stirring more danger.
As I reported recently, Trump's own deputy attorney general, Rod Rosenstein, sounded the alarm about the far right in a speech to law enforcement leaders. "Violent domestic extremists have plotted attacks on government buildings, businesses, and houses of worship," Rosenstein said at a national security conference on August 30. "They have planned and carried out assassinations of police officers, judges, doctors and civil rights leaders. They have acquired biological and chemical weapons, illegal firearms, and explosives. They have carried out killing sprees that terrorize local communities."
"In Charlottesville," Rosenstein continued, "we saw and heard people openly advocate racism and bigotry. Our Department of Justice responded immediately. We are working closely with local authorities on potential criminal civil rights prosecutions. The First Amendment often protects hateful speech that is abhorrent to American values. But there can be no safe harbor for violence."
Yet it is far from clear whether Trump shares the view that right-wing terror is a priority. His administration reportedly has planned to defund programs for countering violent far-right extremism, and to focus exclusively on "radical Islamic terrorism." Trump's recently departed aide Sebastian Gorka made a point of denying the existence of lethal right-wing terrorism in the United States, despite numerous recent examples to the contrary, from the church massacre in Charleston to the car attack in Charlottesville. Trump himself has a history of downplaying and ignoring the threat.
A spokesman for Trump's National Security Council reached on Wednesday declined to answer my questions about whether Trump will prioritize the right-wing terror threat as Congress has urged.
Not long before Rosenstein's speech, high-level US law enforcement officials and other security leaders told me they'd grown increasingly alarmed about the threat from the far right. The day of the car attack in Charlottesville, the FBI reportedly foiled a plot by a right-wing extremist to blow up a building in Oklahoma City. Trump's handling of Charlottesville poured fuel on the fire, one top official told me, calling it a "disaster" and suggesting that it could help set the stage for more violence down the road. "There are real concerns," the official said, "about where it leads the country."