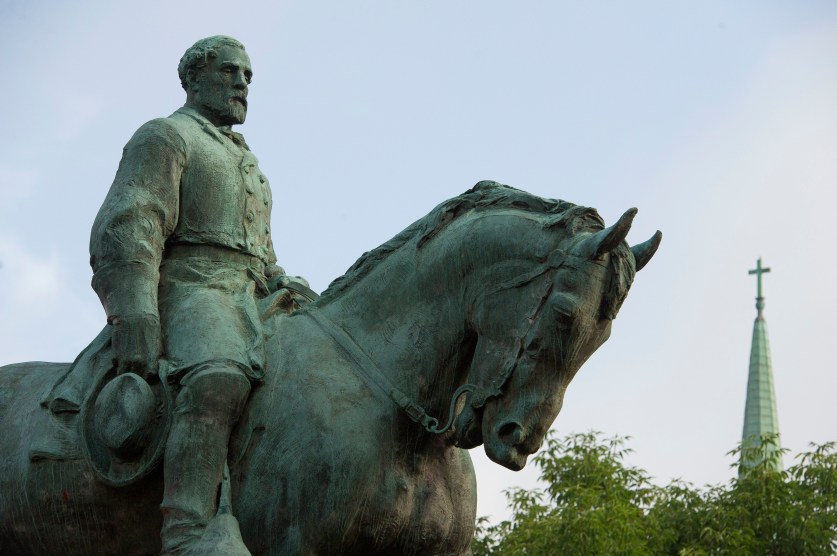 Fight disinformation:
Sign up
for the free
Mother Jones Daily
newsletter and follow the news that matters.
Last week was a watershed moment in the history of Confederate statues. After the deadly protests over the removal of a statue of Robert E. Lee in Charlottesville, Virginia, pressure mounted across the country to take these statues down. At least 10 statues have been removed in four states, and many more are slated for removal.
For nearly a week after the protests, one mayor was conspicuously absent from this list: Mike Signer, mayor of Charlottesville.
Signer was part of a minority that pushed to keep the statues in place and contextualize them—by adding plaques that would explain the role of slavery in the Confederate cause, and by placing statues of slaves around them so that their glory might diminish. Signer shared this position with many historians and politicians—including Virginia Gov. Terry McAuliffe and Levar Stoney, the mayor of Richmond, Virginia—and he reiterated his stance as late as Tuesday. But on Friday afternoon, he flipped his position in favor of removal. McAuliffe and Stoney changed their stances, too.
And they're not the only ones. The events in Charlottesville prompted not only a wave of Confederate statue removal, but another wave of "contextualists" becoming pro-removal.
Anne Marshall, a historian at Mississippi State University and a Kentucky native, came out on Wednesday as being pro-removal. "In a present in which racial injustice pervades the everyday life of so many, it turns out that no amount of historical context is particularly helpful," she wrote in Lexington's Herald-Leader. "Contextualization in public spaces doesn't work because monuments speak not only to who had power in the past, but who has it in the present." Kevin Levin, a historian and former high school history teacher in Charlottesville who keeps the blog Civil War Memory, expressed a similar reawakening on Saturday.
For Blain Roberts and Ethan Kytle, professors of history at California State University-Fresno and experts on historical memory, the final nail in the coffin of their belief to keep Confederate statues in place came when watching TV coverage of Charlottesville. "It's hard to watch that and not start really probing this idea of whether or not contextualization is the way to go and can work," says Roberts.
They had feared that taking down the monuments would erase "a Jim Crow culture that for decades and decades and decades celebrated falsifying the Civil War" and "put up these monuments to bolster their own segregationist campaign."
But the Charlottesville protests proved that the costs of keeping monuments to the Confederacy—the hurt that they caused African Americans walking past, their potential to serve as a moral justification for a burgeoning white supremacist movement—outweighed any potential benefits. As Kytle puts it, "We adapted to new evidence."
Still, they hope that cities will go beyond simply removing the monuments and acting as if they never existed. Roberts and Kytle point to New Orleans, which removed four Confederate monuments this spring; where there was once a towering statue of Robert E. Lee, right on the edge of downtown, there is now just an empty pedestal. They see that pedestal as an opportunity. Put something there that commemorates the city's role as one of the most important ports for slave ships, they suggest. "I'm fearful we're going to be moving toward moving all of these monuments but not putting anything new up," says Kytle.
The Whitney Plantation in Louisiana, the country's first slavery museum, may serve as another model. Whereas other Southern plantations host weddings and highlight the lives of their former owners, the Whitney has plaques, statues, and artwork honoring the thousands of slaves who died on its land and in greater Louisiana. "We can use this sacred place to reflect not just where we've been, but where we must go as a country," said New Orleans Mayor Mitch Landrieu at the plantation's opening in 2014.
One of the more surprising things the Charlottesville protests brought to light was how monuments to the Confederacy weren't limited to former Confederate states. Monuments were removed in Los Angeles, Brooklyn, and Madison, Wisconsin. Boston has boarded up its one Confederate monument as it decides where to move it. "No one's going to forget that New Orleans embraced the lost cause, that Charleston embraced the lost cause, that Charlottesville did," says Kytle. "But most people wouldn't realize that the lost cause took hold out West, that it took hold in the Northeast and Ohio and Wisconsin. So that could be a casualty of this movement."
Last year, Charlottesville's City Council created a commission to explore how the city could modify its public spaces in order to tell "the full story of Charlottesville's history of race." On Halloween, the commission voted 6-to-3 to keep the city's Confederate statues in place and contextualize them. All five of the commission's white members (plus one black member) voted to keep the statues; all three of the nay votes were cast by black members.
"Let African Americans have something to say about these issues," says Charles Ross, a history professor and director of the African American studies program at the University of Mississippi. He's on the university's Committee on History and Context, which last year reworded the plaque of a Confederate statue on campus in order to highlight its racist origins.
If Ross had it his way, all those symbols would be removed or relocated, not merely put in context. To him, the contextualization argument doesn't hold weight; if you want to learn about the Confederacy or Jim Crow, he says, read a book. Don't force black students and faculty to walk by symbols of their state-sponsored oppression. "Particularly for African Americans," he says, "when you walk by those structures, they are clearly reminders that you have a certain amount of limited status in this society."
The university has made some strides in making its campus more welcoming for its black students, whose representation has doubled over the last 20 years. Its old mascot—a white plantation owner—has been replaced with a black bear, and last year the athletic department decided not to play "Dixie" at football games.
But it has a ways to go. The university's nickname, "Ole Miss," is a term slaves would use for a plantation owner's wife. While tailgates aren't the all-white, Confederate flag-adorned affairs Ross recalls from his first weeks on campus in 1995, they aren't the most inclusive, either. And there are still other Confederate statues, street names, and buildings that haven't been removed or contextualized.
Ross hopes that changes—if only incrementally—post-Charlottesville. Classes began on Monday, and a student uprising, paired with pressure from the media, could tip the scales in favor of eradicating Confederate symbols—even on a campus like UM.
"We have to have a whole new definition of who we are," says Ross.
This article's description of the University of Mississippi's former mascot has been corrected.