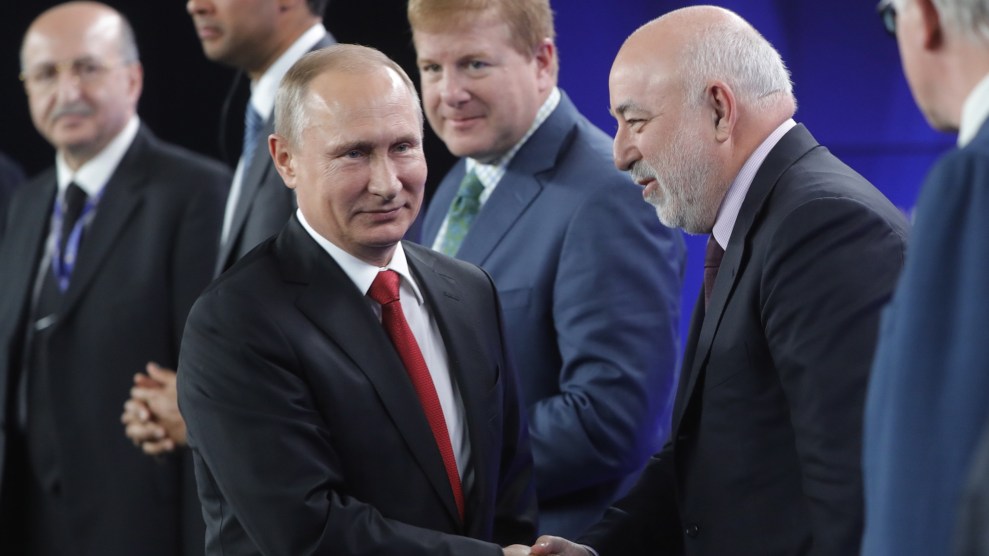 Fight disinformation:
Sign up
for the free
Mother Jones Daily
newsletter and follow the news that matters.
Earlier this year, as Donald Trump, then the president-elect, was trying to counter news reports that Russia had hacked the 2016 election to help him win, the head of the American affiliate of a Russian conglomerate owned by a Russian oligarch with close ties to President Vladimir Putin made a huge donation to Trump.
On January 6—the day the US intelligence community reported that Putin had approved a covert operation to subvert the presidential campaign to assist Trump—Andrew Intrater donated $250,000 to Trump's inauguration fund.
Intrater is the CEO of Columbus Nova, the lone American affiliate of Renova Group, a giant holding company owned by oligarch Viktor Vekselberg with interests in the metals, mining, chemical, construction, transport, energy, telecommunication, and financial sectors in Russia and abroad. Intrater, an American citizen, is Vekselberg's cousin, according to filings with the Securities and Exchange Commission. In June, Intrater also made a $35,000 contribution to a joint fundraising committee for Trump's reelection and the Republican National Committee.
Intrater has no public history as a major political funder; his Trump donations dwarf his previous contributions. According to Federal Election Commission records, his only past political donations were $2,600 in 2014 to a business associate running as a Republican for Congress, $1,200 to Democratic New Mexico Gov. Bill Richardson's 2008 presidential campaign, and $250 to the late Democratic Sen. Ted Kennedy of Massachusetts in 1995. Intrater's hefty gift to the inauguration fund earned him special access to inaugural events, including a dinner billed as "an intimate policy discussion with select cabinet appointees," according to a fundraising brochure obtained by the Center for Public Integrity.
Vekselberg is one of Russia's richest men. Bloomberg recently estimated his net worth at $15.5 billion. The same month that Intrater pumped that quarter of a million dollars into Trump's inauguration bank account, Vekselberg publicly expressed hope for the lifting this year of the tough US and European economic sanctions imposed on Russia after it annexed Crimea and supported pro-Russian separatists fighting in Ukraine.
During the campaign, Trump advisers hinted at the possibility of easing or removing the sanctions. After Trump took office, his administration reportedly considered unilaterally lifting sanctions on Russia and returning diplomatic compounds seized in December as retaliation for Russian interference in the 2016 election, moves Trump aides hoped would improve relations with Moscow. The White House also unsuccessfully opposed a congressional measure to bar Trump from undoing sanctions without approval from Capitol Hill lawmakers.
Vekselberg seems to be on good terms with Putin and the Kremlin. He heads a major Russian initiative to bring high-tech businesses into the country. In December 2015, he attended a gala dinner featuring Putin that celebrated the 10th anniversary of RT, the English-language, Kremlin-cozy media outlet. (Retired Gen. Michael Flynn, then an adviser to Trump, was an honored guest at the dinner and was paid $45,000 to speak at a conference that was part of this RT celebration.) In March, Vekselberg had a one-on-one meeting with Putin to discuss infrastructure projects involving his business. (Renova is constructing an airport in southern Russia as part of the nation's preparations to host the 2018 soccer World Cup.)
Vekselberg certainly scored points with Putin with a pet project: his acquisition and repatriation to Russia of Fabergé eggs. In 2013, Vekeslberg told an interviewer he had spent more than $100 million to obtain the eggs, which once were owned by the late Malcolm Forbes. He noted that Putin personally thanked him for this: "I've seen the emotion of our president. It's important to him that a Russian citizen has brought back this important collection."
Like many Russian oligarchs, Vekselberg has faced accusations of corruption. One lawsuit claimed he used gunmen to gain control of a Siberian oil field. Two senior executives at firms controlled by Vekselberg were imprisoned last year in Russia on charges that they bribed regional officials.
In 2014, Vekselberg's Renova Group became a partner with American billionaire investor Wilbur Ross in the takeover of the Bank of Cyprus, which had held billions in deposits from wealthy Russians—some of it presumably dirty money or funds deposited there to avoid Russian taxation. The bank had failed in 2013. Ross went on to become Trump's secretary of commerce. During his confirmation hearings in February, Democratic senators sent Ross a list of questions regarding his relationship with Vekselberg. Ross has yet to answer them.
Columbus Nova, the Renova American-linked firm headed by Intrater, is a New York-based investment firm that claims more than $2 billion in investments in a variety of industries, including biofuels, real estate, health care, insurance, telecommunications, and construction.
Intrater and Renova and the Republican National Committee did not respond to requests for comment. Asked about Intrater's donations to Trump, White House press secretary Sarah Sanders said, "You would need to contact inaugural." The Trump inaugural committee did not respond to a subsequent inquiry.
Republicans were previously eager to highlight Renova and Vekselberg's contributions—but to another candidate. During the 2016 election, the Trump campaign and conservatives blasted Hillary Clinton for a link with Vekselberg because the Renova Group had donated between $50,000 an $100,000 to the Clinton Foundation. The Trump campaign issued a press release claiming that this contribution was evidence Clinton was actually the candidate in the race with "close ties" to Putin and had "sold out American interests to Putin in exchange for political and financial favors." (That press release is no longer available online.) Conservative groups and media outlets—including the National Review, Investors Business Daily, and the Wall Street Journal's op-ed page—have cited this relatively modest Renova donation as proof the Clintons were chummy with Putin's regime. In 2015, David Bossie, a conservative activist who went on to serve as deputy campaign manager for Trump, said the Clinton Foundation's connection to Vekselberg was "just another example of how the Clintons will take money from any source, good, bad, or ugly."
Besides Intrater's $250,000 donation—which has not previously been reported—Trump's inaugural committee accepted other Russia-related contributions. Russian American businessman Alexander Shustorovich and Access Industries, a firm owned by Len Blavatnik, a Soviet-born American citizen and Vekselberg's longtime business partner, each gave $1 million to finance Trump's inauguration.
Update: This article has been updated to reflect statements provided by Columbus Nova indicating that it was never a subsidiary of the Renova Group. The Renova Group and its owner, Viktor Vekselberg, were sanctioned by the Treasury Department on April 6, 2018. Columbus Nova has since said that while Vekselberg has been its largest investment client, Columbus Nova was never "owned by any foreign entity or person including Viktor Vekselberg or the Renova Group."