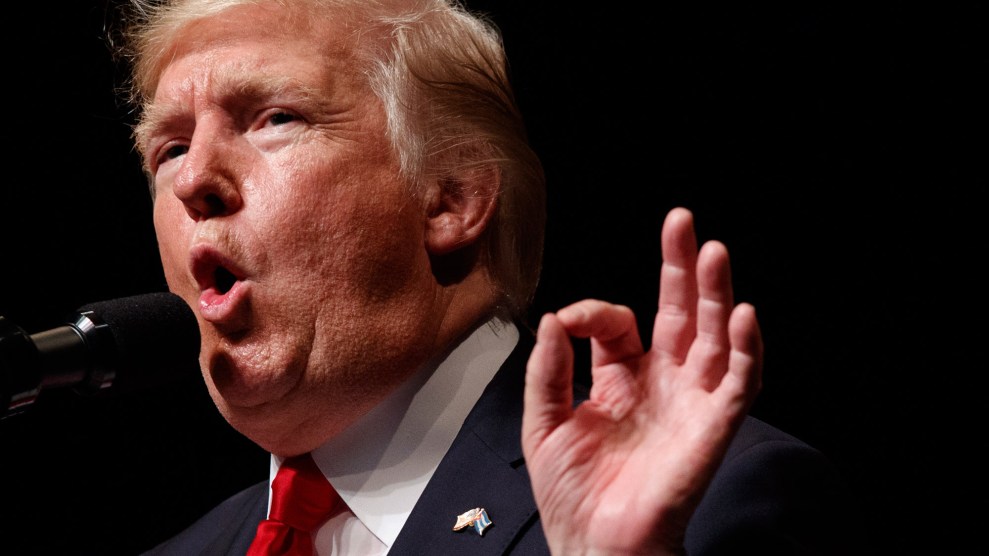 Fight disinformation:
Sign up
for the free
Mother Jones Daily
newsletter and follow the news that matters.
President Donald Trump does not directly answer questions about his campaign's or administration's interactions with Russian officials. He deflects, pointing at his opponents. (That is, when he's not outright denying the connections even exist.)
"Look what Hillary Clinton may have gotten away with. Disgraceful!" the president tweeted as his son came under fire for meeting with a Kremlin-linked lawyer during the 2016 presidential campaign with the explicit hope of obtaining negative information about the Democratic candidate. The president also complained on Twitter, "Why is that Hillary Clintons [sic] family and Dems dealings with Russia are not looked at, but my non-dealings are?"
It may sound like a defensive child's playground cry—"Look at what she did!"—but it also echoes a traditional Russian propaganda strategy called "whataboutism," a diversionary tactic that sidesteps criticism by arguing "What about them?" or "See what my opponent did!"
The technique was widely used by the Soviet Union during the Cold War in battles with the United States for moral superiority in areas of human rights, says Dmitry Dubrovsky, a Russian scholar at Columbia University's School of International and Public Affairs. For example, when the Soviet Union was criticized for actions like the imprisonment of dissidents, officials' response would be along the lines of, "What about apartheid?" The whataboutism strategy has made a comeback and evolved in President Vladimir Putin's Russia. The Kremlin is no longer arguing about who's morally superior, Dubrovsky says; now it's arguing that the morals underlying democratic ideals don't exist at all.
Putin is a master of the method. In his June interview with NBC's Megyn Kelly, he responded to questions about Russian interference in the US election by pointing back at the United States: "Put your finger anywhere on a map of the world, and everywhere you will hear complaints that American officials are interfering in internal election processes." The statement both deflects the accusation back at the United States and questions the validity of election processes worldwide.
Trump seems to have embraced this tactic—and simplistic language is key. "Whataboutism is an essential part of a human way of speaking," Dubrovsky says. "It's very childish. That's why the populist is speaking in this language. Everyone understands it quite well," he says. "The strategy is to avoid any argument and to sound like you speak from your soul."
In Trump's version of whataboutism, he repeatedly takes a word leveled in criticism against him and turns it back on his opponents—sidestepping the accusation and undercutting the meaning of the word at the same time.
To charges that his campaign colluded with Russian interference in the election, the president retorted, "Hillary Clinton colluded with the Democratic Party in order to beat Crazy Bernie Sanders. Is she allowed to so collude? Unfair to Bernie!" He used the same approach against the previous president: "The reason that President Obama did NOTHING about Russia after being notified by the CIA of meddling is that he expected Clinton would win…and did not want to 'rock the boat.' He didn't 'choke,' he colluded or obstructed, and it did the Dems and Crooked Hillary no good."
When accused of obstruction of justice in the investigation of former national security adviser Michael Flynn, Trump again appropriated the charge as a means to deflect it: "The Democrats have no message, not on economics, not on taxes, not on jobs, not on failing #Obamacare. They are only OBSTRUCTIONISTS!"
Trump even deployed a unique twist on this strategy earlier this year, defending Putin with a kind of "what about us" approach: In a February interview on Fox News, when Bill O'Reilly said "Putin's a killer," Trump responded, "We've got a lot of killers. What, do you think our country's so innocent?" In the interview, Trump did not address the underlying question: whether killing, by either nation, was a morally defensible action.
Jake Sullivan, a national security adviser to former Vice President Joe Biden, has warned in Foreign Policy that Trump's use of whataboutism undermines American leadership abroad and at home: "The American president should do something about Russia interference in America's elections because he is the American president. Full stop. But whataboutism takes away the responsibility to do the right thing."
Dubrovsky now sees whataboutism in play by several leaders around the world. "Trump, as well as Putin, as well as others, have followed this populist path," he said, pointing to French right-wing presidential candidate Marine Le Pen and the language used in Brexit as additional examples. "Russia was a pioneer of this global shift in narrative, The situation globally is to destroy the principles of human rights or democracy or international dialogue. Or to deny that such principles exist at all."
The overarching goal of whataboutism is to undermine international consensus about what actually constitutes democracy, Dubrovsky says, "to destroy the democratic values of the truth."