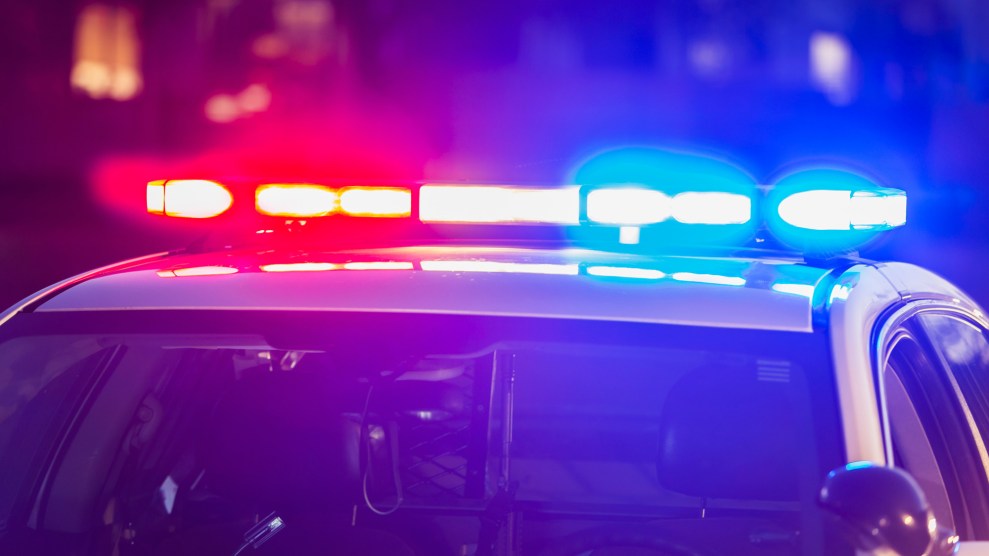 Fight disinformation:
Sign up
for the free
Mother Jones Daily
newsletter and follow the news that matters.
Cops were violating the rights of the residents of Ville Platte, Louisiana, as far back as anyone can remember. Arthur Sampson Jr. grew up in this rural community, roughly 80 miles west of Baton Rouge. Sampson, a calm 54-year-old African American man with a big laugh, recalls his own run-in with the police more than three decades ago, when he was a small-time drug dealer. "I remember selling a guy two bags of weed from my cousin's house," he says as he sits in his living room. "Turns out the guy I sold it to was undercover."
Sampson was arrested for possession and sent to the Ville Platte city jail, where he stayed for six and a half days before being charged and brought before a judge. "That's how far back this stuff goes," he says with an incredulous laugh. Many residents of Ville Platte tell similar stories: Local police officers would arrest people without probable cause, often keeping them behind bars for days without charge in what were referred to as "investigative holds." Many were not permitted to make phone calls or even shower, and throughout their stay in jail they were pressured to report on the alleged criminal activities of others.
Though he did commit a crime, Sampson claims that he was stuck in jail because the cops wanted him to snitch on other dealers. He refused. "I'm like, 'Man, y'all got me. I'm gonna take my lick.'" Sampson took his lick, receiving probation, and then joined the Navy and earned a bachelor's degree in criminal justice. Over the years, Sampson says he filed lawsuits against Ville Platte over alleged civil rights violations and racial discrimination. (The town is largely African American. The mayor is black, as is the police chief.) In 2011, the City Council implemented a walking curfew that required pedestrians to remain off the streets after 10 p.m. or face a $200 fine or jail time. Sampson and the American Civil Liberties Union sued, arguing that the law created a "monetary windfall" for the city while violating residents' right to move freely. The city backed down, but not before more than 100 people were issued citations or jailed. Today, anyone walking at night is required to wear reflective gear or face a $400 fee.
Sampson would watch news stories about federal investigations into police abuses in places like Chicago and Ferguson, Missouri, and wish the feds would come to clean up Ville Platte. Then, in 2015, Justice Department officials called him to set up a community meeting at a local church. "I was like, 'Oh my God, they finally came,'" he says.
During the Obama administration, the Justice Department began to aggressively enforce a 1994 law that grants it the power to probe local police departments accused of racial bias, excessive force, and other civil rights violations. Its investigations led to 15 reform agreements in large cities as well as smaller communities. Yet under Attorney General Jeff Sessions, these efforts to clean up troubled police forces are in peril. During his confirmation hearings, Sessions claimed DOJ investigations undermine police work—though he admitted he'd never read the scathing reports from Chicago or Ferguson. After taking office, Sessions said his department would be "reviewing" consent decrees to ensure they aligned with the Trump administration's priorities. He aggressively fought the implementation of a court-ordered consent decree in Baltimore. Even though he lost that battle, a consent decree for the Chicago Police Department still hangs in the balance. And then there's Ville Platte.
In December 2016, after nearly two years of visits, interviews, and research, the Justice Department released a brutal 17-page report detailing systematic violations of civil rights by Ville Platte's police department and sheriff's office. Investigators discovered that between 2012 and 2014, there had been more than 900 arrests leading to investigative holds. (Because the police's documentation was so shoddy, the Justice Department considered those estimates to be low.) When asked about the history of this practice, police officers stated they could not recall when it began. They explained they would often detain individuals who they had a "hunch" were involved in crime. If the detainees weren't "ready to talk," the police would hold them, sometimes for more than three days.
Some residents were jailed for a week without the ability to call a lawyer. One woman is currently suing the city for unlawfully holding her for 70 days. The goal of these extended detentions, the report found, was to obtain incriminating statements from the detainees—a violation of the constitutional rights to due process and freedom from self-incrimination. (Neither the Ville Platte Police Department nor the sheriff's office responded to requests for comment.)
Typically, after the Justice Department wraps up an investigation like this, the city enters into an agreement that compels it to overhaul its police department. So far, there has been little movement toward any changes in Ville Platte, such as officially ending investigative holds. "The question is: Is that because of the transition, or is it on purpose?" asks Christy Lopez, who was the deputy chief in the Special Litigation Section of the DOJ's Civil Rights Division from 2010 until this January. The DOJ says it is still "gathering information" on what further steps may be necessary.
"Their mentality hasn't changed," Sampson says of the local police. He's now looking for some of the hundreds of people who were illegally arrested and detained. "If their rights were violated, does that mean they ended up wrongfully convicted?" he wonders. "How can we go back to undo all this?" He's frustrated that no one has been forced to take responsibility for all those years of documented abuses. "Who's going to jail? Who is going to be charged? Who is going to be accountable? Or are we just going to…?" He rubs his hands together, suggesting that the Justice Department may simply wash its hands of Ville Platte.