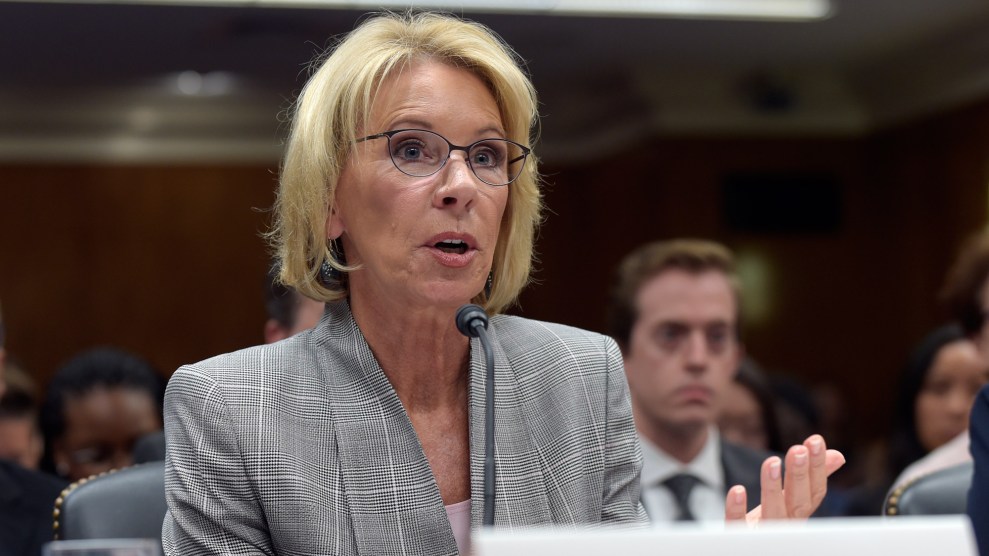 At a tense Senate hearing Tuesday, Education Secretary Betsy DeVos wouldn't commit to stripping federal funding from private schools that discriminate on the basis of sexual orientation, saying it was an issue for "Congress and the courts to settle."
"On areas where the law is unsettled," she said, "this department is not going to be issuing decrees."
DeVos' comments echoed what she said in a House hearing in May, when she notably refused to say whether federal dollars would be pulled from schools that discriminate against LGBT students. She said at the time that states and local communities would be "best equipped to make decisions and framework on behalf of their students."
But DeVos' argument didn't satisfy Sen. Jeff Merkley (D-Ore.), who argued Wednesday that federal civil rights laws that protect LGBT students can be "somewhat foggy." Federal laws protect students from being discriminated against based on race, color, national origin, disability, and gender, but the courts have yet to decide whether those protections explicitly include LGBT students.
In response, DeVos repeated a line she used throughout the hearing: that schools receiving federal funding needed to follow the law. She then added that when federal law is unsettled, it's left to Congress and the Supreme Court to decide where LGBT students fall under civil rights protections.
Merkley, however, wasn't satisfied. "I think it's important for the public to know that today the secretary of education, before this committee, refused to affirm that she would put forward a program that would ban discrimination based on LGBTQ status of students or ban discrimination based on religion," he said.
"That's not what I said," DeVos shot back. "Discrimination in any form is wrong."
The back-and-forth came in a Senate appropriations subcommittee hearing during which DeVos faced pushback from Democrats and Republicans over the president's proposal to slice $10.6 billion from the Education Department's budget.
Later in the hearing, Sen. Chris Murphy (D-Conn.) challenged DeVos on whether there would be protections in place in the administration's school choice program to make sure public dollars "don't just enrich" for-profit education organizations. He pointed to K12 Inc., a virtual school company in which DeVos and her billionaire husband had once invested. DeVos dodged the question, noting that what mattered was student performance, not the company's tax status.