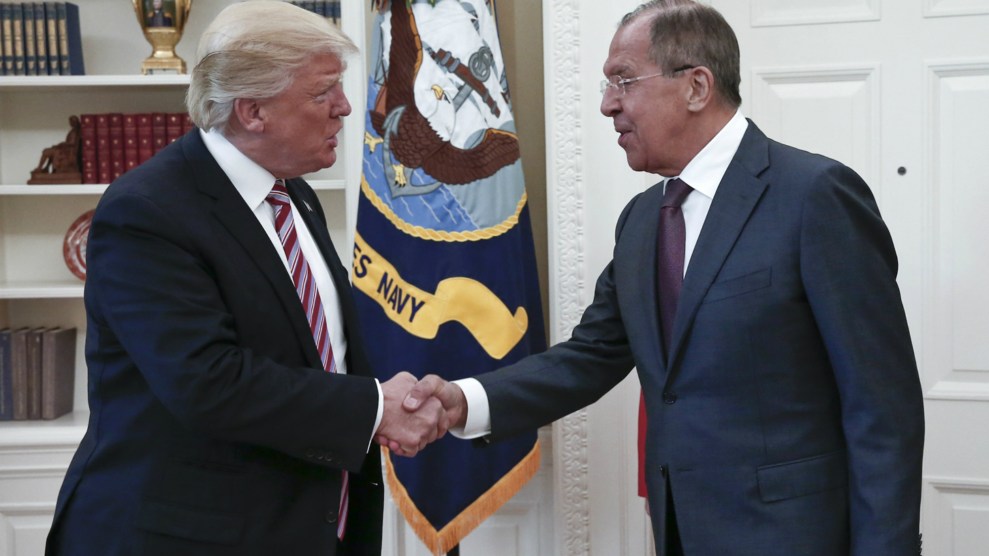 Fight disinformation:
Sign up
for the free
Mother Jones Daily
newsletter and follow the news that matters.
President Donald Trump's recent attempts to assure the public that he has no connections to Russia are raising more questions than they are answering. In the same week that he fired FBI Director James Comey for continuing to press the investigation of Russian interference in the 2016 election, Trump and his lawyers have issued an unhelpful explanation of his financial relationship with Russia.
On Friday morning, the Associated Press reported on a March letter to Trump written by two of his attorneys, Sheri Dillon and William Nelson. In the letter, they declared that a review of the past 10 years of tax returns showed no income or business involvement with Russian sources, "with a few exceptions." The exceptions they delineated included a $95 million real estate deal, and they cited undefined real estate and product sales that could add up to substantial sums.
The wording of the letter also left open the possibility that there might have been Trump financial activity involving Russians that did not need to be, or was not, reported on Trump's income tax return. For example, Trump owes more than $714 million in debt to various banks, most of which are fairly well-known institutions. But he also owes money to a mysterious LLC that he personally owns, and this entity possibly owes money to itself—meaning that Trump might have an undisclosed lender. It's not clear if information about this mysterious debt would be included on the tax returns.
In an interview with the Associated Press, Trump's lawyers refused to provide copies of the last decade of tax returns, making it impossible for reporters to confirm the lawyers' assertions or clarify what was or as not included on the tax returns.
In the letter, the lawyers noted that the "exceptions" included the 2013 Miss Universe pageant, which Trump held in Moscow, and the 2008 sale of a Florida mansion to a Russian oligarch for $95 million. Also, the lawyers said, "it is likely that [the Trump Organization] or third-party entities engaged in ordinary course sales of goods or services to Russians or Russian entities, such as sales / rentals / fees for condominiums, hotel rooms, rounds of golf, books or Trump licensed products (e.g., ties, mattresses, wine, etc.)…With respect to this last exception the amounts are immaterial."
The number of Trump-branded mattresses sold to Russian buyers might be negligible, but the sale and leasing of condos to Russian individuals or companies could represent a tremendous loophole that would be anything but "immaterial." Trump's most recent personal financial disclosure, which covers 2015 and part of 2016, lists at least $152 million in condo or land sales and income from rent on various properties. From the Trump Park Avenue property alone, Trump reported earning $44.3 million from condo sales. Trump's most significant business deal since being inaugurated was a condo sale in that building: a penthouse sold to a buyer with apparent links to Chinese military intelligence for nearly $16 million. Currently on the Trump International Realty website, there are at least four properties directly owned by Trump with listings that total $45.1 million. One of the units is also being offered for lease for $75,000 a month.
Previous reporting suggests that condo sales or fees earned from condo sales involving Russians could be quite significant. According to a Reuters report from March, at least 63 Russian passport holders purchased condo units worth at least $98 million in seven Trump-branded towers near Miami. It's not clear how much money Trump earned from the sales of those units; he did not own the buildings but did receive fees for condo sales.
An earlier investigation of Trump-branded properties in Miami by the Miami Herald showed that more than 60 percent of units in the buildings were owned by corporations, some of which shielded the identity of the buyers. One hundred and seventy units were purchased by Delaware-based or offshore corporations, entities often used to hide the purchasers. It's not clear whether Trump or his employees would have known who was pouring money into his projects through these corporations. The buyers could have been American, Russian, or any other nationality. This makes it difficult to establish exactly how much money Trump has earned from Russian sources.
The lawyers' letter also does not address any income Trump might have earned from the Trump SoHo hotel and condo development. Trump owned an 18 percent stake in the project, unlike his arrangement with the condos in Florida. So he could have earned income from condo sales. The project eventually fell apart, but the lawyers' letter does not indicate how much money, if any, Trump earned while the project was still active. Additionally, various lawsuits have alleged that Trump's two partners in this project, Russian-born businessmen, may have sought Russian financing for the project.
The letter contradicts what Trump and his own family have said about his business empire and its relationship with Russia. Trump himself has tried to do business in Russia for decades and bragged that he has "done a lot of business with the Russians." (He also notably claimed that he had met Vladimir Putin.) Earlier this week, golf writer James Dodson said that in 2013, Trump's son, Eric, told him that "we have all the funding we need out of Russia." (Eric Trump has since denied this is true.) In 2008, at a real estate conference, Donald Trump Jr. reportedly told the audience, "Russians make up a pretty disproportionate cross-section of a lot of our assets, say in Dubai, and certainly with our project in SoHo and anywhere in New York."
The full letter from Dillon and Nelson can be read below:
Here is the letter from Trump's lawyers about Russian investments. It is impossible to verify without Trump releasing his tax returns. pic.twitter.com/BispGfVHKc

— Bradd Jaffy (@BraddJaffy) May 12, 2017