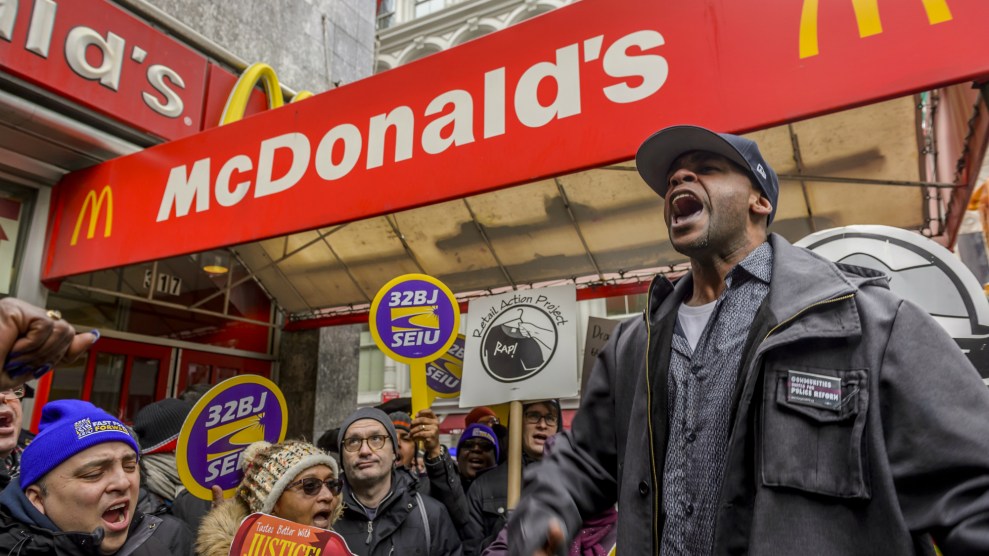 Fight disinformation:
Sign up
for the free
Mother Jones Daily
newsletter and follow the news that matters.
On April 4, 1967, civil rights leader Martin Luther King Jr. delivered a speech, titled "Beyond Vietnam: A Time to Break Silence," to a group gathered at New York City's Riverside Church. He addressed the importance of connecting the trauma faced by civilians fleeing the devastation of the Vietnam War to the struggles of black Americans fighting for equality in the United States. Arguing that materialism, racism, and militarization were all rooted in the same absence of compassion and "proneness to adjust to injustice," King said it was necessary for various social movements to work together.
One year later, King traveled to Memphis, Tennessee, to support a group of black sanitation workers who had gone on strike after two local garbage collectors were killed in a work-related accident. The striking workers argued that the incident reflected a larger pattern of neglect when it came to black employees in the city and, as conditions of their return to work, demanded better safety standards, increased wages, and recognition of their recently organized union. For King, the fight in Memphis exemplified the convergence of economic inequality and racial injustice, issues that he hoped to address nationally with his Poor People's Campaign.
On April 4, 1968, one day after addressing sanitation workers in the city, King was assassinated at the Lorraine Motel in Memphis.
Now, half a century after King's Vietnam War speech and 49 years after his death, the connections between economic and racial inequality have become part of a new national organizing effort. On April 4, 2017, Fight for $15, a national movement led by low-wage workers, and the Movement for Black Lives—a collective of racial justice and civil rights organizations focused on a range of issues including police brutality—are collaborating on a series of national actions. Marches, protests, and educational efforts aimed at promoting racial and economic justice are occurring in more than 30 cities across the country and will serve as the taking-off point for a broader set of mobilizations against recent actions by the Trump administration while highlighting issues facing marginalized communities.
"When Martin Luther King came to Memphis to fight for all of the sanitation workers, [he was fighting for] low-wage workers," says Ashley Cathey, a Fight for $15 organizer in Memphis, Tennessee, who has worked in the fast-food industry for nearly a decade. "Not only were they low-wage workers, they were African American low-wage workers…We just want to fight [for] the dream that Martin Luther King had."
According to the National Employment Law Project, blacks and Latinos are disproportionately working in low-wage industries, making up roughly 50 percent of fast-food workers. That means, according to an NELP report released last December, a $15 minimum wage would greatly aid people of color. A 2015 report from the commission tasked with understanding the root causes of community discontent in Ferguson, Missouri, suggested that raising the local minimum wage was one of many reforms that could help the city by creating "opportunities for individuals in the St. Louis region to thrive."
"Ultimately, the goals and achievements of the Fight for $15 are inextricably connected to the efforts of the Black Lives Matter movement."
"Ultimately, the goals and achievements of the Fight for $15 are inextricably connected to the efforts of the Black Lives Matter movement," the NELP report concluded.
The April 4 actions—which take place under the banner of "Fight Racism, Raise Pay"—marks the first official national collaboration between these two large social movements, but they have already collaborated on a local level. In Ferguson, low-wage workers were some of the first to begin organizing after Michael Brown was fatally shot by a police officer, joining with other community members as they voiced concerns about police violence. Kayla Reed of the St. Louis Action Council, one of the organizations affiliated with the Movement for Black Lives, explains that at the time, Fight for $15 organizers in Ferguson were "drawing a very important intersection [between] police reform, racial justice, and economic justice," issues that she says have been long-standing problems for black communities.
"Overpolicing and these [officer-involved] shootings tend to happen in impoverished communities where people are not earning the living wage and don't have access to resources like proper education and proper housing," Reed says. "We want people [to] understand that this is a continuation of a struggle that has been going on in this country for a long time."
The actions in Memphis are likely to be some of the largest of the day, with more than 1,000 activists and organizers participating in various events that will culminate in a march to the historic Lorraine Motel, which has become a memorial to King. But Memphis organizers say actions in the city are about more than honoring King's legacy. In March, the Mid-South Organizing Committee filed a lawsuit against the city of Memphis, alleging that police officers had engaged in a campaign of harassment and intimidation that included maintaining a presence outside Fight for $15 organizers' offices, following organizers after meetings, and recording peaceful protests. In one incident, organizers say they were followed by police as they drove people home from a political education event. The lawsuit also notes that several organizers have been added to a blacklist preventing them from entering the local city hall without an armed escort.
The Mid-South Organizing Committee argues that the police department's actions "plainly violate" a 1978 consent decree that barred the city of Memphis from intimidating and conducting surveillance on demonstrators. "Having police officers following organizers around clearly has a chilling effect on their activities," says Jerry Martin, a former US attorney during the Obama administration representing the Mid-South Organizing Committee in the lawsuit against the city.
Last month, the office of Memphis Mayor Jim Strickland declined to comment to reporters, citing "pending litigation," but Bruce McMullen, the city's chief legal officer, told the Associated Press that the city does not believe the lawsuit "has merit." The Memphis Police Department has defended its use of a list outlining who can enter city hall, but it has said it would review how the list is put together. Martin notes that shortly after the lawsuit was filed, dozens of names were removed from the city hall blacklist.
This week's actions will also serve as the official launch of the Beyond the Moment initiative, a series of national actions and protests scheduled to take place between April and May 1. The initiative is the brainchild of The Majority—a collaboration between more than 50 groups representing a range of issues, including immigration, LGBT rights, wage inequality, indigenous rights, racial justice, and more. On May 1, International Workers' Day, these organizations will unite for a series of protests across the country, which activists and organizers say will mark the beginning of continued collaborations at both the local and national level.
In a political moment that has seen an increase in groups mobilizing against the current administration, The Majority represents perhaps the largest coalition yet. Before the election, many of these groups worked independently to advance their goals. But the Trump administration's frequent criticism of protesters, and its advancement of policies that are in opposition to activists' objectives, has strengthened their efforts, organizers say. "We can't fight on any of these fronts without fighting on all of them," Asha Ransby-Sporn, the national organizing chair of the Black Youth Project 100, a member of both The Majority and the Movement for Black Lives, told the Associated Press recently.
This is also a time of increased pressure on activists. In recent months, Republican lawmakers in more than a dozen states have introduced, proposed, or considered new restrictions on protests. Some allow police to seize the assets of anyone attending a protest where violence occurs, while others increase the punishments against those who block highways. The legislation, which in states like North Dakota and Georgia appears to be a reaction to extended protest efforts such as #NoDAPL and Black Lives Matter, has come under increased scrutiny after Trump's inauguration.
"2017 has presented a new type of momentum," says Reed. "The Majority is focused on opening up the table to include all the different movements to really look at how can we unite together to end things that are impacting our bases and our communities."