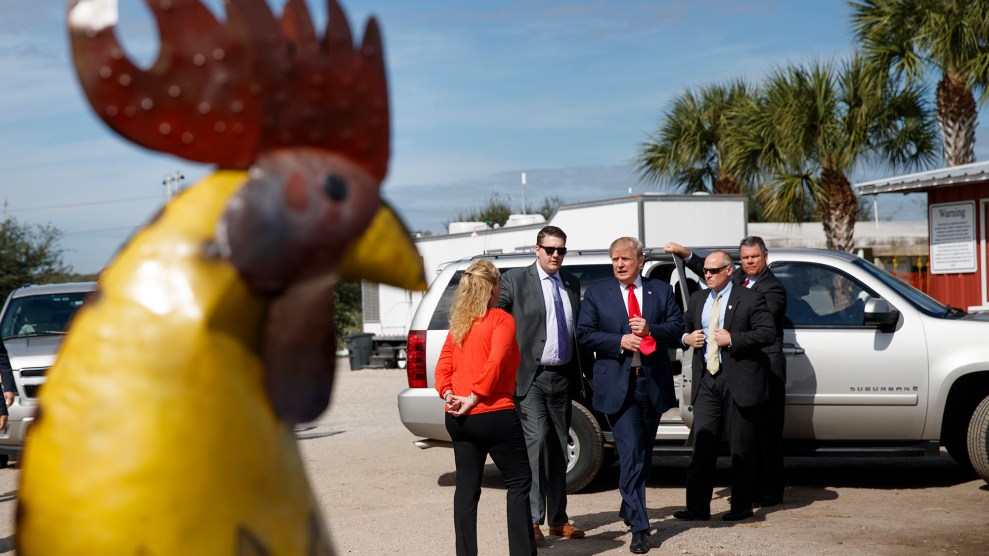 Fight disinformation:
Sign up
for the free
Mother Jones Daily
newsletter and follow the news that matters.
Members of Congress are home in their districts until next week, but when they come back to town they'll be facing an imminent government shutdown—unless they manage to pass last-minute legislation to keep federal programs funded. A shutdown now appears a little more likely thanks to some gamesmanship from President Donald Trump over Obamacare that prompted Democrats to issue threats of their own last week.
The showdown involves an Obamacare program know as "cost sharing reduction," which requires insurance companies to offer discounted copayments and deductibles to low-income people who buy health plans on the individual market. In return, the federal government makes payments to compensate insurers for this expense. Last week, Trump threatened to stop making these payments to insurers—a move that could lead to massive price spikes for millions of people and cause insurers to flee from the individual marketplaces.
"We will not negotiate with hostage takers," Sen. Ron Wyden (D-Ore.) warned.
By issuing the threat, Trump was attempting to scare Democrats into agreeing to repeal Obamacare. "Obamacare is dead next month if it doesn't get that money," Trump told the Wall Street Journal. "I haven't made my viewpoint clear yet. I don't want people to get hurt…What I think should happen and will happen is the Democrats will start calling me and negotiating."
But Trump's gambit may have backfired. Democratic leaders are now saying they might not vote to keep the government funded next week unless that funding bill includes a provision appropriating money specifically for the cost sharing reductions. "We will not negotiate with hostage takers," Sen. Ron Wyden (D-Ore.) warned last week.
Democrats may actually have a surprisingly strong negotiating position. Despite controlling both chambers of Congress, the GOP needs their help to keep the government open. Republicans will need support from at least eight Democratic senators in order to avoid a filibuster. And given House Republicans' penchant for defying party leadership, Speaker of the House Paul Ryan (R-Wisc.) might also need some Democratic votes to overcome conservative objections to the funding bill.
When it comes to the controversies surrounding Obamacare, the cost sharing reduction payments have received relatively little attention. But they are an essential component of how the law makes insurance affordable for lower-income families. For anyone who makes less than 250 percent of the federal poverty line ($30,150 for an individual, $61,500 for a family of four), the government pays insurance companies to lower out-of-pocket costs.
About 58 percent of people who purchase insurance through Obamacare's marketplaces qualify for the reduced copays and deductibles, totaling more than 7 million people. For consumers, the savings can be substantial. The Kaiser Family Foundation found that for people below 150 percent of the poverty line, average deductibles dropped from $3,609 to $255 thanks to the program. It all adds up to $7 billion in federal spending for 2017, and it's projected to rise to $10 billion next year and $11 billion in 2019.
The current debate revolves around a quirk in the way the law was written. The Affordable Care Act requires the government to reimburse insurance companies, but lawmakers apparently failed to include a provision to explicitly "appropriate" money for these payments. (It's not enough for Congress to authorize a program; under the Constitution, Congress must also appropriate funds for a program before the government can spend money on it.) The Obama administration started to dole out the funds anyway, citing a different appropriation authority, but House Republicans objected and sued. A federal judge sided with Republicans last year, though that decision was stayed pending appeal. (The details are too convoluted to explain in full here, but Vox has a great description.)
After Trump won the presidency, House Republicans asked the courts to hold off on the case, since they're hoping they can end the program by repealing Obamacare. Now, the Trump administration has until May 22 to let the court know if it still plans to appeal the ruling. If Trump chooses, the administration could unilaterally drop the case and let stand the lower court decision barring the payments.
But while the administration can choose to stop making the payments to insurance companies, insurers would still be required to offer discounted policies. On that point, the law is explicit: Insurance companies must reduce out-of-pocket costs for low-income consumers. In other words, they would still have to offer cheaper copays and deductibles—just without the government assistance they were promised.
An analysis by the Kaiser Family Foundation found that, in order to offset those lost funds, insurers would have to increase premiums by 19 percent on average. That increase would not be evenly distributed across the country, though. The rate increase would likely be far less drastic in states that expanded Medicaid under Obamacare, since Medicaid provides government-sponsored insurance to low-income people who would otherwise use the individual marketplaces. North Dakota would see the smallest premium spike if the payments to insurers stopped—a 10-percent increase. By contrast, insurance premiums would rise 27 percent in Mississippi and 25 percent in Florida and Alabama.
It isn't just Democratic politicians who are crying foul over Trump's threats. The health care industry industry last week implored Trump to maintain funding for the subsidies. In a letter to the president—signed by the American Medical Association, America's Health Insurance Plans, BlueCross BlueShield, and the US Chamber of Commerce—industry groups warned that unless Trump makes clear that he's going to continue the payments, insurers will flee the markets in 2018, and premiums for the remaining options will skyrocket.
"The most critical action to help stabilize the individual market for 2017 and 2018," the letter says, "is to remove uncertainty about continued funding for cost sharing reductions."