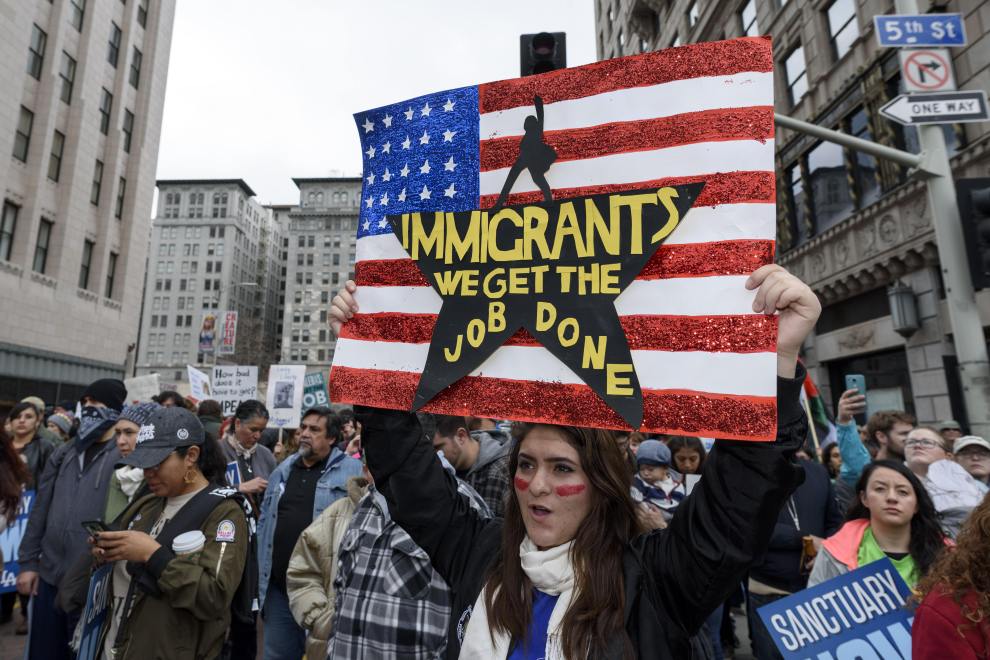 Fight disinformation:
Sign up
for the free
Mother Jones Daily
newsletter and follow the news that matters.
It's been a tough last couple of weeks for immigrant-rights advocates. In early February, Immigration and Customs Enforcement conducted a series of raids across 12 states. More than 650 allegedly undocumented immigrants were arrested that week, creating panic and anxiety among migrant communities. The Department of Homeland Security said that 75 percent of the people detained in these raids were criminal immigrants—but even if that is true, it means 25 percent of those detained had no criminal record.
Since the initial raids, ICE has arrested a domestic abuse victim seeking a protective order in Texas, a DACA recipient in Seattle who entered the country when he was 7-years-old, and a group of men outside of a church-based hypothermia prevention shelter in Virginia. A memo released Tuesday by Homeland Security provided further details on how the Trump administration will carry out immigration enforcement, with the new guidance essentially allowing the deportation of many more undocumented immigrants through expedited removal—a process in which someone person could be removed from the country on sight if they cannot provide proper documentation.
Immigrant-rights organizations are bracing themselves for the new challenges ahead under the Trump administration. "We don't know exactly how the attacks will come or where," says Salvador Sarmiento, national campaign coordinator at the National Day Laborer Organizing Network (NDLON). "If the first two weeks give us any sort of idea, they can easily ramp up deportations and they can hit record numbers. It's a world of difference when the federal government doesn't even pretend to have any sort of respect for basic notions of due process or rule of law."
In the face of these threats, activists are fighting back. Here's how Sarmiento's organization, along with other groups such as the Coalition for Humane Immigrant Rights of Los Angeles (CHIRLA) and Puente Human Rights Movement, are preparing immigrant communities to defend themselves under the Trump administration.
"Neighborhood defense"
There is no single way undocumented people can be safe, but Francisca Porchas, organizing director with Puente, a grassroots migrant justice organization in Phoenix, says it will be important for communities to work together to keep a look out for ICE and gather information on raids these next few years. She says her organization will be launching committees across the Maricopa County in Arizona. The committees will be set up as a "cop-watch"-type network where neighbors can alert one another if federal immigration agents are in their area.
"I think at this point, it's really going to be all about neighborhood defense and building tight networks of people looking out for each other," says Porchas. "Trump is not going to let us know where he is going, what areas he is hitting and so I think the tighter that we are and the closer that we're working with each other the more we are going to be able to keep each other informed and protect each other." Puente had previously used neighborhood defense committees to combat former Maricopa County Sheriff Joe Arpaio, who was notorious for his extensive raids and has been accused of racially profiling Latinos.
"One year ago, there were not a lot of organizations that were fighting for sanctuary cities and building neighborhood defense committees," says Sarmiento. "Folks are kind of rediscovering: 'Oh, we need to talk to our neighbors and form a little working group to defend ourselves and be ready for whatever comes.'" Similar models are also being used in other places around the country, such as Chicago.
Stopping the spread of false rumors
While neighborhood watches will be key for sharing information, organizers say it will be important that the information be accurate. The massive raids have led to a lot of rumors and misinformation going around social media. This is a result of high levels of anxiety among immigrant communities in the wake of Trump's inflammatory rhetoric and stepped-up immigration enforcement, advocates say. The confusion is creating challenges for organizations as they try to provide accurate information to their communities. "I know organizations are like, 'Ugh, can people please stop spreading rumors on the internet,'" Porchas says. "People are being re-traumatized." .
Two groups—the California Immigrant Youth Justice Alliance (CIYJA) and ICE Out of CA—have created shareable infographics intended to help stem the misinformation and fear spreading on social media. "This is an answer to the panic and anxiety the community is feeling now," says CIYJA's Luis Serrano. "Right now we need to sit back, think, and really organize and create different sources and community based alternatives if things were to happen. But jumping to conclusions is not the right idea."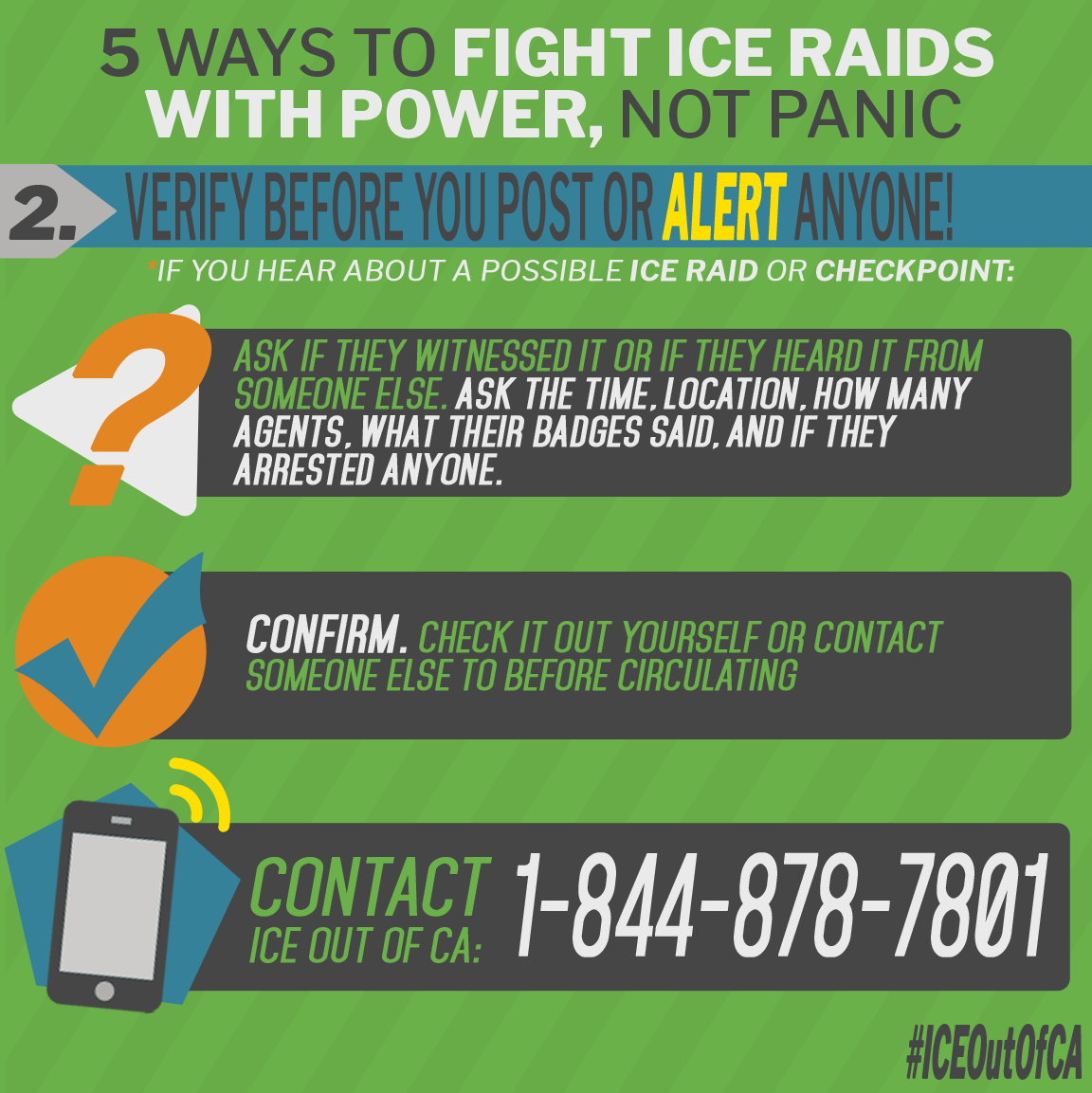 Informing immigrants of their rights
In order to deport people, ICE needs a probable cause, says NDLON Litigation Director Jessica Karp Bansal. "Even after the memos on Tuesday, know your rights workshops are going to be essential for immigrant communities protecting themselves," Bansal says. The memo and the president can't take away people's constitutional rights, Bansal explains. With several reports that even immigrants with green cards and visas have been relinquishing their legal status, advocates believe that it is important for immigrants to know their basic legal rights. "It is very important for folks to understand that they don't have to self-incriminate, that there is a due process here that they are afforded to," says Joseph Villela, policy director for CHIRLA. "That is why it is important to understand that they should not sign anything that they do not understand and not say anything that might be used against them in proceedings. That's something that most of the folks that we've worked with do not know."
"Yes, we are going to fight like hell to stop a lot of deportations. But the reality is we are also not going to be able to stop a lot of them, as well."
CHIRLA hosts a number of workshops in their offices and throughout neighborhoods in Los Angeles to help communities know the basics. For example, the group explains to immigrants that if ICE shows up at their house, they don't have to open their door unless the officers present a warrant. On CHIRLA's website, the organization offers a "Know Your Rights" video explaining the legal protections that immigrants have and printable cards with a message explaining those rights that they can attempt to use when confronted by ICE agents and law enforcement.
"Any administration can come and go, the civil and constitutional rights of individuals remain," Villela says. "I think that's what we are fighting for at the end of the day."
Bansal says "know your rights" workshops will have a greater importance under Trump. "The memo, although it basically says Trump is going to unleash the full power of his deportation force on the country, actually makes it more important to know their rights because it means we're going to have a lot of poorly trained immigration officers pounding on people's doors."
Making sure immigrants have a plan B
"Yes, we are going to fight like hell to stop a lot of deportations," says Porchas. "But the reality is we are also not going to be able to stop a lot of them, as well." In its three-day defense courses against deportations, Puente is not just letting people know what their rights if they encounter ICE officers. The group is also training people on how to prepare legal documentation in advance in case they do get detained.
"We have some cases—minors who are US citizens whose parents were detained or deported then transferred to foster care because their parent did not pick them up from school," Villela says. "We want to make sure the children stay with their family unit to the extent that can be possible." CHIRLA encourages undocumented immigrants to create a family plan—a guardianship letter that outlines who would gain custody of their children if the parents are forced to leave the country.
Puente also helps immigrants put together documents that help them figure out what do with the property they own, such as houses, in case they are placed in detention centers or deported. Porchas says it is important for undocumented immigrants to be prepared and not be in denial that the worst could happen. She points to the case of Guadalupe Rayos, who missed the cutoff mark to apply for DACA by four months. She'd had routine check-ins with ICE for years but was deported under the new administration.
Working with state and local policy
Bansal says one of the best ways organizations can help defend immigrants under Trump is through local and state policy. NDLON plans to work alongside lawmakers to make California a safe place for immigrants, supporting bills like SB 54, which would prohibit local law enforcement from helping federal immigration officials deport undocumented immigrants. The bill would also make public schools, hospitals, and courthouses safe places for undocumented immigrants. "There is very clear precedent from the Supreme Court that the federal government cannot make local police act as immigration agents," Bansal says. "The memo basically directed ICE to basically triple in size, but even then they are really heavily relying on state and local police to help them identify people for deportation."
Organizing Online
The internet has been a helpful tool for advocates to organize across the nation. Shortly after Trump was elected president, NDLON launched ALTOTRUMP.com (Spanish for StopTrump.com), where people and organizations can get a lesson on sanctuary policies and other resources, including sample meeting agendas aimed at helping people form community meetings to talk about how their community can get organized. Porchas thinks it is important for anti-deportation efforts to go beyond local communities. "There are a lot of people reaching out to us who are not organizations, who are just barely trying to figure out how to defend themselves," she says. "The world has got to see how this country is treating its immigrants. That is the value of making this so visible."