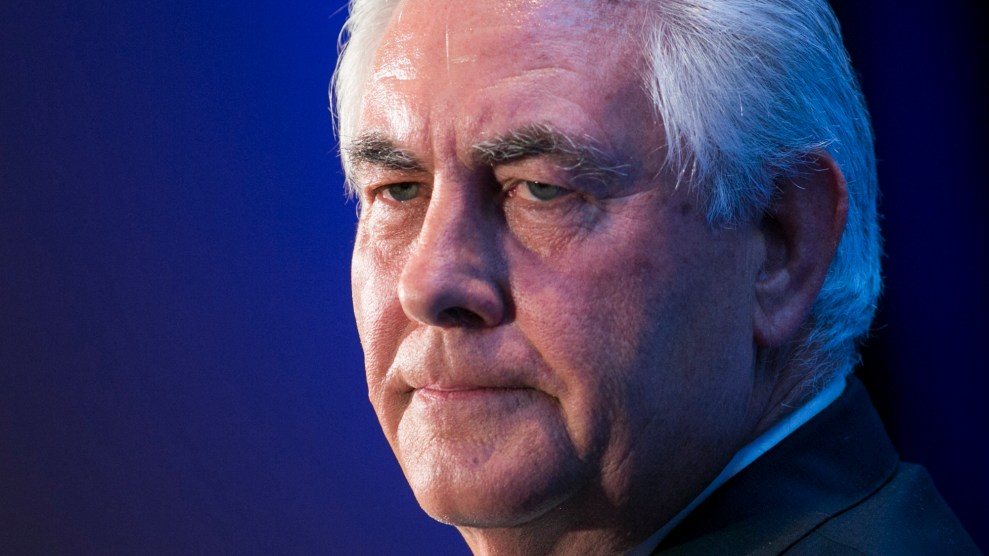 Fight disinformation:
Sign up
for the free
Mother Jones Daily
newsletter and follow the news that matters.
This week, Congress will consider whether to confirm President-elect Donald Trump's appointment for secretary of state. Trump's choice, former Exxon Mobil CEO Rex Tillerson, has come under fire for his close relationship with Russia's Vladimir Putin and his lack of government experience. As Tillerson seeks to become America's top diplomat, another aspect of his past should come under scrutiny: his former company's troubling ties to allegations of torture and other grave human rights abuses in Indonesia.
Until recently, Exxon Mobil worked extensively in Indonesia's Aceh Province, home to one of the globe's largest natural gas fields. A company executive once said that for a time, Exxon Mobil's operations in the region were "the jewel in the company's crown." Back in the 1970s, Mobil Corp.—which in 1999 merged with Exxon Corp.—obtained exclusive rights to extract gas from the area and began a joint venture with the Indonesian government to process it. The company soon started employing Indonesian soldiers to protect its operations there. But in the 1990s and early 2000s, amid a war between the Indonesian military and armed separatists in the region, some of the soldiers working for the company allegedly detained, tortured, and even killed local Indonesian people who lived and worked nearby, according to a lawsuit first filed in the United States in 2001. Another lawsuit was filed on behalf of more Indonesians in 2007 and consolidated with the first.
According to the lawsuits, one plaintiff was allegedly shot in the knee by an Exxon Mobil security official while riding his bike home from a local plantation, where he worked as a laborer. When another plaintiff tried to intervene, a security official stomped on his head. A third plaintiff said security officials shocked him in the genitals with electricity and brought him to a pit filled with human heads. Their lawyer, Terry Collingsworth of International Rights Advocates, says he's met dozens of people in Aceh with similar complaints. In response to my questions about the case, a spokesman for Exxon Mobil told me the company "categorically denies any complicity in any human rights abuses committed by Indonesian soldiers during an Indonesian civil war."
The Indonesian plaintiffs say top Exxon Mobil executives in Texas knew or should have known about the alleged abuse but kept the soldiers on board for security anyway. During the first few years of abuse outlined in the complaints, Rex Tillerson was executive vice president of Exxon Mobil Development Company, a subsidiary that develops Exxon Mobil's exploration and production projects around the world. He became senior vice president of Exxon Mobil Corp. in 2001 and its president a few years later. Exxon Mobil says Tillerson had no responsibility for operations in Aceh "during the relevant time period." Collingsworth says there's no evidence to suggest he was making decisions related to the retention of Indonesian soldiers as security.
But it's hard to believe Tillerson wouldn't have had some idea of what was happening in Aceh. The abuse was covered by news organizations—including the Associated Press and the Wall Street Journal—as early as the 1990s. "There wasn't a single person in Aceh who didn't know that massacres were taking place," a former top government official in Aceh told BusinessWeek in a 1998 investigation. In 2001, Time magazine wrote that in Aceh, "people literally line up to tell stories of abuse and murders committed by troops they call Exxon's army." Marco Simons, a legal director for the advocacy group EarthRights International who filed a brief in support of the Indonesians in 2010, says it's troubling that some of the problems in Aceh happened while Tillerson was among the company's top executives: "Either he knew about it and condoned it or he didn't have sufficient control over his operations to know about what was going on."
After the first lawsuit was filed in 2001, the abuse allegedly continued for a few years, until a brutal tsunami devastated Aceh and essentially ended the ongoing war between the separatists and Indonesia's military. Exxon Mobil continued to employ the soldiers after that. In 2005, Exxon Mobil's shareholders asked the company to report back to them about security arrangements with Indonesia's military, but the company's directors objected.
In 2006, Tillerson took the reins as Exxon Mobil's CEO. The company continued employing Indonesian soldiers in Aceh, according to the 2007 complaint. "Defendants have refused demands to investigate, improve, or cease its security forces' abusive actions," the plaintiffs charged. Years earlier, Tillerson and other Exxon Mobil executives had met with officials in Indonesia; some, like former CEO Lucio Noto and former executive vice president Harry Longwell, had discussed the security problems in Aceh, but it's not clear whether Tillerson broached this subject during his meetings. In 2015, Exxon Mobil sold its Aceh assets to Indonesia's state oil company.
The litigation between Exxon Mobil and the Indonesian plaintiffs has now dragged on for about 16 years. A judge ruled in 2015 that the case could continue to move forward, stating that "the Court accepts as true for purposes of this motion" the assertion that "Exxon exercised substantial control over the activities of these soldiers." Collingsworth says his clients are still waiting for justice. "Some part of that is Rex Tillerson," he says. "He [was] the CEO. He could say, 'These people got hurt, the war's over, why don't we help them?'"
Collingsworth worries a State Department under Tillerson could intervene to side with big companies like Exxon Mobil in future human rights abuse cases. There's some precedent for this: In 2002, the State Department under President George W. Bush warned a court in the United States that allowing the Indonesians to pursue their lawsuit against Exxon Mobil could have a "potentially serious adverse impact" on US government interests. Now, Collingsworth said, the State Department has the power to determine whether his plaintiffs and witnesses can get visas to travel to the United States for trial—he adds that a trial date is imminent. More generally, he adds, the State Department can play a role in promoting rule of law in countries abroad. But if Tillerson, "the most prominent of all CEOs of the biggest oil company," is appointed, he says, it'll send a message to people around the globe: "The world is open for business—environment and human rights be damned."