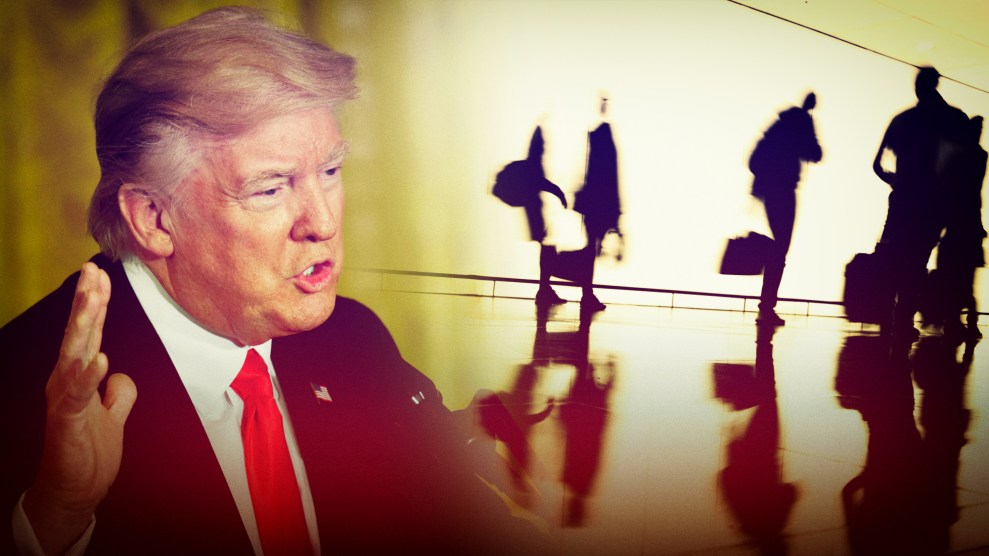 Fight disinformation:
Sign up
for the free
Mother Jones Daily
newsletter and follow the news that matters.
The impacts of President Donald Trump's sweeping order to temporarily block refugees from entering the United States and ban immigration from seven predominantly Muslim countries for 90 days were felt immediately around the world on Saturday. Multiple refugees were detained by customs officials across the country, as lawyers scrambled to file lawsuits against the Trump administration, and protesters planned demonstrations outside airports.
On Friday, Trump signed an executive order requiring immigration authorities to:
Suspend all refugee resettlement for 120 days and reduce the number of refugees resettled in the country to 50,000;
Immediately deny entry to the United States to anyone from Iran, Iraq, Sudan, Syria, Libya, Somalia, and Yemen for 90 days;
Ban Syrian refugees from resettling in the United States;
Prioritize refugee claims "on the basis of religious-based persecution, provided that the religion of the individual is a minority religion in the individual's country of nationality."
Confusion reigned as details began to emerge about just how many people might be covered by the executive order—potentially throwing hundreds of thousands of travelers into legal limbo. The State Department issued a statement on Saturday afternoon saying that citizens from the seven banned countries who hold dual nationality would also be blocked from entering the US, according to the Wall Street Journal. (The dual-citizenship restriction won't apply to those holding US passports.) The ban could also affect some 500,000 people from those countries already in the United States on green cards or other temporary visas, according to ProPublica.
UPDATE: Green card holders from seven countries in Trump's ban have to be cleared in to U.S. on case-by-case basis – administration official

— Reuters Top News (@Reuters) January 28, 2017
The executive order also opens the door for immigration procedures to become even more restrictive in the future. Read the full order here:
So far, 12 people have been detained at JFK airport in New York, according to CNN. The New York Times reports that passengers were turned away at airports in Dubai and Istanbul, and at least one family was ejected from a flight.
Iran issued a swift response to Trump's ban, saying it would ban all US citizens from entering the country. "The US decision to restrict travel for Muslims to the US, even if for a temporary period of three months, is an obvious insult to the Islamic world and in particular to the great nation of Iran," Iran's Foreign Ministry said in a statement. "Despite the claims of combating terrorism and keeping American people safe, it will be recorded in history as a big gift to extremists and their supporters." The ban would remain in place until the US lifted its restrictions on Iran, according to the statement.
Civil rights and refugee resettlement organizations are readying themselves for a fight against the order. On Friday evening, the Council for American-Islamic Relations announced it would file a lawsuit challenging the constitutionality of the executive order. "There is no evidence that refugees—the most thoroughly vetted of all people entering our nation—are a threat to national security," CAIR national litigation director Lena Masri said in a press release.
The American Civil Liberties Union also filed suit Saturday morning on behalf of two Iraqi men who were already on their way to the United States and had been detained at New York's JFK airport. One, Hameed Khalid Darweesh, who had worked as an interpreter during the Iraq War, was released Saturday afternoon.
Protests broke out in New York Wednesday evening in response to leaked versions of the ban. More protests were planned across the country for Saturday afternoon.
#JFK #protest pic.twitter.com/MrBVmKzJdz

— Ali Philippides (@ClubAliP) January 28, 2017
JFK. pic.twitter.com/OZeLHuFuLZ

— Josh Begley (@joshbegley) January 28, 2017
"No hate, no fear. Immigrants are welcomed here" protesters at #JFK say they will not stand for a #MuslimBan pic.twitter.com/Nfw1MBcQbD

— Patricia Nicolas (@PatriciaN_TV) January 28, 2017
For her she says this protest is personal. #MuslimBan #MuslimBanprotest pic.twitter.com/xSmtoruI3n

— Patricia Nicolas (@PatriciaN_TV) January 28, 2017
The scene from above as thousands chant and scream, draping banners from above at JFK international arrivals shouting "LET THEM IN!" pic.twitter.com/ugU8zbKYiv

— Jack Smith IV (@JackSmithIV) January 28, 2017
Update: 6:25pm ET January 28, 2017: New York Governor Andrew Cuomo put out the following statement indicating that he has directed the Port Authority (which controls JFK) to "explore all legal options to assist anyone detained at NY airports."
I have directed Port Authority, @NYSDOS, & my Counsel's Office to jointly explore all legal options to assist anyone detained at NY airports pic.twitter.com/AT8p3rstsD

— Andrew Cuomo (@NYGovCuomo) January 28, 2017
This is a developing story. We will update the post as more details become available.