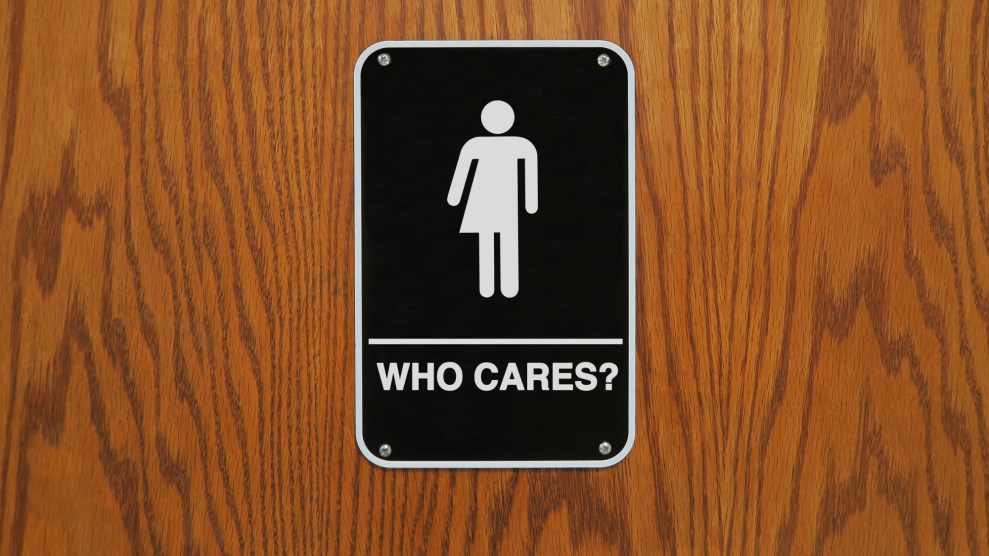 Fight disinformation:
Sign up
for the free
Mother Jones Daily
newsletter and follow the news that matters.
Conservatives now hold the governor's seat and control of the legislature in roughly half of all states, and since the election they've quickly gotten to work proposing measures that opponents say could threaten the rights and safety of transgender people. Human rights advocates say they're fearing an onslaught of discriminatory bills in the coming months.
"We are seeing them already in an impressive number of states given how early in the legislative session it is," says HRC's Cathryn Oakley.
"We are seeing them already in an impressive number of states given how early in the legislative session it is," says Cathryn Oakley, senior legislative counsel for the Human Rights Campaign, though she adds that "some at this point are still rumored." By HRC's estimate, at least 40 anti-LGBT proposals have already been introduced for the legislative sessions this year.
Some of the measures are so-called bathroom bills (made famous by North Carolina's HB2), which ban transgender people from using the restroom of their choice, often under the guise of privacy and "protecting women and children." As Oakley explains, these bills are bad policy not only because they infringe on the rights of transgender people, but also because of the damage they can inflict on a state's economy. After North Carolina passed HB2 last year, several businesses decided to pull plans to expand in the state, local governments banned official travel to North Carolina, and events like the NCAA basketball championship were moved elsewhere.
Other proposals would force schools to out transgender students to their parents, something advocates find particularly troubling. Up to 40 percent of homeless youth are LGBT. Whether their parents accept their gender identity has a significant impact on the mental health outcomes of young transgender people. "It risks their long-term health care outcomes and economic future by endangering their ability to protect their own privacy and move safely through the world," explains Sasha Buchert with the Transgender Law Center.
Here's a roundup of anti-transgender proposals in state governments since the election:
Alabama: SB1
This bill is intended to be a "backstop" if the courts overturn North Carolina's bathroom law. Under the proposed legislation, all bathrooms and changing facilities in the state must be designed for use "by one person at a time" or "multiple persons of the same gender." Gender-neutral bathrooms meant for multiple people would have to be "staffed by an attendant stationed at the door of each rest room to monitor the appropriate use of the rest room and answer any questions or concerns posed by users." Any business, school, or other entity violating these rules would be subject to a fine of a minimum of $2,000 for the first violation and at least $3,500 for each subsequent violation.
As ThinkProgress points out, the bill, proposed by state Sen. Phil Williams (R-Rainbow City), is written in such a vague way that it's actually unclear if it would actually have any impact on transgender people. Still, Williams made his intention clear in an op-ed announcing the bill: "The argument that a self-professed 'gender identity' affords access to a facility over the deep concerns of other members of the public is a violation of that right to privacy."
Arizona: HB 2293, HB 2294
Transgender people already cannot get sex reassignment surgery under Arizona's Medicaid system. Now, state Rep. Anthony Kern's (R-Glendale) HB 2294 would formally codify that reality into law, which transgender rights advocates worry could make accessing the surgery even more difficult in the future.
Kern also introduced HB 2293, which would prohibit people who are incarcerated from getting sex reassignment surgery. "Any medical procedures that doctors deem are medically necessary for particular individuals to treat their gender dysphoria should be covered by insurance of every kind," Abby Jensen, vice president of Southern Arizona Gender Alliance and a board member of Equality Arizona, told Mother Jones. "There is no reason to single out transgender people for that exclusion, especially when the procedures that we're talking about are commonly paid for by the same insurance plans for other conditions."
Jensen's also troubled by another piece of legislation, SB 1199, that would require people seeking to change their name to undergo a criminal background check. The sponsor of the bill says it "would not make it easier or harder" for a transgender person to get a name change and is intended to keep people from masking their criminal history. But Jensen worries the legislation could have a disproportionate impact on transgender people: "Because of discrimination and bias against trans people, we are arrested and incarcerated at much higher rates than the general population," she said. "A criminal background check could give judges an excuse to deny a name change petition." While such a denial may be reversible on appeal, Jensen adds, "very few trans people have legal representation and there are no LGBT legal advocacy organizations currently active in Arizona."
Kansas: HB 2171
The measure would prohibit transgender students from accessing the locker rooms, showers, and restrooms that correspond with their gender identity. It defines sex as "determined by a person's chromosomes" and "identified at birth by a person's anatomy." Under the proposal, any citizen could complain directly to the attorney general about an offending school if the school does not "cure a violation" within three days. The attorney general could then sue the school if it determines after an investigation that legal action is warranted.
"The bill on its face is just an attack on little kids," said Tom Witt, director of Equality Kansas.
"The bill on its face is just an attack on little kids," Tom Witt, director of Equality Kansas, told the Topeka Capita-Journal. "I am just incredibly angry and disappointed that anyone would introduce such a thing in this state."
Kentucky: HB106
In Kentucky, the typical political dichotomy has been turned on its head: A Democrat is actually leading the anti-transgender charge, and Republican leadership has spoken out against the idea of legislating where transgender people can pee. State Rep. Rick Nelson's (D-Middlesboro) bill will require people using state and local government bathrooms to use the facility in line with the sex on their birth certificate. Nelson has also introduced a so-called "religious freedom bill," which would allow businesses to legally discriminate against LGBT people.
Missouri: SB 98
Some lawmakers in Missouri don't want transgender students in public schools using the bathroom or locker room that matches their gender identity. The legislation, introduced by state Sen. Ed Emery (R-Lamar), would force students to use the bathroom based on their sex as "determined by a person's chromosomes." Emery is promoting his legislation by stoking fears: "If you had a daughter, you might not feel that she was completely safe if young men were allowed into her shower room, and vice versa," he said, according to St. Louis Public Radio.
Under his legislation, a student seeking a special accommodation, such as using a private bathroom, needs parental permission to do so—meaning the student would need to be out to his or her parents. The bill explicitly states that no special accommodations can be made to allow the student into their desired bathroom or locker room.
South Carolina: Bill 3012
A bathroom bill in South Carolina failed to even make it to a vote on the Senate floor last year, with several lawmakers and the governor deciding they weren't interested in such legislation in the wake of the backlash in North Carolina to HB2. But now, state Rep. Steven Long (R-Boiling Springs) decided to soften the proposal in hopes of getting it passed. Instead of prohibiting transgender people from using the bathroom of their choice, the new proposal aims to let businesses decide whether to discriminate by banning local governments from requiring businesses to allow transgender patrons their choice of restroom.
South Dakota: SB 115
Two lawmakers in South Dakota have also introduced softer legislation after Gov. Dennis Daugaard vetoed a bill last year that would have prohibited transgender students in public schools from using the bathroom and locker rooms of their choice. The new proposal only applies to locker rooms and other changing facilities, but is expected to meet the same fate as last year's legislation. The governor's chief of staff has already said Daugaard would veto the bill if it came to his desk, telling the Associated Press that it's "substantially the same."
Texas: SB6, SB242
Texas Republicans are trying to push through legislation that would prohibit transgender people from using the bathroom they choose in public schools and buildings. SB6 would also stop local governments from passing nondiscrimination rules, meaning businesses and other privately owned facilities will ultimately decide whether or not to limit bathroom access. Violating the rules would lead to a fine of at least $1,000 for the first offense and jump to $10,000 for each subsequent offense.
Whether the legislation will pass remains unclear. The state House speaker says it's not a priority and many in the business community are pushing back against the law. However, the lieutenant governor is leading the charge, and the state Senate seems keen to limit bathroom access, therefore risking an estimated $8.5 billion a year to the state according to the Texas Association of Business. Gov. Greg Abbott hasn't publicly supported the bill, but this hot take from last year gives some pretty clear insight to his thoughts on the matter at hand:
JFK wanted to send a man to the moon. Obama wants to send a man to the women's restroom. We must get our country back on track. #tcot

— Greg Abbott (@GregAbbott_TX) May 17, 2016
Also under review by the Texas Legislature is another proposal that states parents are entitled to all information schools have regarding their child's psychological and emotional well-being. LGBT advocacy organization Equality Texas says this bill would force school employees to out students in some cases. SB 242's author argues this is not the case, but if a parent asks for information, school employees would be legally required to provide it under the proposal.
"If your kid is gay, and can tell his teacher, but hasn't told you, then you are the problem," said Equality Texas Board Chairman Steven Rudner in a statement opposing the legislation. "If a kid can tell a teacher but not their parent, it is a pretty good indication that your child is scared of you and the consequences of telling you, and you are who the kid needs to be protected from."
Virginia: HB 1612
Delegate Bob Marshall's (R-Prince William) bill, which has already been killed, would have limited bathroom access in schools and other government facilities. When one transgender man recently asked proponents of the bill where they thought he should use the restroom, Marshall responded, "Not here." Advocates say Marshall's bill was especially dangerous because of a provision that would require schools to out students to their parents within 24 hours if they asked "to be recognized or treated as the opposite sex."
Gov. Terry McAuliffe had vowed to veto the legislation. In fact, he extended protections to transgender workers just days after the bill was introduced—signing an executive order banning the state from doing business with any group that discriminates based on sexual orientation or gender identity.
Washington: HB1011
You might think Washington state lawmakers would drop the issue of where transgender people can go to the bathroom considering the state passed nondiscrimination protections all the way back in 2006, and multiple efforts to restrict bathroom access failed last year. However, 14 Republican state lawmakers have introduced a bill that states nondiscrimination laws do not prohibit public and private institutions from limiting bathroom access based on someone's genitals.
Transgender rights advocates point out the kicker with this bill is that it highlights the absurd anxiety some people have about what's in people's pants by explicitly referring to genitalia: The legislation states that nondiscrimination protections don't apply "if the person is preoperative, nonoperative, or otherwise has genitalia of a different gender from that for which the facility is segregated."
Wyoming: HB 244
Most of the bathroom bills across the nation put the onus on schools or the government to keep transgender people out of the bathroom of their choice, but in Wyoming, legislation has been introduced to make using a public bathroom or changing facility that does not correspond to your sex assigned at birth an act of public indecency. Under this legislation, transgender people could be incarcerated for up to six months and fined $750 for using the bathroom.