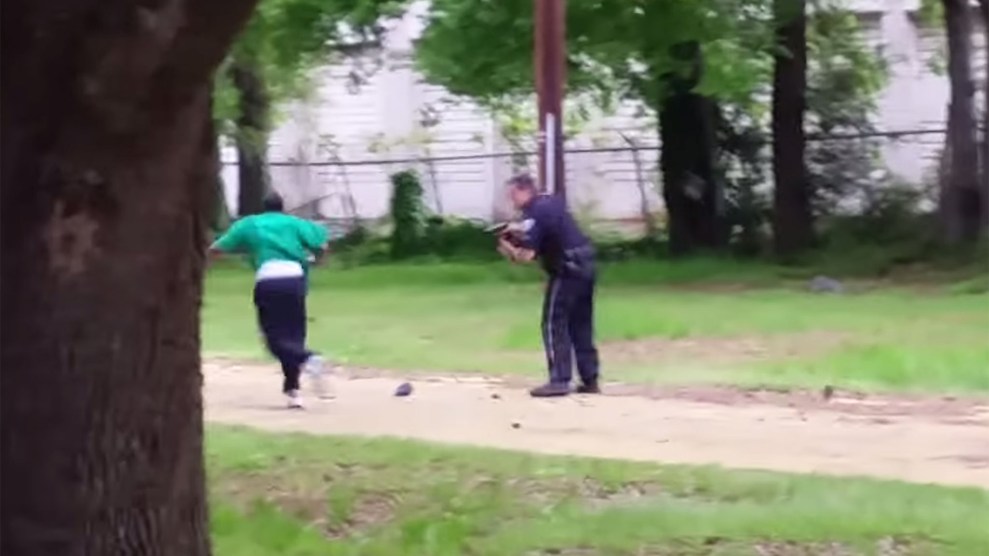 Update 2 (12/8/2016): The jury in the the murder trial of former North Charleston, South Carolina, police officer Michael Slager, dismissed the murder charge, finding no evidence of "malicious" intent, according to jury foreman Dorsey Montgomery II, the lone person of color on the 12-member panel. The jurors then considered a lesser charge of manslaughter, but five jurors could not decide on that, and one juror said he was dead set against conviction. Although the officer what white and the suspect black, race did not come up in the deliberations, Montgomery told the Today Show. "I do believe some jurors may have had that in their mind, but the majority of them didn't have anything in reference to race that may have played a factor in the decision."
Update 1 (12/5/2016): Judge Clifton Newman has declared a mistrial in the murder trial of former police officer Michael Slager after the jury indicated for the third time that it could not reach a unanimous decision on the charges against him. Jurors sent the judge a list of questions about the law Monday morning hoping that further instruction would help them reach an agreement. They had indicated that several jurors had changed their stance on Slager's status since Friday, when a note to the judge suggested they were 11-1 for conviction. (They did not make clear whether the charge they were deadlocked on was murder, or the lesser option of manslaughter.)
After considering the responses to their questions from prosecution and defense attorneys on Monday, the jurors again indicated that they could not reach a unanimous decision, and Newman finally declared a mistrial. However, Slager may yet face a federal trial for allegedly violating Walter Scott's civil rights. Prosecutor Scarlett Wilson may also opt to retry Slager locally.
—
It appears likely that Judge Clifton Newman will be compelled to declare a mistrial in the racially charged South Carolina murder trial of former North Charleston police officer Michael Slager, who fatally shot an unarmed man who had fled from an April 2015 traffic stop. Late Friday afternoon, a lone juror sent a letter to the judge saying that he or she could not, in good conscience, vote to convict Slager of murder or manslaughter. The judge sent word asking the jurors to clarify whether that meant they were hopelessly deadlocked. The jurors responded that they were, but the prosecutor requested that the jurors receive further instruction, if need be, and the jurors expressed a willingness to deliberate further. In the meantime, the judge has sent jurors home for the weekend.
A viral bystander video showed Slager, who is white, shooting 50-year-old Walter Scott, who is black, multiple times from behind. Posted online soon after the incident, the video thrust the Charleston area into the national debate on race and the use of deadly force by police.
Many observers have made note of the racial imbalance of the jury: 11 white, 1 black.
What the video didn't show is the preceding tussle during which, Slager testified, Scott had defied his orders and tried to grab the Taser he was deploying. After Scott broke free and ran away, Slager took aim and fired. Slager said he was in a state of "total fear" and believed Scott remained a threat to him, even though he was running away.
Earlier on Friday, the jurors told Newman they were deadlocked in their attempt to reach a verdict, and the judge—who had given them the option of a lesser verdict of manslaughter—sent them back to try again. Over two days of deliberations, the jury twice asked the judge for assistance. They asked for transcripts of Slager's courtroom testimony and that of the officer who interviewed Slager after the shooting. They also asked Newman to clarify the legal distinction between "fear" and "passion." The judge responded that they would have to make that determination themselves.
Many observers have taken note of the racial imbalance of the jury: six white men, five white women, and one black man. No matter which way it goes, the verdict has to be unanimous. A jury foreman's note that accompanied the letter from the holdout juror noted there was only one juror who "had issues" with convicting the officer.
A hung jury would probably be good news for Slager and his defense team. The prosecutor, 9th Circuit Solicitor Scarlett Wilson, would have to decide whether to pursue a new trial and on what charge. She announced in court that she would first want to interview jurors to gather insights before making further decisions on resolving the case. It's also possible Slager could head off a second trial by pleading to a lesser charge in exchange for a short prison stint—a manslaughter sentence in South Carolina ranges from two to thirty years without parole. But involuntary manslaughter, for instance, carries a maximum sentence of five years.
This post has been updated.