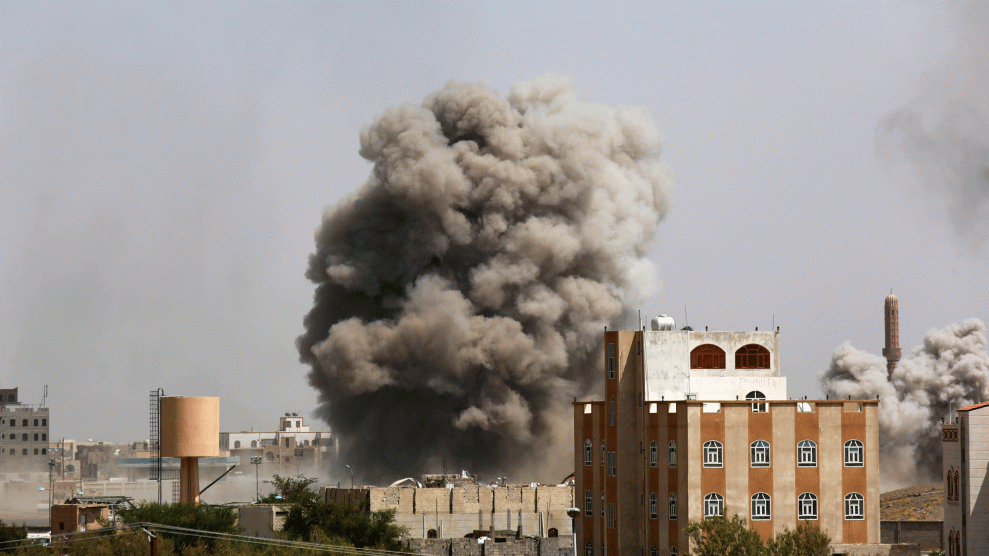 Fight disinformation:
Sign up
for the free
Mother Jones Daily
newsletter and follow the news that matters.
The Obama administration has canceled an arms deal with Saudi Arabia amid growing concerns about the high civilian death toll from the kingdom's air campaign in Yemen. "We continue to have concerns about the conflict in Yemen and how it has been waged, most especially the air campaign," a State Department official told Mother Jones in an email. The blocked sale reportedly involves precision-guided munitions built by the American defense contractor Raytheon.
Saudi Arabia has been repeatedly criticized for committing potential war crimes in its war against the Houthi rebels who ousted the Saudi-backed government of President Abdu Rabu Mansour Hadi in January 2015. Throughout the nearly two-year-long conflict, the Saudis have used American and British weapons, including banned cluster bombs. The United States has also provided refueling missions and intelligence. Saudi airstrikes have hit weddings, funerals, hospitals, schools, markets, and places of worship, killing hundreds of civilians.
Between 2009 and 2015, the Obama administration inked more than $100 billion worth of arms deals with Riyadh. Just last week, the Defense Security Cooperation Agency announced the approval of yet another deal, worth $3.5 billion, for Chinook helicopters and related equipment, training, and support.
Yet today's announcement may be a sign of the Obama administration's growing discomfort with the war. In May, it canceled the sale of US-made cluster bombs. In September, the Senate held its first debate to question the decision to continue supplying the Saudis. "There is a US imprint on every civilian death inside Yemen, which is radicalizing the people of Yemen against the United States," Sen. Chris Murphy (D-Conn.) said at the time. "There really is no way this bombing campaign could happen without United States participation."
The State Department official, who asked not to be named, said the United States is exploring how to refocus training the Saudi air force to address its targeting practices. The official also stated that the State Department, the Pentagon, and other agencies are reviewing current policy "to ensure that our limited support for the Saudi-led Coalition is consistent with our foreign policy goals and values." A senior administration official told AFP that "US security cooperation is not a blank check."
President-elect Donald Trump has not outlined his policy on Yemen. However, during a January campaign rally with Sarah Palin, he suggested that Iran is destabilizing Yemen and seeks to take over Saudi Arabia:
Now they're going into Yemen. And if you look at Yemen, take a look, they're going to get Syria, they're going to get Yemen, unless—trust me, a lot of good things are going to happen if I get in, but let's leave it the way it is. They get Syria. They get Yemen. Now, they didn't want Yemen, but did you ever see the border between Yemen and Saudi Arabia? They want Saudi Arabia.