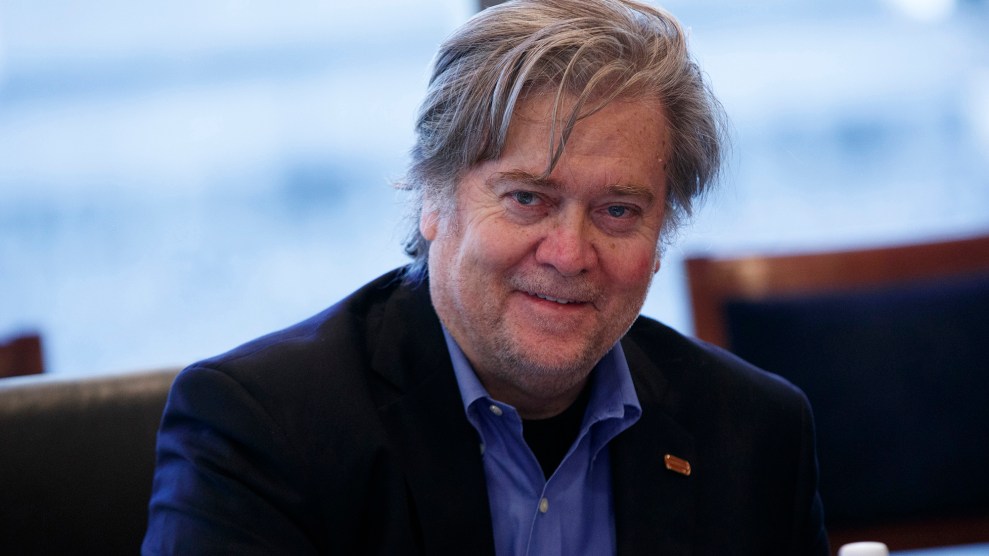 Fight disinformation:
Sign up
for the free
Mother Jones Daily
newsletter and follow the news that matters.
After Donald Trump announced he was appointing Stephen Bannon to a top job in the White House as chief strategist, I sent out a tweet referring to a Mother Jones story that reported on how Bannon, when he was head of Breitbart News, the far-right conservative site, provided a haven for white nationalists. In response, Roger Stone, a longtime Trump adviser and conspiracy theory advocate (he wrote a book claiming Lyndon B. Johnson killed John F. Kennedy), tweeted at me: "'White Nationalist' my ass. Stop with the childish name calling….we don't call you a communist."
There was a major problem with his tweet: I am not a communist, and Bannon is indeed a champion of white nationalists and white supremacists. And this is according to an expert on this matter: Stephen Bannon.
In July, Bannon, who soon would leave Breitbart to become a top campaign aide to Trump, was interviewed by journalist Sarah Posner. He proudly declared of Breitbart, "We're the platform for the alt-right." The alt-right is an extreme but not well-defined wing of the conservative movement that rants against immigrants, Muslims, the globalist agenda, and multiculturalism and that generally advocates white nationalism (if not white supremacism—in this world, there is a difference). The alt-right also generates a hefty amount of anti-Semitism. (For more on the alt-right, see here and here.)
In that interview, Bannon did claim that not all alt-righters were racists and anti-Semites. "Look, are there some people that are white nationalists that are attracted to some of the philosophies of the alt-right?" he said. "Maybe. Are there some people that are anti-Semitic that are attracted? Maybe. Right? Maybe some people are attracted to the alt-right that are homophobes, right? But that's just like, there are certain elements of the progressive left and the hard left that attract certain elements." But that was whitewashing. How do we know? Because of Breitbart's own coverage.
In March, the website published an article headlined "An Establishment Conservative's Guide to the Alt-Right," which was co-written by Milo Yiannopoulos, a prominent figure in the movement. It noted that the alt-right opposed "full 'integration'" of racial groups: "The alt-right believe that some degree of separation between peoples is necessary for a culture to be preserved." This piece cited Richard Spencer, a 30-something Duke Ph.D. dropout, and his AlternativeRight.com website as "a center of alt-right thought."
What does Spencer, the intellectual guru of the movement, advocate? He is quite explicit: an all-white United States. This is not a secret. In a recent interview with Mother Jones, Spencer explained his belief that America's white population is endangered, due to multiculturalism and immigration, and he advocated "a renewed Roman Empire," a dictatorship where only white people could be citizens. "You cannot view another white person as your enemy," he remarked. His goal is a white ethnostate. How to get there may be unclear. He added that he hoped America's nonwhites can be convinced to leave the country on their accord: "It's like presenting to an African that this hasn't worked out. We haven't made each other happier. We are going to have to take part in this paradigmatic shift together." During the campaign, Spencer declared, Trump "loves white people."
Race is central to the alt-right. Ben Shapiro, a former Breitbart editor, notes, "The alt-right, in a nutshell, believes that Western culture is inseparable from European ethnicity." That is, being white. Whether its activists prefer white nationalism (saying that different races can't get along so nonwhites should somehow be separated from white America) or white supremacism (saying that whites are inherently superior to others), this is a racist movement. And its activists have also traded in anti-Semitism, often hurling anti-Semitic jabs at journalists who write about the alt-right or Trump. By the way, Bannon's ex-wife did once accuse him of making anti-Semitic remarks. (Bannon denied making the comments.)
There are not many dots to connect in this picture, and the lines between them are clear. Whatever he might believe, Bannon is a self-proclaimed ally of the alt-right. (Shapiro notes that Bannon may not buy all its guff, but "he's happy to pander to those people and make common cause with them." And regarding Bannon, Lisa De Pasquale, a Breitbart contributor, on Monday said on the To the Point radio show that promoting the alt-right at Breitbart was "good for his business model.") And the alt-right promotes white nationalism (if not white supremacism). So journalists who do not report that Trump has selected for a top spot in the White House an enabler of white nationalists—which certainly could qualify Bannon as a white nationalist himself—are doing the public and the truth a disservice. Thanks to Trump, a comrade of racists—many of whom are now cheering his appointment—is slated to help run the US government. This fact should be front and center, as the nation heads toward the Trump era.