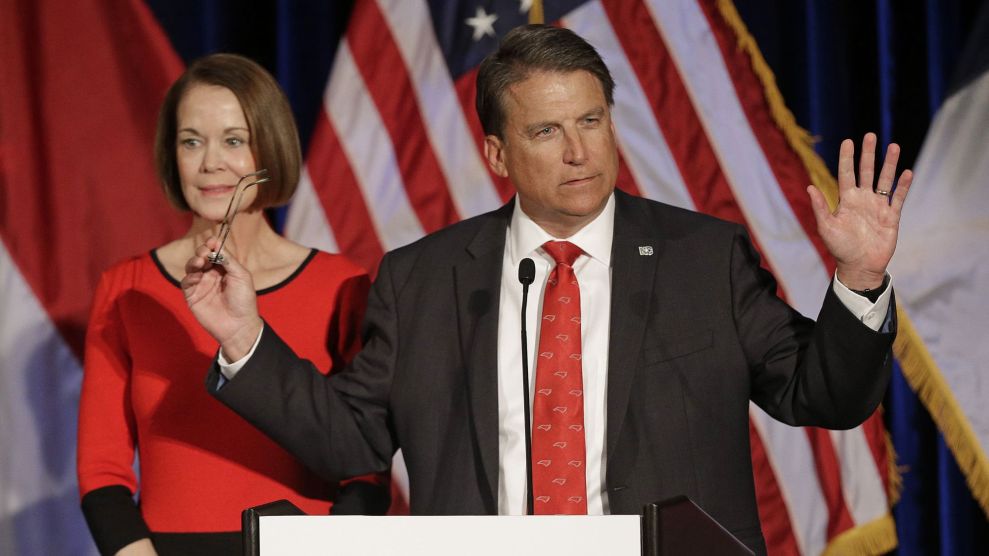 Fight disinformation:
Sign up
for the free
Mother Jones Daily
newsletter and follow the news that matters.
Strong opposition to the anti-transgender "bathroom bill" HB2 among North Carolina voters was bad news for Republican Gov. Pat McCrory on Tuesday. With all precincts reporting, McCrory trailed his Democratic challenger, Attorney General Roy Cooper, by just a few thousand votes. Cooper declared victory, but McCrory refused to concede, citing provisional ballots yet to be counted. "We're going to fight for every vote," McCrory told supporters in Raleigh, according to the News & Observer. "We're going to check everything and we're going to make sure that every vote counts…We plan to be governor in a second term."
Republicans otherwise dominated in a highly contested state that Democrats hoped they could turn purple. Donald Trump beat Hillary Clinton 51-47, while Sen. Richard Burr fended off a challenge from Democrat Deborah Ross, winning by about 6 percentage points.
McCrory had become the public face of HB2, which according to exit polls was opposed by at least two-thirds of voters. The widely ridiculed law—which made it harder for people to sue for employment discrimination and famously required transgender people to use the public bathroom corresponding to their biological sex—cost the state millions of dollars in lost revenues. The NBA relocated its All-Star game, musicians canceled concerts, and companies such as PayPal and Deutsche Bank abandoned plans to expand into the state. In May, the Department of Justice filed a lawsuit against North Carolina, calling the law discriminatory. McCrory staunchly defended the law, although he said he might consider supporting its repeal—if the city of Charlotte drops a local nondiscrimination ordinance.
Cooper, as attorney general, said he would not defend HB2 in court, calling it unconstitutional. "This has been an extremely hard fought race," he said in a statement Tuesday night. "But the people of North Carolina have spoken and they have chosen a change in leadership. We are confident once the results are certified we will confirm tonights [sic] victory."
"The people of North Carolina have spoken and they have chosen a change in leadership."
North Carolina was a crucial swing state throughout the general election race, with Clinton and Trump running neck and neck in polls—a New York Times poll Monday night showed the candidates tied 44-44. It was projected that Trump needed the state's 15 electoral votes to have a fighting chance at winning the presidency—without it, analysts said, he needed to win every other competitive state. Both presidential candidates made North Carolina campaign stops on election eve, with Clinton holding a midnight rally in Raleigh.
The state has also been a major battleground for voting rights. After the Supreme Court gutted a key provision in the 1965 Voting Rights Act in the case of Shelby County v. Holder, conservatives worked to make North Carolina one of the most restrictive states in the nation for voting. The Republican Legislature slashed the number of early voting days, eliminated same-day voter registration, and passed a law requiring that voters present a photo ID—the provisions were later blocked by the 4th Circuit Court of Appeals, which found the law discriminatory and said it targeted African Americans with an almost "surgical precision."
In August, the Supreme Court turned down an emergency request by the state to implement the laws. But this hasn't stopped other forms of voter suppression: Just a week before the election, voting rights advocates filed an emergency petition alleging that at least three counties tried to cancel thousands of registrations in a "systemic" purge of the voter rolls. A judge later ordered the state to restore the registrations.
There were fewer polling locations in North Carolina compared with 2012, according to a report from the Leadership Conference Education Fund that looked at poll closures nationwide since the Shelby ruling. Pasquotank County, which is 38 percent black and home to a historically black university, lost nearly one-third of its polling places. In the Cleveland Country city of Shelby, which is 40 percent black, elections officials merged five voting locations into two. "We know that this is part of a bigger trend—a movement to suppress people's right to vote," the Rev. Dante Murphy, the county NAACP president, told the report's authors.
If McCrory somehow manages to prevail on provisional ballots or a subsequent recount, Republicans would maintain their trifecta in North Carolina, with control over the governorship and both statehouses, not to mention both Senate seats and 10 of 13 House seats. If Cooper goes on to become governor, he will be one of the few Democrats in power in the state.