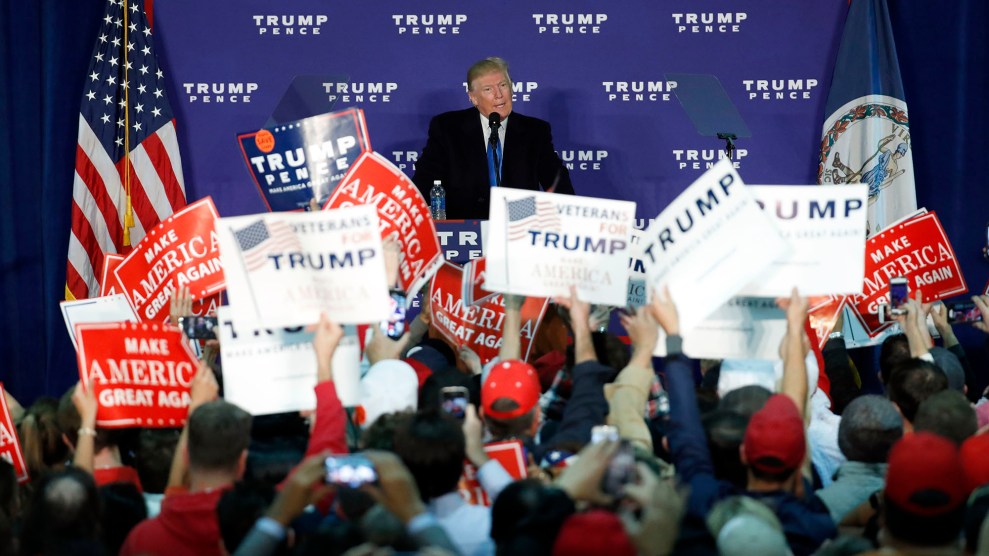 Fight disinformation:
Sign up
for the free
Mother Jones Daily
newsletter and follow the news that matters.
To understand how Virginia turned from a Republican bastion into a blue-leaning firewall state for Hillary Clinton, look no further than the northern part of the state, which has diversified rapidly thanks to an influx of minorities and college-educated residents. And for a glimpse at how those changes have played out across the political spectrum, look to the rally Donald Trump held there on Sunday night—and particularly to the millennials in attendance.
Many of the attendees in Leesburg were well educated, including a number of government workers worried about the gridlock in nearby Washington and the budget cuts under sequestration that have hurt federal employees and contractors. But the most noteworthy group at the rally was the young voters, who waited hours to see Trump at an event that lasted into early Monday morning, a day before they would vote for president for the first time.
Young voters have not been keen on Trump. At times, he has struggled to win more support among voters under 30 than Libertarian candidate Gary Johnson. A Wall Street Journal/NBC poll released Sunday showed voters from ages 18 to 35 supporting Clinton over Trump by a margin of 55 percent to 32 percent.
But who are those 32 percent? At the Virginia rally, at least, the millennials in the crowd didn't match the stereotypes of a Trump voter. These are the conversations I had with four of them:
The undocumented immigrant. In the sea of mostly white faces at the rally, Bernardo Guerrero stood out. The 20-year-old wore a pink Trump hat, diamond studs in both ears, and a pin that said "Trump That Bitch."
Guerrero quickly volunteered that he could not vote on Tuesday because he is not a citizen. He is a recipient of Deferred Action for Childhood Arrivals, an executive action announced by President Barack Obama in 2012 to grant temporary legal status to young undocumented immigrants. Republicans, including Trump, have promised to repeal DACA. In other words, Guerrero's ability to stay in the country depends on a Clinton win. Yet Guerrero is no fan of Clinton, who he believes is responsible for the deaths of Americans in Benghazi—a disqualifying black mark in his mind. Of Trump, he said, "I don't think he's a nice guy, but I don't think you have to be a nice guy to get things done."
The more Guerrero talked about Trump, however, the more he appeared to feel the Republican was also unacceptable, describing the choice between Trump and Clinton as one between two evils. "Hillary Clinton is nowhere near anywhere better than that dude," Guerrero said. "They're at the same level."
Of Trump, he said, "He has the mentality to be like a leader and all that stuff, but not to lead a nation with so many diverse views and beliefs. This is America. We're a melting pot. We're the most complicated society…He's not the type of guy to have an open mind and be like, 'Okay, how do we make this work for everybody?' He's the type of guy to be like, 'How can I make this work to benefit me and the people that will help benefit me?'"
Guerrero did admit that Trump's immigration policies posed a problem. He mentioned that his father, a conservative Republican, had been "completely turned off" by Trump. "I wouldn't vote for him because of his immigration policies," he said. "It would be bad."
And what about his "Trump That Bitch" pin? He said Trump is a "misogynist," but he bought the pin because he thinks it will be valuable memorabilia in 50 years.
The young woman offended by Trump's sexism. Sarah Ghannam, a 20-year-old college student and Guerrero's friend, arrived at the rally undecided. She had leaned toward Clinton until the FBI signaled that it was looking into new evidence in the investigation into her emails. (When I informed her that the FBI had announced a few hours earlier that it had reviewed the newest email cache and still did not recommend charging her, Ghannam seemed relieved and said that made her more likely to support Clinton.) Spending hours huddled with Trump supporters that night was giving her "a negative view of his campaign," she said, noting that folks were eyeing her as she spoke about her indecision. "I just hope I don't get punched in the face by the end of the night."
But Ghannam's biggest issue with Trump seemed to be sexism—and his offensive behavior more generally. "I don't think he respects women," she said. "The fact that they are selling shirts that say 'Grab Them by Their Pussy,' I think, is disgusting."
"I don't like Clinton either," she told Guerrero. "Shit, dude, like you said, choosing between the better [of two] evils. Like, you just gotta go with somebody who's actually going to fit the president of the United States."
She continued, "Yeah, he's a businessman and he may move the country in a different way…but Trump isn't the president that should be in charge of that—in charge of that change. His ideas are there, but his personality and the way he carries himself, his characteristics, they're just not okay, they're not respectful."
The opera singer. Justin Beaman, also 20, is supporting Trump, but he didn't seem to exhibit the anger of some of Trump's older supporters. A student studying opera and enjoying the occasional opera song in Trump's playlist rotation, Beaman said he saw the election as a choice over America's morals, although he wasn't able to articulate which morals he meant. He originally supported Ben Carson, and he cited Clinton's support of abortion and "opening the borders" as reasons he couldn't vote for her. But when it came to the issues dear to Guerrero and Ghannam, he seemed sympathetic. Asked about the issue of voter suppression, he said, "I don't want people to feel like their rights as Americans are being taken away" if they are black or Hispanic.
The 4Chan kid. Patrick Cecil, 19, seemed like a more typical Trump supporter. His media diet consisted of Russia Today, InfoWars, Breitbart, the Drudge Report, 4Chan, and Reddit, as well as the occasional visit to the Huffington Post and Salon to get a view of the left. His politics, he said, came from a place of "identity" and "nationalism." "If you're my age, if you're a white male, you've been marginalized your whole life," he said. He believes with 100 percent certainty that Trump will win on Tuesday, although he's worried about "illegal aliens" casting ballots. But although many Trump supporters have greeted the media with suspicion and threats, Cecil was very congenial with this reporter. In fact, he wanted his interview to go on as long as possible, asking to be peppered with questions, delighting in the idea that he would be featured in Mother Jones, and later just looking to hang out as we waited for the rally to kick off.