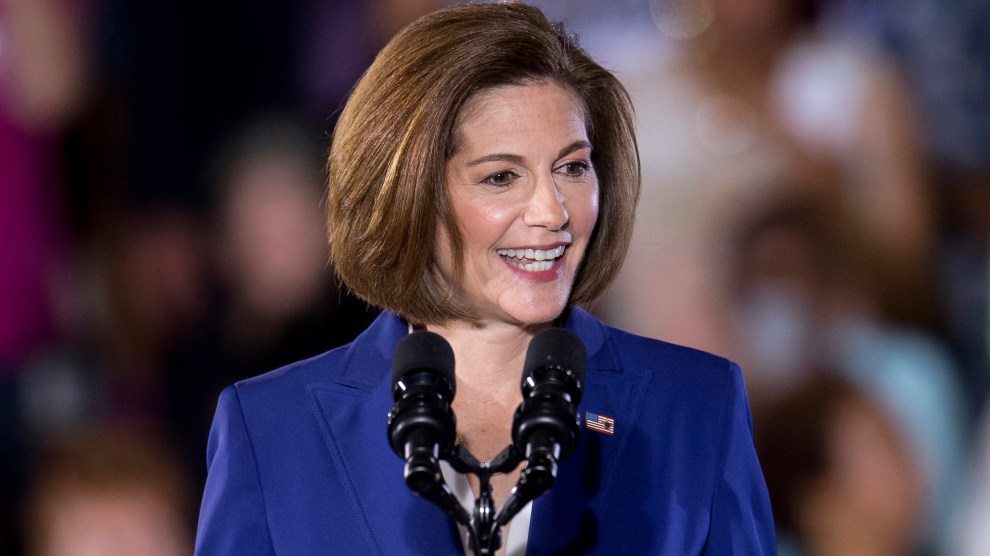 Fight disinformation:
Sign up
for the free
Mother Jones Daily
newsletter and follow the news that matters.
Former Nevada Attorney General Catherine Cortez Masto beat Rep. Joe Heck in a race for a US Senate seat and will become the first Latina senator to serve in Congress.
Cortez Masto will replace Sen. Harry Reid, who was one of her most visible supporters throughout her candidacy. The race won national attention in part because of the generous support of her opponent by the dark-money billionaire Koch brothers. The Freedom Partners Action Fund, a political action committee that relies on the Kochs for a considerable portion of its finances, contributed more than $4.5 million in ads against her. Concerned Veterans for America, another arm of the Koch network, spent more than $700,000 in ads backing Rep. Heck. But Cortez Masto also received outside support, with Democrat-backed PACs spending more than $2 million in ads against Heck.
Mirroring the presidential contest, the race has been contentious. Heck's campaign dubbed Cortez Masto "Corrupt Catherine" early on, and many conservatives sought to delegitimize her Mexican heritage, suggesting she was overplaying her ethnicity. Daniel Garza, executive director of the Koch-funded Libre Initiative, wrote an op-ed for Univision that described her as Latina using scare quotes. The former political director for Heck's campaign, Tom McAllister, tweeted in September that "Catherine is about as Mexican as I am." McAllister and a former aide for Heck described Cortez Masto's Senate campaign as "Hispandering at its finest."
Cortez Masto spoke to Mother Jones about her family's immigration story. "My grandfather came from Mexico for the very reason that many other families have come here, which is an opportunity to succeed, to make sure your kids have more than what you had," she said. "Because of his hard work and courage and the hard work of my parents, my sister and I are the first to graduate from college…That, to me, is the American Dream."