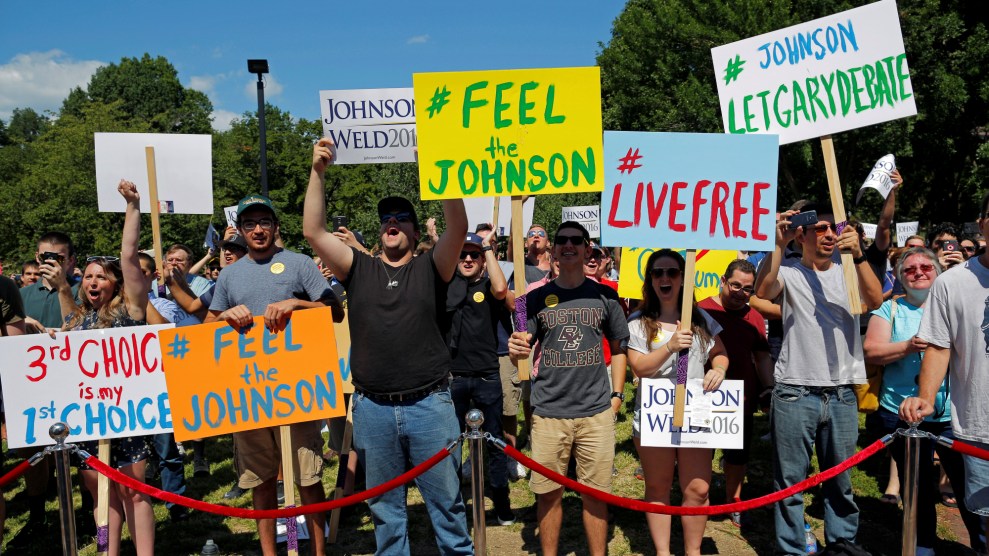 Fight disinformation:
Sign up
for the free
Mother Jones Daily
newsletter and follow the news that matters.
The Hillary Clinton campaign has been fretting that millennial voters are backing third-party candidates at historic rates and threatening her base of support. But a new survey suggests that she's doing just fine among a large subset of this group: nonwhite young adults, who are much less likely than their white peers to support third-party candidates.
The findings come from the GenForward September 2016 survey, the latest in a series of monthly polls tracking millennials' political attitudes. The survey, which is conducted by the Black Youth Project at the University of Chicago and the Associated Press-NORC Center for Public Affairs Research, is one of the only polls that focuses on the opinions of African American, Asian American, and Hispanic young adults. The poll series began in June and intentionally includes disproportionately large numbers of nonwhite respondents in an effort to provide a clearer picture of how political opinion varies among racial and ethnic groups.
The September poll, which included responses from 1,851 young adults between the ages of 18 and 30—1,279 of whom were nonwhite—found that white millennials support third-party candidates at higher rates than nonwhites do. Gary Johnson, the Libertarian Party candidate, had support from 15 percent of white young adults, but his support was in the single digits among African Americans, Asian Americans, and Latinos. Green Party candidate Jill Stein polled in the single digits across all racial groups.
Overall, among respondents who said they were likely to vote in the election, 12 percent said they would vote for Johnson while 5 percent plan to vote for Stein. Those are far lower numbers than have been shown by other recent polls of millennials, which have included a smaller share of nonwhite respondents. A recent New York Times/CBS News poll found that more than a third of voters between the ages of 18 and 29 backed Johnson or Stein.
"Despite Clinton's struggles with young adults relative to her predecessor, we do not find strong support for the argument that third-party candidates are winning the hearts and minds of Millennials," the researchers note. "Our data suggests that recent reports about Millennials' support for third-party candidates has been overstated, and that the bulk of support for these candidates that does exist is limited to young whites."
Nonwhite millennials strongly prefer Clinton to Donald Trump. Fifty-five percent of African Americans, 52 percent of Asian Americans, and 43 percent of Latinos say they support Clinton, compared with 1 percent of African Americans, 12 percent of Asian Americans, and 11 percent of Latinos who support Trump. The presidential race is a dead heat among white millennials, with both candidates pulling in 27 percent among that demographic, according to the GenForward survey.
Clinton performs even better among nonwhite young adults who say they are likely to vote in November: 74 percent of African American voters in that group, 71 percent of Asian Americans, and 64 percent of Latinos say they will vote for the Democrat. Support for Trump, who has recently embarked on several minority outreach efforts in an attempt to boost his support among nonwhites, is in the single digits among these groups. Once again, the race is tighter among white young adults, with 41 percent of likely voters saying they will vote for Clinton and 31 percent saying they will vote for Trump.
Even these figures reveal a tough reality for Clinton: Her support from young nonwhite voters is still lower than President Barack Obama's was in 2012, when among young voters he won 91 percent of African Americans, 86 percent of Asian Americans, and 74 percent of Latinos. Clinton's numbers among voters who actually show up to vote may be better than the polling of potential or likely voters suggests. Still, the findings indicate that Clinton's greatest challenge among young nonwhite voters might not come from third parties, but from those who choose to sit out Election Day entirely.