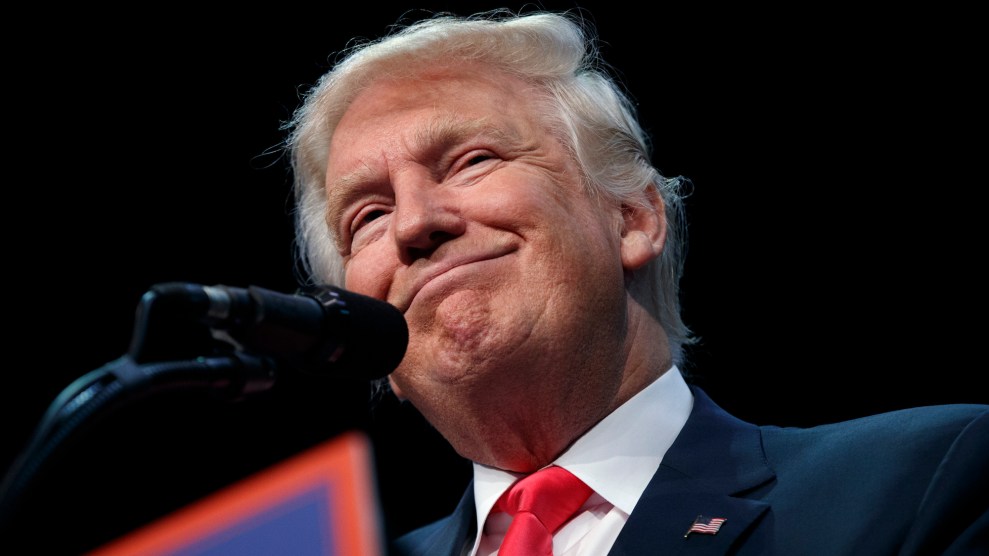 Fight disinformation:
Sign up
for the free
Mother Jones Daily
newsletter and follow the news that matters.
For decades, Donald Trump has operated his businesses on one fundamental premise: Use other people's money.
"I do that all the time in business," he said at a rally in North Carolina last month. "It's called 'other people's money.' There's nothing like doing things with other people's money." It's a phrase he taught students at Trump University, and he put it into practice by building his first empire in the 1980s on massive loans that allowed him to erect towers in New York, acquire casinos in Atlantic City, and buy other businesses including the Plaza Hotel and the short-lived Trump Shuttle airline.
Then, when Trump's debts spiraled out of control in the early 1990s and nearly destroyed him for good, he figured out how to use other people's cash again to make millions for himself and dump his debt-ridden failures on investors. Here's a timeline of how he did it.
May 1984: Trump's first casino opens in Atlantic City
Trump built the Trump Plaza, the largest casino in Atlantic City at the time, in partnership with the casino chain Harrah's, with Trump overseeing construction and Harrah's parent company footing the $220 million bill. But Trump fought constantly with Harrah's over the partnership and eventually bought out its stake. To do so, he saddled the casino with more than $300 million in debt from junk bonds.
April 1985: Trump buys another casino
Trump purchased a nearly finished casino, sight unseen, from Hilton Hotels when the chain was denied a gambling license. He turned it into the Trump Castle, his second Atlantic City property, and installed his then-wife, Ivana, as CEO. Trump claimed (while posing as fictional Trump Organization spokesman John Baron) that he paid about $300 million in cash. In fact, he financed the purchase through more high-interest junk bonds issued by investment bank Bear Stearns.
January 1988: Trump buys a yacht
And not just any yacht, but an ultraluxe, helipad-toting, 282-foot behemoth. He purchased it for $29 million from the Sultan of Brunei, renamed it Trump Princess, and used it as a perk for the high-rollers at Trump's casinos and other Trump guests in need of impressing. To offset the cost, he leased it to the Trump Castle for $400,000 a month, an arrangement the Washington Post's Michael Kranish and Marc Fisher called "a major financial drain" on the casino—but a healthy boost for Trump himself.
March 1988: Trump buys the Plaza Hotel
By Trump's own admission, he had long wanted to buy the iconic parkside hotel in New York that he could see from his Trump Tower office. So when it went on the market in 1988, Trump happily paid well over the odds for it—again using borrowed money, $125 million of which he'd personally guaranteed. The $407 million sale price was the most ever spent on a hotel in US history, according to Kranish and Fisher. "I can never justify the price I paid, no matter how successful the Plaza becomes," Trump wrote in an open letter in the New York Times.
May 1988: Trump gets the Taj
Trump was allowed by New Jersey law to open one more casino, and he set his sights on a 1,000-room behemoth that his competitor Resorts International started building in late 1983. In 1987, with the casino half built, he bought a controlling stake in Resorts International, sparking a battle with TV host and media mogul Merv Griffin for the company. He sold most of the company to Griffin the next year but got what he wanted: ownership of the unfinished casino.
Trump had insisted to New Jersey casino regulators that he wouldn't fund the casino, now called the Trump Taj Mahal, with high-interest junk bonds. Banks, he claimed, were clamoring to lend to him at low interest rates. But they weren't. Trump instead issued $675 million of the same kind of junk bonds he'd promised to avoid. In its first three months after opening, according to the New Jersey Casino Control Commission, the Taj lost $14 million.
May 1989: Trump buys an airline
Trump soon bought another expensive business, taking over Eastern Airlines' Boston-New York-Washington shuttle service and renaming it the Trump Shuttle. But he bought more planes from Eastern than he needed to run the shuttle service and dumped lots of money into upgrading the planes with plush interiors and faux-marble lavatories with gold-plated sinks. The shuttle quickly started losing money.
June 1990: Trump misses an interest payment
Just two months after the Taj opened, Trump said he couldn't make a $43 million interest payment on the Trump Castle's debt. There had been rumors for months that Trump was in trouble, but this was the first time he publicly acknowledged his massive debt crisis.
The missed payment sent Trump's creditors scrambling into round-the-clock negotiations to forge a debt-restructuring plan. Banker Robert McSween told the Wall Street Journal that Trump was "so down he was almost crying" one night as he prepared to call a bank that didn't want to help bail the mogul out. Trump eventually got another $65 million loan to cover his short-term payments, and the banks gave him more time to deal with his debts. But they also put him on a $450,000-a-month allowance and demanded that he install new managers and financial controls for his businesses and sell off many of his assets.
When the Casino Control Commission examined Trump's businesses, it revealed how badly Trump was in trouble. His casinos alone were $1.3 billion in debt. Trump was $3.4 billion in the hole overall, and he had personally guaranteed $833 million of that debt. Accountants who pored over his finances on behalf of his creditors found he was worth as little as minus $295 million and would probably run out of cash sometime that year. Trump seemingly acknowledged as much on a day in 1990 when he and his then-girlfriend, Marla Maples, passed a beggar on Fifth Avenue. "You see that man?" he wrote in his 1997 book, The Art of the Comeback. "Right now he's worth $900 million more than me."
December 1990: Fred Trump illegally bails out his son
Despite getting debt relief in the summer, Donald was about to miss another debt payment on the Trump Castle just a few months later. So his father, Fred Trump, sent one of his lawyers down to Atlantic City to buy $3.5 million in chips from the Trump Castle, with no intention of cashing them out. That amounted to an illegal loan to the casino, and Donald used the money the very next day to make his debt payment. The Casino Control Commission investigated the move the next year and fined the Trump Castle $65,000—but allowed it to keep the illegally obtained cash.
That may not have been the only time Trump turned to his family to fund him during his debt crisis. The New York Times reported last week that Trump asked to borrow $10 million from his siblings' portions of the Trump family trust in 1993, then requested another $20 million the next year. Trump denied borrowing from his siblings.
July 1991: The Taj files for bankruptcy
Trump missed a debt payment on the Taj in November 1990, less than a year after it opened. His creditors agreed to restructure the debt on the $675 million in junk bonds in return for ownership of half the casino. The deal was approved in August 1991, becoming the model for a string of Trump bankruptcies that would come the next year. In all these arrangements, the Washington Post wrote, "lenders were reluctant to confront Trump in bankruptcy court, where they would face years of delay and massive legal expenses," so they cut deals that cost them hundreds of millions of dollars in the hopes of getting back anything meaningful at all. In this way, they were much like the contractors that Trump often underpaid for their work: Trump could take advantage of his contracts with both big banks and small businesses, knowing neither had much leverage over him even if he failed.
March 1992: The Trump Castle and Trump Plaza file for bankruptcy
Less than a year later, Trump struck two more deals with his creditors to save his remaining casinos. The Trump Castle had been financed by $338 million in bonds, much of them high-interest junk bonds, according to United Press International. As with the Taj, the bondholders agreed to take 50 percent of the Trump Castle in return for restructuring the debt and excusing Trump from a $41 million interest payment he would have missed. (Trump also got to earn yearly fees for managing the bondholders' stake in the Trump Castle.)
The Trump Plaza got a similar arrangement, with its bondholders reducing the casino's debt by $50 million. Crucially, Trump had not yet missed any interest payments on the Trump Plaza, allowing him to keep full ownership of the casino and setting up his future escape route out of debt.
December 1992: The Plaza Hotel goes bankrupt
Trump's beloved trophy had been in trouble from the start. "To make interest payments, the Plaza needed to fill all of its 814 rooms every night of the year at a rate of $500—more than twice what the hotel was charging," wrote the Post's Kranish and Fisher. It didn't. The hotel filed for bankruptcy, and Citibank and other lenders took 49 percent of the hotel while installing new management and leaving Trump as a figurehead CEO. Trump got better terms on the hotel's debt, which stood at more than $550 million, including the $125 million he'd personally guaranteed.
Together, these deals slashed Trump's personal debt by about $750 million, according to the Washington Post, but cost banks and bondholders hundreds of millions of dollars.
June 1995: Trump goes public
In 1995, Trump turned over ownership of the Trump Plaza to a new company called Trump Hotels and Casino Resorts, which he then took public. The company raised $140 million from investors, but Trump maintained control of the company. It started out $494 million in debt, according to Fortune, but still did well at the outset. The stock price jumped from $14 to $35 in the first months of the company's existence, making Trump's stake in the company worth $400 million, according to Fortune.
1996: Trump Hotels buys the Taj and the Trump Castle from…Trump
Trump Hotels' brief success came to a screeching halt when Trump used the company to buy his two other, heavily indebted Atlantic City casinos. In the case of the Trump Castle, Trump Hotels paid $100 million more than market value for the casino. That gave Trump two huge financial lifts. First, he pocketed an $880,000 personal fee for making the transaction. Second, and much more important, the $1.7 billion debt owed on the casinos suddenly no longer belonged to him, but to Trump Hotels. There may have even been a third benefit: David Cay Johnston, an investigative reporter who has covered Trump for decades, wrote for the Daily Beast earlier this month that Trump had likely earned a personal tax break in 1995 by forgoing future depreciation benefits on his casinos. "That meant Trump got money for selling his casino hotels, while the investors got real estate with greatly diminished tax benefits," he wrote.
The upshot was that Trump had finally dug himself out from the enormous hole he'd created in the 1980s, again by using other people's money. And those people, rather than Trump, ended up suffering. Trump Hotels went bankrupt in 2004 and again in 2009. "During Trump's 13 years as chairman, the company lost $1.1 billion," Johnston explained. "Trump stock fell from a high of $35 to just 17 cents, wiping out investors. Trump did just fine, though. He was paid $82 million, Fortune magazine estimated. The publicly traded company even took out loans that were used to pay off some of Trump's remaining obligations to the banks from when he owned his casinos outright."
EPILOGUE: Trump 2.0
Trump has since rebuilt his career and image, largely through risk-free licensing deals and the publicity boom from starring on The Apprentice. He put the Trump name on buildings built around the world by other companies and was frequently accused of misleading buyers about his role in the projects. He's also slapped his name onto vodka, steaks, dietary supplements, and bottled water produced by other people—and, of course, Trump University, which made him the subject of ongoing fraud lawsuits. Trump has made money on many of these deals without having to assume any responsibility for the businesses, even when they fail.
Other people's money continues to pay dividends.