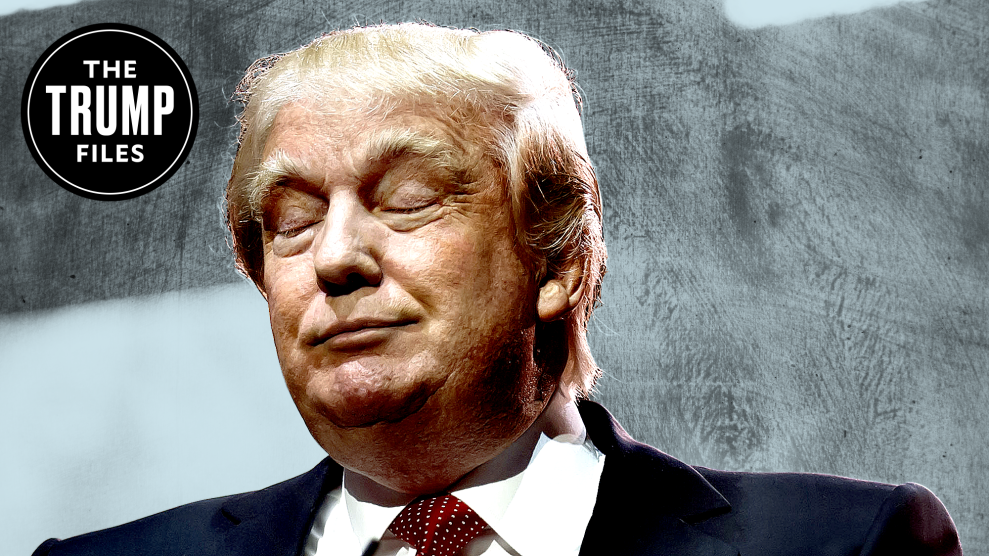 Let our journalists help you make sense of the noise: Subscribe to the
Mother Jones Daily
newsletter and get a recap of news that matters.
Marie Brenner's 1990 profile of Donald Trump for Vanity Fair captured the real estate mogul in turmoil, as he struggled to hold onto his empire amid a nasty divorce fight. It's a juicy piece, but one anecdote in particular stands out: that Trump owned a copy of Adolf Hitler's speeches and allegedly read them for inspiration:
Ivana Trump told her lawyer Michael Kennedy that from time to time her husband reads a book of Hitler's collected speeches, My New Order, which he keeps in a cabinet by his bed. Kennedy now guards a copy of My New Order in a closet at his office, as if it were a grenade. Hitler's speeches, from his earliest days up through the Phony War of 1939, reveal his extraordinary ability as a master propagandist.
"Wow," you're thinking. "But did Trump also respond to this allegation in a shady and kind of revealing way?"
Yes:
"Did your cousin John give you the Hitler speeches?" I asked Trump.

Trump hesitated. "Who told you that?"

"I don't remember," I said.

"Actually, it was my friend Marty Davis from Paramount who gave me a copy of Mein Kampf, and he's a Jew." ("I did give him a book about Hitler," Marty Davis said. "But it was My New Order, Hitler's speeches, not Mein Kampf. I thought he would find it interesting. I am his friend, but I'm not Jewish.")

Later, Trump returned to this subject. "If I had these speeches, and I am not saying that I do, I would never read them."
Trump's best defense, as is often the case, is total ignorance. His Art of the Deal ghostwriter Tony Schwartz told The New Yorker in July, "I seriously doubt that Trump has ever read a book straight through in his adult life."
Read the rest of "The Trump Files":