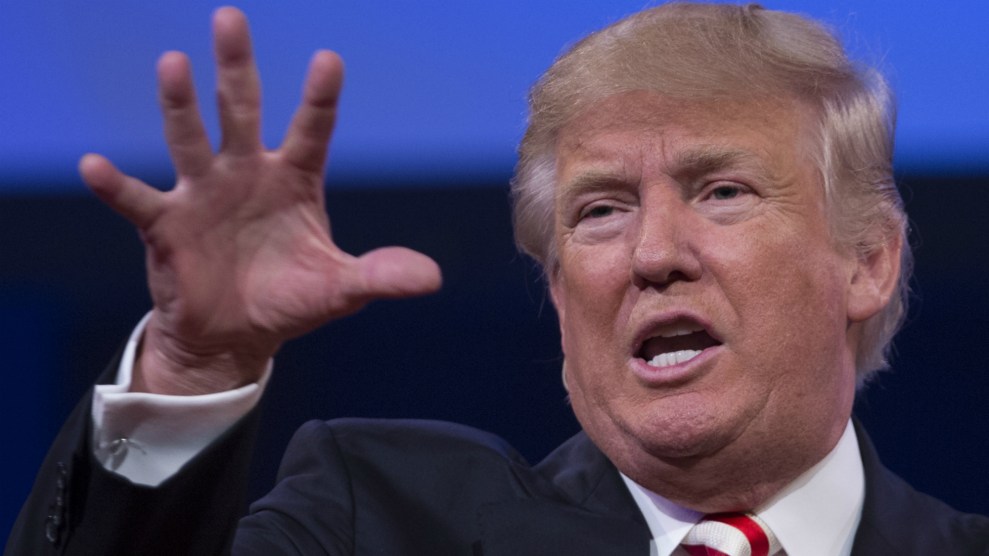 Fight disinformation:
Sign up
for the free
Mother Jones Daily
newsletter and follow the news that matters.
Mike Fernandez has spent more than $4 million in the last four years supporting Republican candidates for national office. He gave $1 million to a super-PAC backing Mitt Romney in 2012 and more than $3 million to one supporting Jeb Bush's presidential run this year. He also made a donation to help Scott Walker pay off his campaign debt and contributed to America Rising, a super-PAC set up by the GOP to attack Democrats. Of all the people who have donated money this election, he's the 31st-biggest donor. And he wants someone to check Donald Trump's head.
"As a Republican who has contributed millions of dollars to the party's causes, I ask: Why has our party not sought a psychological evaluation of its nominee?" Fernandez writes in an op-ed published in the Miami Herald on Thursday.
Under the headline "I'm a Republican and I'm With Hillary Clinton," Fernandez attacks Trump as responsible for "a neverending spiral of vulgarity, intellectual dishonesty, invective, abuse, misogyny, racism, intolerance, bullying, ignorance and downright cruelty." Fernandez says he takes particular issue with the way Trump has implied that if he loses, it will be because Clinton cheated.
"This is insanity and dictatorial machinations at best," Fernandez writes.
Fernandez is not just a big donor on the national level. He's also an important cog in the Cuban American political machine in Florida. Born in Cuba, Fernandez made more than $1 billion investing in a string of health insurance companies. He has been active in the policy debate on normalizing relations with the Castro regime and traveled with Barack Obama on the president's trip to Havana earlier this year, but he's hardly a friend of the president and has criticized Obamacare. Fernandez donated $1 million to a super-PAC backing Florida Gov. Rick Scott, who has endorsed Trump, and he chaired Scott's fundraising effort. Over the last five years, he has donated at least $655,000 to the Florida Republican Party.
In his op-ed, Fernandez makes clear he is not a Democrat, just anti-Trump. He urges Florida Republicans to vote for Clinton but to select Republican candidates elsewhere on the ballot. Fernandez does have a history with Trump. Last December, Fernandez took out an ad in the Herald calling Trump a "#BULLYionaire" and comparing him to Adolf Hitler and Benito Mussolini (leading to an angry letter from Trump's lawyer). In July, he attempted to buy an ad in the Cleveland Plain-Dealer, timed to coincide with the Republican National Convention, in which he compared Trump to a scorpion that could drown the party (a reference to an old animal fable). The paper said it would publish the ad only if Fernandez removed Trump's name from it, which he declined to do.