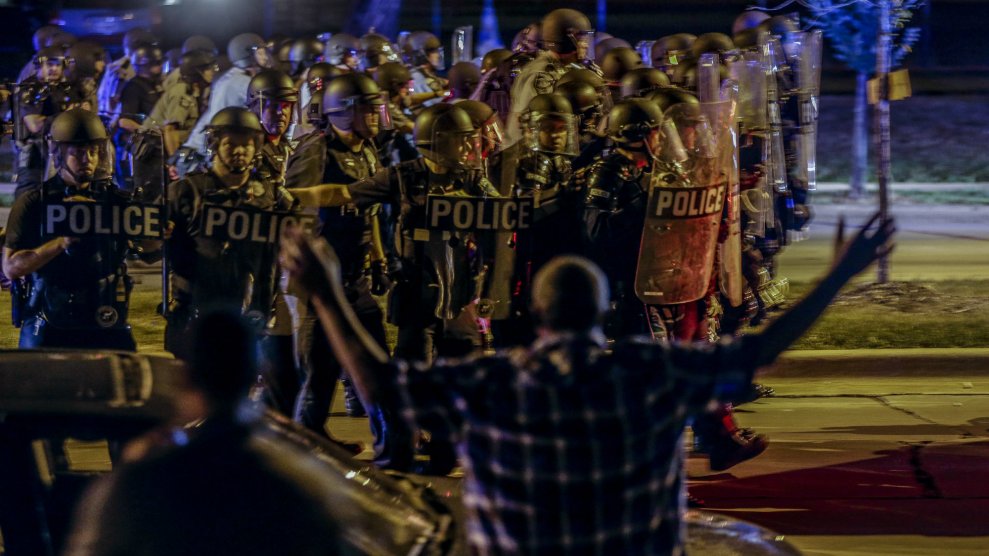 Fight disinformation:
Sign up
for the free
Mother Jones Daily
newsletter and follow the news that matters.
Milwaukee Mayor Tom Barrett announced a 10 p.m. weeknight curfew for teenagers Monday morning after the city was rocked by two straight nights of protests, rioting, and looting following the killing of an armed black man by a police officer on Saturday afternoon.
Police Chief Edward Flynn told reporters Sunday that 23-year-old Sylville Smith had been pulled over around 3:30 p.m. while driving a car that drew an officer's suspicion. Smith and another man fled in different directions from the vehicle, which turned out to be a rental car, and the officer chased Smith. About 25 seconds passed before the officer caught up to Smith, who turned toward the officer and was holding a gun, according to Flynn. The officer then fatally shot him in the chest and arm. The second man, who has not yet been identified, was later apprehended by police.
The police officer who shot Smith is a 24-year-old, six-year veteran of the Milwaukee Police Department, though he had been an officer for just three years, according to Flynn. The officer, who is black, is currently on administrative duty pending an investigation by the Wisconsin Division of Criminal Investigation.
The Milwaukee Police Officers Association published a
statement
calling demonstrators who'd destroyed property "terrorists" who "must be held accountable."
More than a hundred protesters gathered near the scene of the shooting Saturday evening. Violence erupted as the night went on; six businesses were burned, and seven squad cars were damaged, Flynn said. Four officers were injured, as was a 16-year-old girl who was hit by what Flynn thought was crossfire, and 17 people were arrested—most for civil disobedience, but four for burglary.
On Sunday morning, the Milwaukee Police Officers Association published a statement on Facebook calling demonstrators who had destroyed property "terrorists" who "must be held accountable," and Wisconsin Gov. Scott Walker activated the National Guard. Later that evening, the protests turned ugly once again. Cops in riot gear confronted people who were throwing bricks and rocks. Seven officers were injured, one after a rock crashed through his squad car window, according to Flynn. Police used an armored vehicle to retrieve one 18-year-old man who was shot and suffered non-life-threatening injuries. Several squad cars were damaged, and another vehicle was torched. Fourteen people were arrested.
Twitter user @gloed_up posted a video on Sunday that showed one person beating a car with a rock, and others taking things out of the trunk, before appearing to set the car on fire:
Video of rioters in #Milwaukee after a police involved shooting, which is currently under investigation. pic.twitter.com/ZD4RlB5OYP

— 1-800-WOKE-AF (@gloed_up) August 14, 2016
Smith, the man killed by police, had a long arrest history but no felony convictions, according to the Milwaukee Journal Sentinel. Arrest records for Smith released by the Milwaukee County Sheriff's Office on Sunday showed that Smith had been arrested at least nine times since 2011 on charges including robbery, carrying a concealed weapon, and drug possession. Last year, Smith was charged with recklessly endangering safety and witness intimidation in connection to a shooting incident, but prosecutors dropped the charges. Smith had recently gotten a concealed-carry permit to carry a weapon because, according to his mother, he had been shot twice and robbed four times over the years. Wisconsin is a concealed-carry state.
"No one can deny the fact that there's problems, racial problems, here in Milwaukee…Rectify this immediately."
Milwaukee city alderman Khalif Rainey said the Sherman Park area, where the unrest took place, had become a "powder keg" over the summer. "This entire community has sat back and witnessed how Milwaukee, Wisconsin, has become the worst place to live for African Americans in the entire country. Now this is a warning cry. Where do we go from here?" Rainey said. "Do we continue—continue with the inequities, the injustice, the unemployment, the under-education—that creates these byproducts that we see this evening?…I'm not justifying [the riots]. But no one can deny the fact that there's problems, racial problems, here in Milwaukee, Wisconsin, that have to be closely, not examined, but rectified. Rectify this immediately."
The weekend marked the second time Milwaukee has seen major protests over the police killing of a black man since 2014. Protests erupted in December 2014 after a county prosecutor decided not to file charges against the officer who shot and killed 31-year-old Dontre Hamilton, a black man with a history of mental illness who was confronted by the officer while sleeping in a park.
Smith's sister, Kimberly Neal, said she was in "pain" over her brother's death, but called for calm on Sunday before more violence took place. "At the end of the day, acting out ain't gonna solve it," she said. "Ain't gonna solve nothing for Sylville."