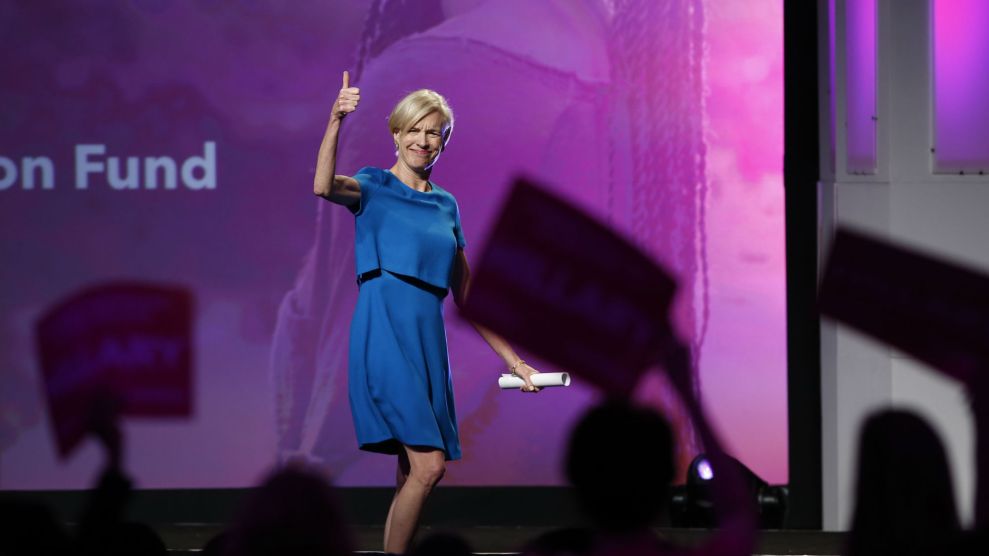 Fight disinformation:
Sign up
for the free
Mother Jones Daily
newsletter and follow the news that matters.
A federal judge permanently blocked parts of Florida omnibus legislation that aimed to cut off state funding for preventative health services at women's clinics that also provide abortions, a measure that was perceived to have targeted Planned Parenthood clinics. Another provision in the law that would have vastly increased what providers have described as unnecessary records inspection requirements for abortion clinics was permanently blocked as well.
The ruling comes at a critical time for Florida—Zika is now spreading in Miami Beach and north of Miami, Gov. Rick Scott confirmed Friday. The Centers for Disease Control and Prevention have issued a new travel warning that advises pregnant women to avoid the area. So far, there have been 36 confirmed cases.
"We are grateful the court stepped in to stop Rick Scott in his tracks and protect access to health care," said Lillian Tamayo, CEO of Planned Parenthood of South, East, and North Florida. "If this law had gone into effect, it would have made a bad situation even worse. With the threat of Zika growing by the day, this care is even more critical. It's time to stop political attacks on women's basic health care."
The legislation passed the conservative Legislature with ease back in March, and Scott signed it into law shortly thereafter. The law specifically took aim at Planned Parenthood's funding in the wake of a smear campaign by anti-abortion activist David Daleiden that alleged Planned Parenthood was selling fetal tissue for profit. (None of the investigations into Daleiden's allegations have found the health care provider guilty of any wrongdoing.) In June, US District Judge Robert Hinkle temporarily put provisions in the law on hold after Florida Planned Parenthood affiliates challenged them as unconstitutional.
"The Supreme Court has repeatedly said that a government cannot prohibit indirectly—by withholding otherwise-available public funds—conduct that the government could not constitutionally prohibit directly," Hinkle wrote in June when he placed the law on hold.
State and federal law already prohibit the use of federal funds to finance abortion procedures. The Florida law would have cut $500,000 in expected state funding that Planned Parenthood uses to fund health care screenings and a school dropout prevention program. Opponents of the law also criticized its requirements for records inspections at abortion clinics, fearing it would jeopardize patient privacy by making it easy to uncover details about mental health history, abortion care history, and HIV status.
As previously reported in Mother Jones, Scott had promised to allocate $26 million in state funds to deal with the health crisis, part of which would pay for CDC Zika prevention kits that include two kinds of mosquito repellent, tablets that kill mosquitos in water, and condoms. He has also said his office and Florida's Department of Health were coordinating to go door to door in an effort to educate women in areas of concern about the risks Zika poses. It's unclear whether any of those plans have been enacted.
The state could still appeal the decision, but because Scott ultimately decided to drop further legal action in this case, allowing for the injunction, it seems unlikely. Scott's spokeswoman told ABC News that the governor is reviewing the order, and maintained that "Scott is a pro-life governor who believes in the sanctity of life."