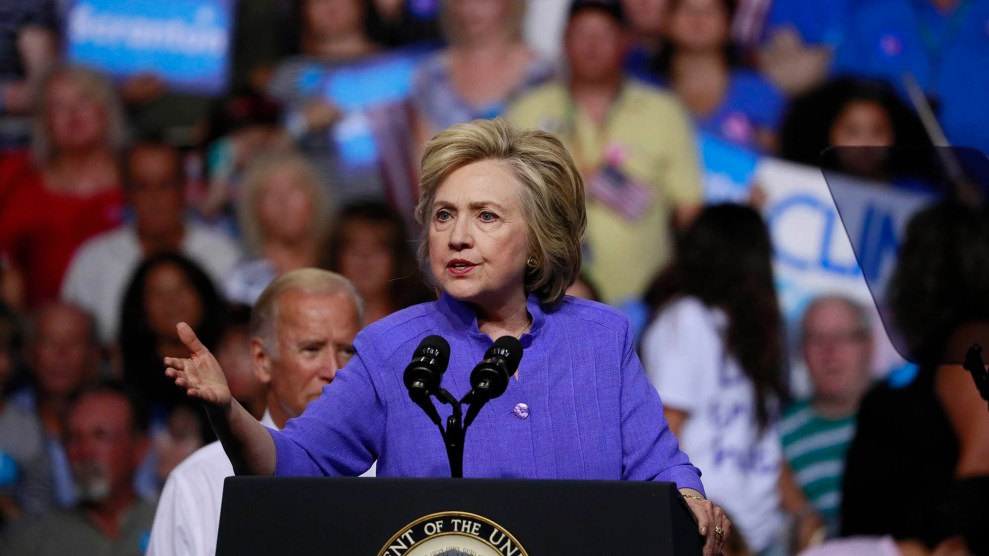 Democrats haven't been shy about pointing out the racial undertones in Donald Trump's campaign, but Hillary Clinton took that message to a new level Thursday, calling out the GOP nominee for purposefully whipping up racist bigotry and resentment. During a campaign speech in Reno, Nevada, Clinton presented something of a seminar explaining the extreme periphery of conservatism known as the alt-right and this extremist movement's ties to her Republican opponent. "From the start," Clinton said, "Donald Trump has built his campaign on prejudice and paranoia. He's taking hate groups mainstream and helping a radical fringe take over the Republican Party. His disregard for the values that make our country great is profoundly dangerous." The speech came shortly after Trump presented an accusatory tirade against Clinton, claiming she was head of a worse-than-Watergate "vast criminal enterprise."
The alt-right has recently blossomed from a little-known online community of activists—a group of white supremacists and anti-immigration advocates—into a major player in GOP politics, thanks to Trump's decision a week ago to overhaul his campaign leadership once more and hire Breitbart News executive chairman Stephen Bannon as his campaign CEO. As Mother Jones recently reported, Bannon has boasted that under his leadership, Breitbart was "the platform for the alt-right." And the Clinton campaign has spent the past week tying Trump to the most extreme elements of the Breitbart universe. Clinton campaign manager Robby Mook hosted a conference call for reporters right after the Bannon hiring and said, "This latest shake-up turns the campaign over to someone best known for running a so-called news site that peddles divisive, at times racist, anti-Muslim, and anti-Semitic conspiracy theories."
Breitbart has a large and devoted fan base, but it is relatively new and not widely known. So Clinton ticked off a list of representative headlines from the publication in her speech Thursday:
"Birth Control Makes Women Unattractive and Crazy"
"Would You Rather Your Child Had Feminism or Cancer?"
"Gabby Giffords: The Gun Control Movement's Human Shield"
"Hoist It High and Proud: The Confederate Flag Proclaims a Glorious Heritage"
With Bannon in charge of the Trump campaign, Clinton said, the racist elements of the alt-right have "effectively taken over the Republican Party." But the Democratic candidate also noted that Bannon's hiring is a continuation of the Trump campaign's relationship to the right-wing fringe. On Thursday morning, ahead of Clinton's speech, the campaign released an unsubtle video featuring Ku Klux Klan members praising Trump and his policies. In her speech, Clinton cited a lawsuit filed by the Justice Department in 1973 against Trump's real estate company for not allowing African Americans and Latinos to move into his apartment buildings. She added, "He promoted the racist lie that President Obama isn't really an American citizen, part of a sustained effort to delegitimize America's first black President."
Clinton's pitch seemed aimed at two separate audiences: people of color—who are perhaps most likely to be outraged by Trump's ties to white nationalists and his previous calls for mass deportations—and moderate Republicans who might support Trump but haven't ever waded into the Breitbart swamp. "This is a moment of reckoning for every Republican dismayed that the Party of Lincoln has become the Party of Trump," Clinton asserted. She hailed former Republican standard-bearers—Bob Dole, George W. Bush, and John McCain—who each disavowed racism in their party. The message to other Republicans was clear: It's not too late for you to do the same.
Watch Clinton's full speech below: