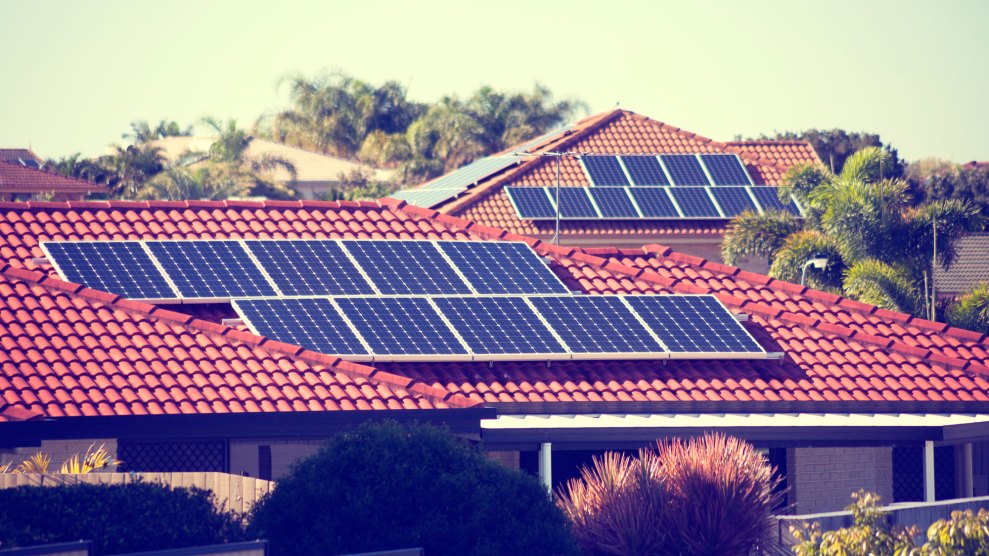 Fight disinformation:
Sign up
for the free
Mother Jones Daily
newsletter and follow the news that matters.
Update, August 31, 3:22 p.m. ET: Amendment 4 passed Tuesday with 73 percent support, local news reports.
Most influential ballot initiatives won't be decided until November, but Florida has an important vote on solar power just this week.
On Tuesday, Sunshine State voters will head to the polls for the state's primaries, and to vote on Amendment 4, a legislatively referred constitutional amendment. If approved, it would make solar and renewable energy equipment on commercial buildings exempt from property taxes. It would also get rid of certain personal property taxes on solar equipment.
Residential properties are already exempt from similar solar taxes thanks to a 2008 voter-approved amendment. The new tax breaks would go into effect for 20 years starting in 2018, and advocates hope it could push big-box stores like Walmart to cover their buildings with panels.
"This is huge, this amendment on Tuesday," says Jim Fenton, director of the Florida Energy Center at the University of Central Florida. "You may see the floodgates going up."
According to the Solar Energy Industries Association, Florida has the third-highest solar power potential but is only 14th in actual production—New Jersey and Massachusetts produce more. High costs and utility-friendly policies have prevented the Sunshine State from living up to its nickname and becoming a solar haven.
But with equipment prices plummeting, Amendment 4 aims to revamp several polices that discourage solar deployment. While Florida does allow net metering, where homes with solar panels can sell the energy they make back to utilities, the state is one of just four to ban third-party sales. That system, where solar companies install panels and sell that electricity to buildings or homes directly, has helped put panels where owners might not be able to afford them. Leasing, another arrangement used in nearly half the country, is legal in Florida but less popular than it is in other states because Florida law requires the company that owns the panels to still pay taxes on the value of that equipment.
"If you make solar more affordable, customers will respond," said Sean Gallagher, vice president of state affairs at SEIA. "Residential customers want solar and commercial customers have sustainability directors who are saying, 'We need solar to meet our sustainability goals.'"
Florida's Legislature put Amendment 4 on the ballot in March, and the latest polls show about 56 percent support. The measure needs support from 60 percent of voters. It would then be sent back to the Legislature for final approval.
A large, diverse group of organizations support the amendment, including the Florida Wildlife Federation, the Sierra Club, the Florida Chamber of Commerce, Floridians for Solar Energy, and many others. The amendment has also earned the support of editorial boards across the state.
"It quite literally has no opposition," wrote the Tampa Bay Times in late July. While that was correct at the time, a campaign called Stop Playing Favorites registered in opposition of the amendment at the beginning of August, arguing the state Legislature is using the amendment to cozy up to big solar companies. About a week later, the Reverend Al Sharpton gave a speech arguing the amendment would harm minority communities by diverting tax money to big business.
But one major struggle for Stephen Smith, the executive director of the Southern Alliance for Clean Energy and a backer of Amendment 4, is clearing voters' confusion between this vote and Amendment 1, a separate and far more controversial measure that won't appear on the ballot until November.
Though packaged as a pro-solar amendment, that measure is backed by utilities, and opponents say it will do little to improve solar. In fact, some argue that if Amendment 1 passes it could help utilities get rid of net metering in Florida, and even further discourage the deployment of solar power.
Smith pointed out it's tough to get 60 percent support, which makes Tuesday's outcome uncertain—but also gives him hope they can beat Amendment 1 in November.
"Does it pass Tuesday? I don't know," Smith said. "We're hopeful, we're cautiously optimistic."