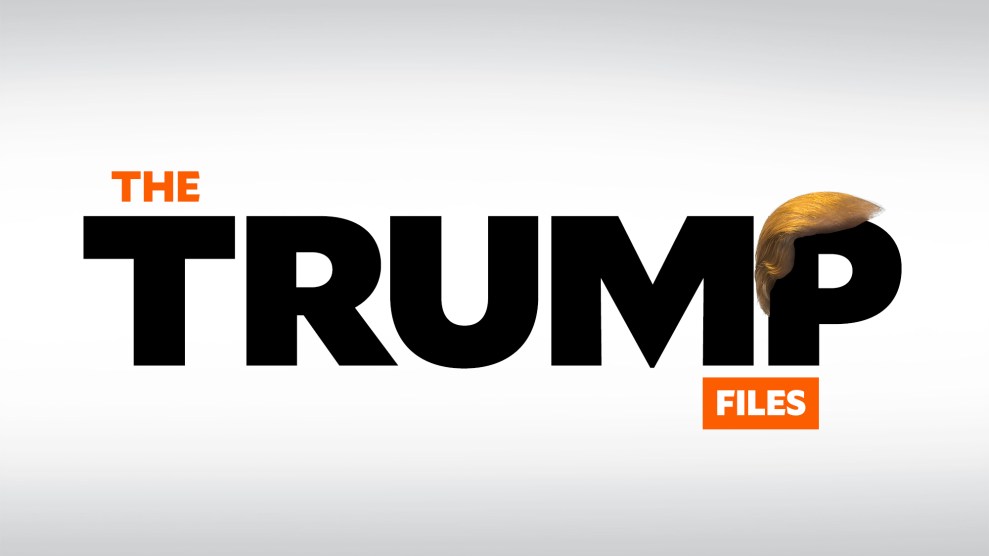 Fight disinformation:
Sign up
for the free
Mother Jones Daily
newsletter and follow the news that matters.
Until the election, we're bringing you "The Trump Files," a daily dose of telling episodes, strange but true stories, or curious scenes from the life of presumptive GOP nominee Donald Trump.
Donald Trump has had plenty of unsavory moments as a guest on Howard Stern's various shows—where he has often joined the host in making boorish and misogynistic comments—but a 2001 appearance on Stern's radio show was particularly ugly, when Trump engaged in an on-air showdown with gossip columnist AJ Benza.
Things started out calmly enough when Trump called into the show, which featured Benza as a studio guest. "AJ's a nice guy," Trump told Stern. "I like him, even though I hear he said negative things about me in his book." That book, Fame: Ain't It a Bitch, accused Trump of stealing Benza's ex-girlfriend, model Kara Young. Trump pleaded innocence: "Hey, AJ, nobody told me I was stealing your girlfriend."
The détente didn't last long. Within minutes, Trump was bragging about having slept with Young, Benza was making creepy threats to bed Trump's daughter Ivanka, and both men were questioning each other's hair.
"While you were getting onto the plane to go to California thinking that she was your girlfriend, okay, she was some place that you wouldn't have been very happy with," Trump told Benza.
"I can't wait till your little daughter gets a little older for me," Benza said.
"[Young] told me you were losing your hair, AJ, and you're going for transplants," Trump said.
"Oh, shut up, you got plugs," Benza fired back. "Does the world know that?"
The fight went on for half an hour. Stern got Young herself on the phone, and she said what many listeners were probably thinking: "I think it's sad that two grown men are doing this."