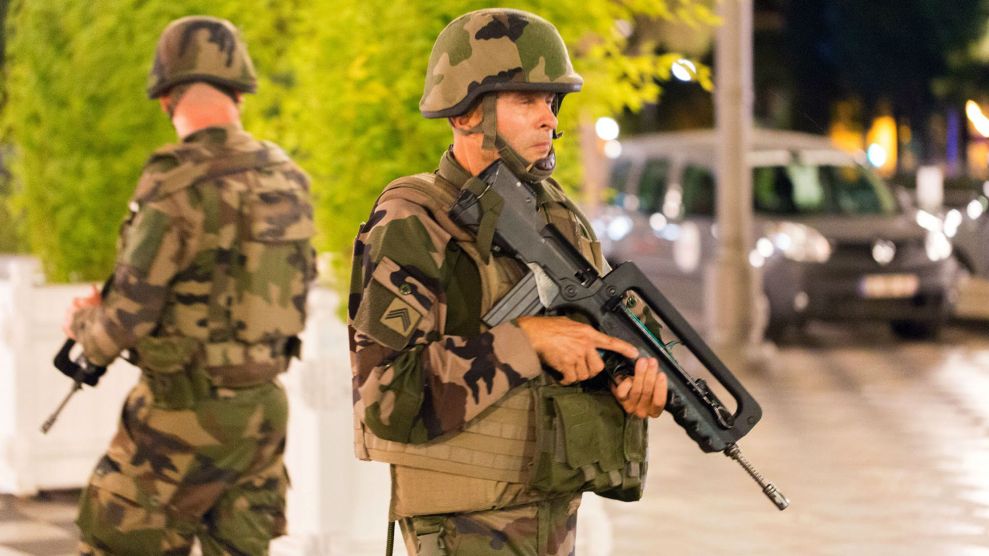 Update, July 15, 2:01 p.m. ET: The Paris Prosecutor's office this morning confirmed that Mohamed Lahouaiej Bouhlel, a 31-year-old French-Tunisian delivery driver was behind the wheel of the truck that drove into the crowd in Nice. Bouhlel was not known by French or Tunisian officials to have ties to terrorist organizations.
Neighbors of Bouhlel told The Guardian that he was not a religious man, and members of the local Muslim community confirmed that they had not seen him worshipping at nearby mosques. Bouhlel's wife has not lived in his apartment for three years and the couple was either divorced or in the process of getting a divorce, according to neighbors. The woman, who was not named, has been taken into police custody for questioning, according to The Guardian.
Update, July 15, 7:09 a.m. ET: Officials say at least 84 have been killed in the attack.
During a Bastille Day celebration in the French Riviera city of Nice, a truck accelerated down the Promenade des Anglais seafront around 10:30 p.m. Thursday and plowed through a crowd gathered to watch fireworks.
The driver fired a gun into the crowd through the truck's window, according to Christian Estrosi, a former mayor of Nice who is now president of the Regional Council of Provence-Alpes-Cote d'Azur. The driver's actions appeared to be premeditated, and the truck was loaded with weapons and grenades, Estrosi said.
Witnesses said bodies were strewn a mile down the road, according to the Washington Post.
The driver was shot by the police and is dead. Identification belonging to a 31-year-old French Tunisian resident of Nice was found inside the truck, a police source told Agence-France Presse. The attacker's identity has not been confirmed, and it is unclear whether anyone else was involved in the attack.
The Paris Prosecutor's anti-terrorism office has taken over the investigation.
In a speech Friday morning, President Francois Hollande called the incident a terrorist attack. He said that it claimed 77 lives and has gravely injured 20 so far. Hollande is extending the country's state of emergency, which began after November terrorist attacks in Paris killed 130, and was set to end July 26. Now it will last an additional three months.
Shortly after Hollande finished his address to the nation, French interior minister Bernard Cazeneuve said the death toll had risen to 80.
The French president vowed his country would continue its fight against terrorism. "We are going to strengthen our efforts in Syria and Iraq against those who are attacking us on our very soil," Hollande said.
No group has claimed responsibility for the attack, but some of ISIS' supporters celebrated the carnage on Twitter.
The US Consulate is trying to determine whether any Americans were killed in the attacks, the agency said in a statement.
President Barack Obama also issued a statement condemning the attacks and expressing support for France.
"I have directed my team to be in touch with French officials, and we have offered any assistance that they may need to investigate this attack and bring those responsible to justice," it reads. "We stand in solidarity and partnership with France, our oldest ally, as they respond to and recover from this attack."