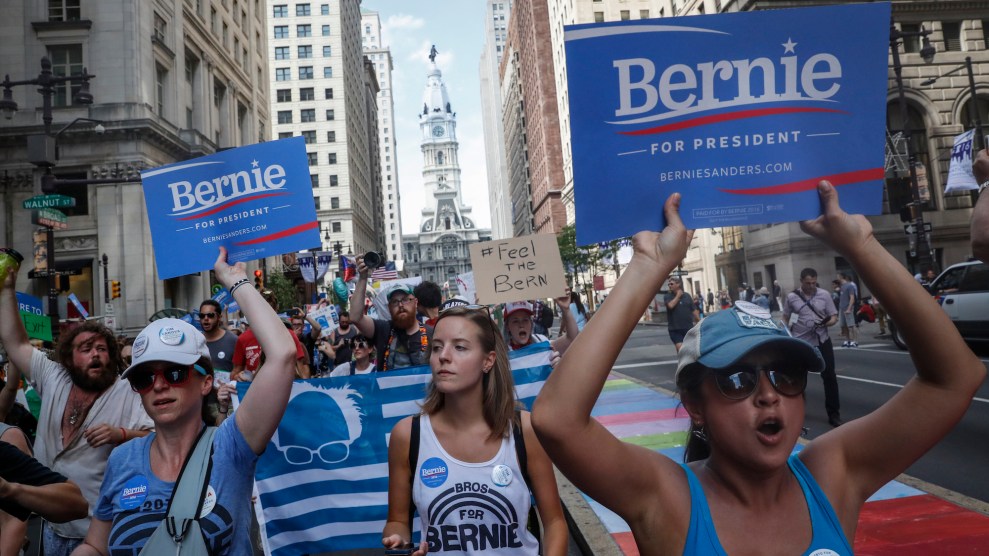 Fight disinformation:
Sign up
for the free
Mother Jones Daily
newsletter and follow the news that matters.
"We got her. We got her."
It's near midnight. Democratic Party delegates are milling about the lobby bar of the Marriott in downtown Philadelphia. And on the big overhead screen, there's a CNN report on the news of the day: Rep. Debbie Wasserman Schultz (D-Fla.), the chairwoman of the Democratic National Committee, had given up the post after leaked emails showed that some DNC officials had discussed how to thwart Bernie Sanders' campaign.
Sanders delegates are cheering wildly. The head of the party apparatus many of them despise is out. It's a victory for the Sanders revolution. Off to the side, a Florida delegate for Hillary Clinton looks on sadly. "I suppose she had to go," he says. He then sums up the relationship between Sanders delegates and Clinton delegates with one word: "acidic."
As thousands of delegates to the Democratic convention hit the City of Brotherly Love (and Sisterly Affection), it was clear that the Clinton campaign's talk of unity, in the wake of announcing Tim Kaine as Clinton's running mate, was more hope than reality. Sanders delegates throughout the city were grousing about a series of perceived slights and wrongs: the selection of Kaine, with his centrist reputation; the leaked emails, which showed that, yes, the DNC favored Clinton over Sanders, but didn't contain evidence of much underhanded activity; and Clinton's inadequate (in their view) outreach to the Sanders crowd. At a pro-Sanders rally on Sunday afternoon, attendees chanted, "Lock her up," echoing the mantra of Donald Trump's convention last week. At a Monday morning gathering of the California Democratic delegation, Sanders delegates booed mentions of Clinton. And Florida Sanders delegates jeered Wasserman Schultz at their breakfast meeting.
Many Sanders folks are still grieving and not accepting Clinton's triumph. Though Sanders nudged Clinton to the left during the campaign, demonstrated the vitality of the Democratic Party's progressive wing, helped craft the party's most progressive platform in decades, and won a small concession regarding the future of superdelegates within the party, many of his delegates were openly and vigorously expressing disappointment and voicing their dissatisfaction with Clinton.
Lisa Flyte, a Sanders representative on the convention credentials committee, griped that the Clinton campaign "is still taking jabs at us." Though she noted she believed that a Trump victory would likely be bad news for low- and middle-income Americans, she said Clinton has "supported policies that hurt middle-income people here and abroad." She blasted Clinton for supporting "oligarchs overseas and big energy companies." She was ticked off that the Clinton campaign "is saying we're unified without real accommodations." She added, "We're not ready to move on."
Jason Brown, the vice chair of the Iowa delegation and a Sanders supporter, was peeved that the Clinton campaign has "not yet reached out to us." He noted that Clinton's message was not inspiring Iowans who had volunteered and voted for Sanders. "These people are looking for more from her," he said. Brown is committed to supporting Clinton, but he remarked, "I'm not sure I can convince the Sanders volunteers with a she's-not-Trump message. They need more."
At the start of the convention, Sanders delegates were left to their own devices. The Sanders campaign had created a whip system to provide guidance to its delegates. But as of Monday morning, no instructions were disseminating. "That's been frustrating," one Sanders delegate from Florida says. "We don't know what they want us to be saying or doing. We're in limbo." (Sanders was scheduled to address his delegates at a Monday afternoon meeting.) A California Clinton delegate pointed out that within her state delegation, there had been little conversation between Clinton delegates and Sanders delegates. "It's still very raw," she said. "They're processing a death in the family."
At a press conference on Monday morning, the Bernie Delegates Network, an outfit independent of the Sanders campaign that claims to represent two-thirds of the Sanders delegates, presented Sanders delegates outraged at the DNC and Clinton campaign. They were mad that Clinton has named Wasserman Schultz an honorary chairwoman of her campaign. There was talk of launching protests—"an expression of disapproval"—during Clinton and Kaine's speeches. This could include delegates booing or walking out.
Norman Solomon, a Sanders delegate, asserted, "There is serious interest and exploration…in a formal challenge" to Kaine. Who might that be? Solomon replied that Sanders delegates have approached several politicians, but that "those who want to eat lunch at the White House, they run the other way." So any names? "We're working on it." (Solomon said he has had "zero connection with the Bernie campaign.")
At this event, Manuel Zapata, a California Sanders delegate, shared his bitter disappointment. "Since the moment we got here, people have looked down on us as we walked past people with our Bernie swag on—as if he's not still a candidate, as if it's wrong for us to support our candidate," he said. He added, "It is disrespectful that a madman like Donald Trump is reaching out for the progressive vote more than Hillary Clinton is."
Karen Bernal, a leader of the California Sanders delegation, said there would be nothing wrong with Sanders people jeering Clinton when she comes to the podium. She did note that the Sanders campaign was "pressing us not to be involved in protests and not to be so overt in our expressions…My job is to make sure that the wishes of my delegates are heard, that their opinions are heard…They have never been a group to take marching orders."
Bernal believes Sanders' endorsement of Clinton was a mistake. She said, "We can still be mad at Hillary Clinton and still say it's essential to defeat Trump." But asked if protests by Sanders delegate would help the effort to defeat Trump, Beral noted, "It absolutely helps," because it will signal to progressives that there is a place for them within the Democratic Party. She didn't explain precisely how deriding Clinton and her veep pick would bolster the effort to elect Clinton.
It's uncertain what sway Sanders will have over the Sanders delegates looking to make noise at this convention. The delegates at this press conference repeatedly noted that the movement transcends the candidate and that the activists within it will determine the strategy this week. If they are asked by Sanders not to do something, Solomon said, "we'll take that under advisement." He added that Sanders "is not running the show…The activists at this convention will make the social change."
Update 1:35 p.m.: Sanders addressed his delegates on Monday afternoon and highlighted the successes he achieved in his campaign, boasting of "the most progressive platform ever written in the history of the Democratic Party" and a "major victory" in reforming superdelegates. But when he told the crowd, "We have got to elect Hillary Clinton," he was met with boos.