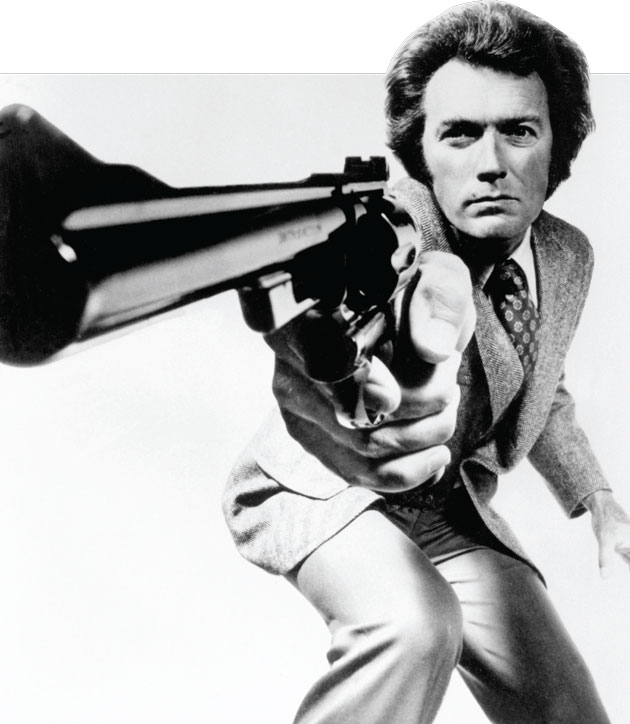 Read our investigation into America's 10 biggest gun manufacturers.
While gun makers like to stay out of the limelight, their wares often receive free publicity from the entertainment industry. Here are six guns that got their 15 minutes of fame:
Smith & Wesson Model 29: This giant revolver was on the verge of being discontinued until Clint Eastwood immortalized it as "the most powerful handgun in the world" while pointing it at a cowering "punk" in 1971's Dirty Harry. The gun used in the film is now on display at the NRA's National Firearms Museum.
Walther PPK: James Bond has carried this compact German pistol in 20 films, receiving his first one in Dr. No with the recommendation that "the American CIA swear by them." Walther still claims 007 as its "most famous ambassador."
Dornaus & Dixon Bren Ten: Don Johnson reportedly helped pick out this chrome-plated piece for Sonny Crockett on Miami Vice.
Glock: In Die Hard 2, Bruce Willis called a Glock "a porcelain gun made in Germany that doesn't show up on your airport X-rays and costs more than you make in a month." Never mind that the gun was Austrian-made with plastic parts detectable by X-rays—Glock pistols went on to appear in hundreds of movies and TV episodes and were name-dropped in countless hip-hop lyrics. "Grab your Glocks when you see 2Pac," Tupac Shakur rapped in 1996; he would be killed with one the same year.
Kimber Gold Combat II: Kimber custom-made 10 pistols for Sylvester Stallone to use on screen in The Expendables. "Sly wanted something a little bit different," the prop master told MTV. "So we were able to make the body of the gun a little darker with black grips and little chrome pieces on it. Just very subtle, to make it more personal."
Magnum Research Desert Eagle: These large-caliber handguns, designed for hunting, have appeared in dozens of films, including RoboCop, The Matrix, Snatch, and Borat. "Here's a gun that has very little practical usage," the owner of a prop company told the Baltimore Sun. "The success of that particular weapon owes almost everything to the movies."