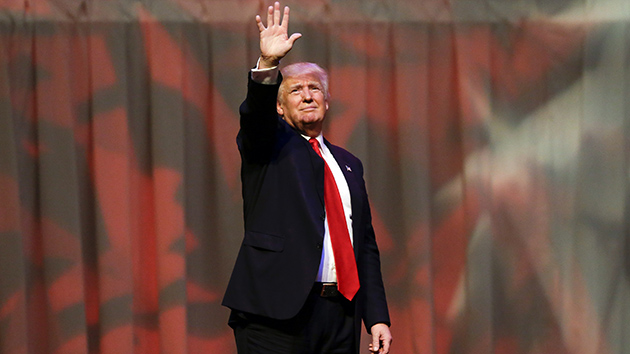 Fight disinformation:
Sign up
for the free
Mother Jones Daily
newsletter and follow the news that matters.
Donald Trump won the Indiana Republican primary Tuesday night, dealing what is likely a fatal blow to the Ted Cruz campaign and the movement to deny Trump the presidential nomination.
The major networks called the race for Trump shortly after polls closed at 6 p.m. Central Time. With 10 percent reporting, Trump was winning 54 percent of the vote, to 34 percent for Cruz and 9 percent for John Kasich.
Trump's victory in Indiana puts him in a strong position to reach the 1,237 delegates needed to win the nomination on the first ballot at the Republican National Convention in July. Indiana will send 57 bound delegates to the convention in Cleveland. Trump is likely to take most or even all of them.
Cruz was hoping for a comeback in Indiana following a series of defeats. After Trump dominated two weeks of primaries in the Northeast, including in his home state of New York, the primary map shifted away from the East Coast, where Trump has been dominant. Indiana's large working-class white population presented an advantage for Trump, but the state's Republican voters are also socially conservative, and its demographics resemble those of Missouri, where Cruz essentially tied Trump, more so than Michigan or Illinois, where Trump dominated.
But Trump's momentum coming off his East Coast wins helped him gain steam in Indiana, and his lead in the polls grew steadily over the past week, leaving him with an 11-point lead over Cruz in the Real Clear Politics polling average heading into Tuesday. Cruz also suffered an unforced error last week when, in the course of pandering to basketball fans in Indiana, he called the hoop a "basketball ring."
The delegate math grew more daunting for Cruz after the East Coast primaries. Cruz was mathematically eliminated from clinching the nomination on the first ballot at the convention. Instead, he needs to keep Trump under 1,237 delegates in order to force a contested convention, where he could challenge the front-runner.
Looking for a reset, Cruz announced last week in Indianapolis that Carly Fiorina would be his running mate—an unprecedented step since Cruz is far from securing the nomination. But as tonight's results showed, his Hail Mary wasn't enough to stop Trump.