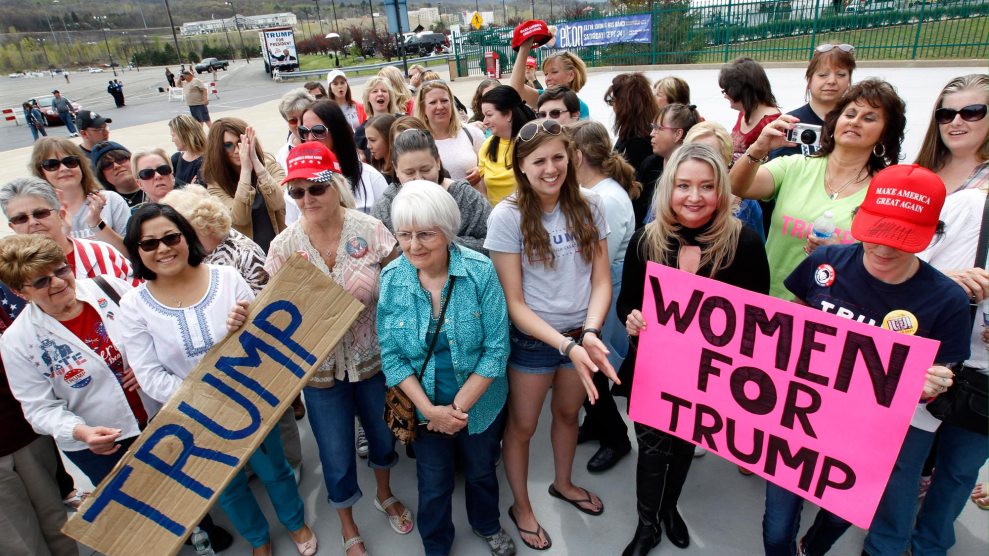 Fight disinformation:
Sign up
for the free
Mother Jones Daily
newsletter and follow the news that matters.
During the Iowa caucuses in January, Marjorie Dannenfelser, the head of the anti-abortion advocacy group the Susan B. Anthony List, joined other pro-life women leaders in writing a letter to Iowa voters to warn against Trump, saying they were "disgusted" by his treatment of women.
"America will only be a great nation when we have leaders of strong character who will defend both unborn children and the dignity of women," they wrote, poking at Trump's campaign slogan, "Make America Great Again." They continued: "We cannot trust Donald Trump to do either. Therefore we urge our fellow citizens to support an alternative candidate."
When Trump flip-flopped on abortion in March, first stating that he believed women who got the procedure should be punished, but then backtracking, Dannenfelser told Breitbart News that Trump "has completely contradicted himself. If this is his position, he has just disqualified himself as the GOP nominee."
But Trump's rise to becoming the presumptive Republican nominee seems to have inspired Dannenfelser to flip her position on the real estate mogul. On Monday, she wrote an op-ed for the conservative news site Townhall.com titled "The Pro-Life Case for Trump." She cites several of his anti-abortion statements from the campaign trail: his promises to defund Planned Parenthood, to appoint anti-abortion justices to the Supreme Court, and to support Congress' proposed 20-week abortion ban, which failed in September 2015 but is being debated again this term.
She writes that it is important to oppose Hillary Clinton, whose promise to fund Planned Parenthood, according to Dannenfelser, is "the most dramatic pro-abortion position espoused by a leading political figure to date." (Abortion care makes up about 3 percent of health services provided annually by Planned Parenthood.) Dannenfelser concludes, "We believe Mr. Trump, who has already taken strong positions on the life issue throughout the primary campaign, will join us on offense."
"A few weeks ago, they were crying foul that Donald Trump didn't adhere to anti-choice orthodoxy," Ilyse Hogue, president of NARAL Pro-Choice America, said in a statement to the Huffington Post. "Now, Susan B. Anthony List is cozying up to him apparently mollified that his anti-choice policies pass their muster."