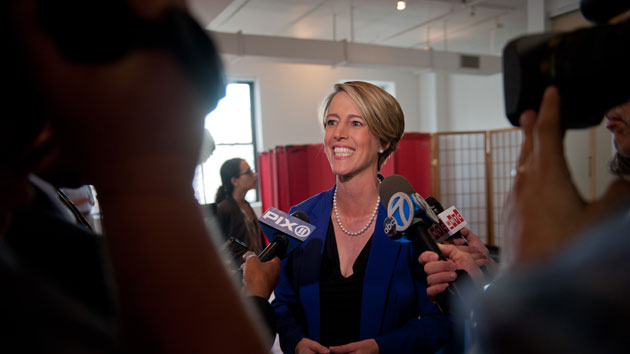 Fight disinformation:
Sign up
for the free
Mother Jones Daily
newsletter and follow the news that matters.
The first real sign of what awaited Hillary Clinton in the 2016 Democratic presidential race came two years ago, when New York Gov. Andrew Cuomo found himself in an unexpectedly heated primary fight with a liberal gadfly from Vermont. Cuomo's opponent, Zephyr Teachout, was a Fordham law professor who volunteered at Occupy Wall Street and wrote a book about political corruption. Teachout considered the governor too corporate and too conservative. Cuomo paid her so little attention that on election night, she struggled to find a phone number to call the governor to concede.
But Cuomo couldn't ignore the results. Despite losing by nearly 30 points, Teachout exposed a deep fissure within the state Democratic Party. She won 32 of 62 counties, carrying some upstate areas by more than 50 points. Her running mate, Columbia law professor Tim Wu, called the primary "the first of what will be a long-running series of contests within the Democratic Party which really divide on the issue of inequality and private power."
Wu's prediction has come to pass. Clinton is now locked in an unexpectedly heated presidential primary with a liberal gadfly from Vermont, Bernie Sanders, and the 44-year-old Teachout has moved on to her second act—she's running for Congress. Sanders has raised money for Teachout and called her a member of his "political revolution." Teachout has endorsed Sanders. The Vermont senator's best result in Tuesday's New York primary came in Teachout's 19th congressional district, which he won by 18 points. The similarities between two of the left's leading critics of corporatocracy are obvious to the point of cliché. (In an email spit-balling sensationalist angles my story might take, Teachout's spokeswoman joked that I would describe her boss as "Bernie's illegitimate child.") Sanders probably won't be on the ballot this November; instead, the fate of his movement will be in the hands of candidates like Teachout.
On a recent Saturday afternoon, as we drove to lunch at a microbrewery in Troy, New York, Teachout explained why, if you want to know what ails America, you need to understand where chickens come from. She did not mean this in a philosophical way. What you need to understand is an idea she calls "chickenization," a system pioneered by agricultural giants such as Tyson, in which local contract farmers agree to standardize their practices on behalf of big poultry companies that keep most of the profits.
Teachout has a pop academic's habit of footnoting even her extemporaneous remarks, and in just a few minutes, she cited two books, a TEDx talk she gave at Boston University, a class she's teaching at Fordham, some YouTube videos, and a "nice segment" about this topic on John Oliver's HBO show. Chickenization is not just about chickens. "It's also what is happening in our economy at large," she said; when corporate heavyweights build regional monopolies—whether it's to provide pesticides, broadband, or chocolate milk—everyone else pays the price.
She considers consolidation a major problem in the 19th district, a largely rural swath of upstate New York that covers all or parts of 11 counties, from the Catskills to the Hudson. Many of the dairy farms in the district contract with just one company, Dean Foods. Teachout refers to this as a "crisis of concentration of power," and one of her campaign promises is to toughen anti-trust laws in a way that gives "the farmer of the middle" more autonomy in how they run their operations. Her political message oscillates between that of a wonkier Bernie Sanders and a crunchier Elizabeth Warren.*
Zephyr Rain Teachout grew up on a farm in Norwich, Vermont, in a family obsessed with civics. Her mother is a judge; her father is a constitutional law professor; her older sister, Woden, is a political scientist. Teachout attended Yale University and Duke Law School. For fun when she was living in North Carolina, she told me, she would visit hog farms on the weekends to learn how the business worked.
"I'm a big fan of [Louis] Brandeis," she said, when I suggested that was an unusual hobby. The former Supreme Court justice placed a premium on fact-finding. "He would always tell his students—which I tell students sometimes—'Go back to your hometown and learn everything about a particular industry. Don't start with theory, start with the work.'" She argues in her book that one reason the Supreme Court has granted more power to corporations in recent years, through decisions like Citizens United, is that it is detached from the on-the-ground realities of American life.
After law school, Teachout represented death row inmates and co-founded a nonprofit to train other lawyers to do the same. In 2003, she moved back to Vermont and started working for Howard Dean's presidential campaign. She offered to help with agriculture policy. Instead, she was assigned to the internet.
Thanks in part to her work as director of online organizing, the Dean campaign earned a reputation as a digital trailblazer, harnessing online communities and email lists to rack up massive fundraising hauls and hold mammoth rallies. But all that work was grounded in the same big idea that animated her gubernatorial bid—that there exists a liberal base that was tired of corporatist center-left capitulation and could really accomplish something if a campaign could figure out how to harness it.
"The modern party structure hasn't empowered its grassroots enough, and people are really smart and really creative, but you just have to trust them," Teachout said. "I still think people haven't quite learned that lesson, and the problem is if you have decades of not giving people power, eventually they'll realize that they really are shut out and that's what we've seen this election."
The comparisons to Sanders are inevitable, and Teachout said his campaign is channeling some of the same frustrations she did during her challenge to Cuomo. But while Teachout believes in a lot of the same things Sanders does, hails from the same state, courts the same voters, and published a 10-point listicle outlining why he should be president, they are not clones. "Bernie is very focused on kind of going after and distributing concentrated wealth, and I think there's an intellectual difference in [that] Zephyr is passionate about going out and distributing concentrated power," says Mike Boland, a Working Families Party organizer who managed her gubernatorial campaign. "The two of those things overlap quite a bit, but they're also different."
She wants to break up a lot more than just the big banks, for instance—she was working on a book about "21st-century trust-busting" but put it on ice when she decided to run for Congress—and she emphasizes a different approach to one of their shared obsessions. "I'm really glad Sanders has made money in politics the center of his campaign," she said. "I will say, I wish he talked about public financing of elections more, because there can be campaigns—and I'm lucky enough to have one of those campaigns—where you are funded by low-dollar donors. But until we change the system those are always going to be, honestly, the exception, not the rule."
As an example of how she might leave her mark on Washington, Teachout points to ex-Rep. Henry Waxman, the California Democrat who used his hearings and oversight powers to highlight corporate and governmental malfeasance. Teachout joked that she is a "journalism groupie," but she very earnestly believes there is a similarity between good reporting and good legislating. Some of her previous work falls under the umbrella of investigative advocacy—she spent time in Bosnia researching a Russian oligarch for the International Center for Investigative Journalism, and she later served as the national director of the Sunlight Foundation, which tracks the worlds of campaign finance and lobbying.
Her other hope is that aspects of her agenda, such as rural broadband access and agriculture reforms, might create cross-partisan alliances. After a recent public debate on corporate subsidies, which Teachout believes have created a corrupt culture of "bootlicking and flattery" in Washington, someone from the libertarian Charles Koch Institute approached her to thank her for her stance. "Tell them not to spend money supporting my opposition," she said, referring to the Koch brothers.
Teachout's campaign requested that the contents of her car be considered off the record (on the record: there was nothing unusual about her car), with the exception of a growler of Floodwatch IPA from Catskill Brewing on the back seat, which the candidate used as a prop to talk about one of her favorite issues—fracking. "There's this brewery revolution," she said, "but they play a really important role in protecting the water, because fracking would be really bad for breweries" because of the potential for water contamination. One of Catskill's co-founders is the anti-fracking activist Ramsay Adams, and Teachout boasts that the brewery is powered "by using geo-thermal, which is actually really important in this area, and solar."
If Teachout's farm-belt populism can resonate in a Democratic primary anywhere, it ought to be a place like New York's 19th district. The region, to which Teachout moved from Brooklyn last March, is an epicenter of the anti-fracking and anti-Common Core activism that tanked Cuomo's popularity four years ago. (Teachout believes the standardized testing system is emblematic of the way corporations have corrupted public services.) The district includes Columbia County, where more than two-thirds of the students in one public school opted out of the statewide standardized test in 2015, and where Teachout beat Cuomo in 2014 by 58 points. Perhaps not coincidentally, one month after winning reelection, Cuomo banned fracking in the state.
The million-dollar question hovering over Teachout's campaign is whether her success in the district reflected genuine enthusiasm for Teachout or just the intensity of frustration with Cuomo. One issue that contributed to the Cuomo backlash could be less friendly turf for a liberal Democrat: the New York SAFE Act, a gun control law signed by the governor after the Sandy Hook massacre that banned high-capacity magazines, created a registry for assault weapons, and strengthened background checks. Teachout was critical of how quickly the SAFE Act was passed during her statewide 2014 campaign but said she was "largely in support of the act." In January, however, citing her rural roots, she came out against it.
With virtually no margin for error in the Democratic Party's bid to retake the House, the 19th district is a must-win. Democrats targeted the seat in 2014 but watched the race slip through the hands of a carpetbagging nominee, Sean Eldridge, a venture capitalist who is married to Facebook co-founder Chris Hughes. But President Barack Obama won the district by six points in 2012, and with GOP Rep. Chris Gibson stepping down, the Democratic nominee should have a shot against whomever the Republicans settle on.
Teachout's Democratic primary opponent, Livingston town Councilman Will Yandik, occupies much the same ideological space. He's critical of the NAFTA and Trans-Pacific Partnership trade deals, corporate tax havens, college debt, and domineering utility companies. A Princeton grad, he grows apples on his fourth-generation family farm and writes for AARP magazine. He has picked up the endorsement of two county Democratic committees in the district, and in a three-minute speech at last weekend's Democratic Rural Conference, a gathering of regional politicos and activists, he gently suggested that Teachout's biggest strength might also be her biggest weakness. "We cannot win this race by energizing the core progressives of our party alone," he said.
In that sense, the most meaningful endorsement Teachout has picked up so far didn't come from Sanders. It came from Sen. Kirsten Gillibrand, the second-term Democrat whose old congressional district encompassed some of the same turf. Although hardly a Cuomo ally, Gillibrand is a powerful figure in state politics and a close associate of Hillary Clinton. A Gillibrand endorsement two years ago, when Cuomo reportedly threatened to pull funding for projects for legislators who broke ranks, would have been unthinkable; now it's a sign that Teachout's support is moving beyond just the grassroots.
As she walked through the hallways of the Democratic Rural Conference, Teachout was mobbed by supporters and local activists. Some congratulated her on her fundraising. (She raised an impressive $530,000 in the first quarter of this year, and that was before Sanders' fundraising blast.) An organizer for the Clinton campaign snapped a photo and offered to help Teachout in one of the counties in her district. The state Democratic Party co-chair who directed Cuomo's upstate campaign operation four years ago corralled her for a selfie. Two years after her opponent pretended she didn't exist, Teachout finds herself in an unusual position—front-runner.
*Update: This section has been updated to clarify how chickenization works.