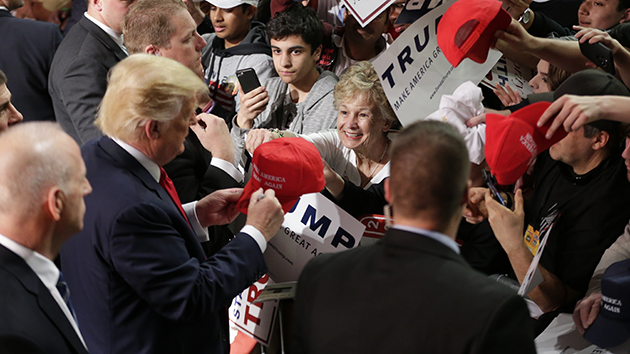 Fight disinformation:
Sign up
for the free
Mother Jones Daily
newsletter and follow the news that matters.
A short train ride separates Manhattan from Donald Trump's New York. Stretching between the Hudson River to the west and the Connecticut border to the east, Dutchess County encompasses a rural, white, and conservative swath of the state, punctuated with two small, liberal cities with large minority populations. On Sunday, these two populations met—and clashed—when Trump came to town.
The Hudson Valley isn't generally seen as a hotbed of right-wing politics, but in some ways it resembles the places where Trump has performed best. Trump has posted his top numbers in states with a high percentage of minorities, especially African Americans. His supporters are largely white, but they seem to be galvanized by the presence of minorities in their environs.
Trump's appeal in Dutchess County was evident at a rally on Sunday in Poughkeepsie that brought thousands of his supporters—and a sizeable contingent of protesters—to the county seat, a working-class, largely post-industrial city that is 48 percent nonwhite.
"I came out to see all the racists," said 22-year-old Marvin Graves of Poughkeepsie, who stationed himself outside the Trump rally and goaded the Trump fans waiting in line to get in. "I go to community college, I don't have a gun," he said, before raising his voice even louder and announcing, "I'm not going to shoot you!"
The racial disparities and economic hardship centered in the county's minority communities have given rise to a number of social justice groups in the past few years to address problems including eviction, high utility costs, racial injustice, and mass incarceration. The anger felt by the activists who confronted Trump in Poughkiepsee comes as much from local issues as from national ones, and some of it was directed at the man who introduced Trump at the rally. Adrian "Butch" Anderson, the longtime Dutchess County Sheriff and one of three co-chairs of Trump's campaign in New York, backed a recently approved plan to build a bigger jail for Dutchess County—which would money that many of the protesters say should go to reintegration and incarceration alternatives.
But Trump's fans massively outnumbered the protesters—there were only about 125 of the latter at the outset of the protest—and had little sympathy for the protesters' causes.
Barbara Birch of nearby Poughquag declined to give her age, but she isn't shy about her opinions. She calls the White House twice a week to complain about various issues or statements the president has made. Birch didn't know much about the effort to build a bigger jail that the protesters have been fighting, but it sounded alright to her. "If you're bad, you gotta go to jail," she said. "Where you gonna put them?"
Mike Muscat, 53, from neighboring Orange County, works for a local utility, Central Hudson, that the protesters have organized against. He was dismissive of the suggestion that his employer is price-gouging residents or hurting them with shutoffs. This isn't a "utopian society," he said. "They think they are entitled to have it. That you shouldn't have to pay for what you use."
Animus between divided demographic groups in the county—Democrat and Republican, minority and white—has helped build Trump's success in places like Dutchess County around the country. He likely wouldn't carry the county in a November general election: Dutchess preferred President Barack Obama to Mitt Romney in 2012 by a 53 percent to 46 percent margin.* But in the Republican primary, where Trump tops his rivals statewide by about 20 percentage points in the Real Clear Politics polling average, polarized electorates could be Trump's best friend. And Dutchess County fits the profile of the types of places that are likely to hand him a big win.
Correction: Due to an editing error, an earlier version of this article neglected to include the vote shares of two minor parties in calculating Obama's and Romney's total vote shares in Dutchess County.