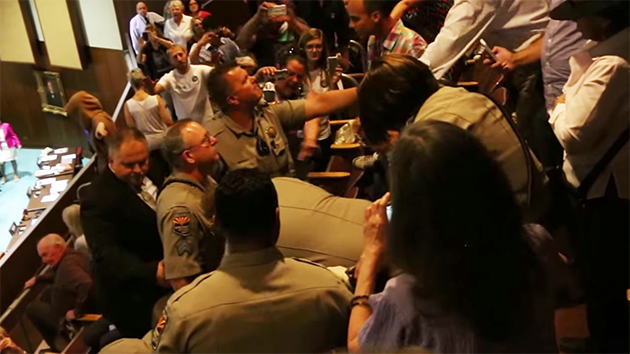 The fallout from the botched March 22 election in Maricopa County, Arizona, has claimed its first victim: reporters' access to the floor of the Arizona House of Representatives. On Thursday, the state's House leadership imposed a ban on reporters who don't submit to an extensive background check that includes criminal and civil histories, prior addresses, and even driving records. Should the background check reveal any convictions or irregularities, the reporter would not be permitted to enter the floor of the House.
According to Capitol Media Services' Howard Fischer, House leadership cited security concerns to explain the new procedures, which would also cover "any journalist who is even at the Capitol for a day to cover specific local issues."
Fischer noted that the list of offenses that could disqualify a journalist from reporting at the House includes any felony within the past decade and any misdemeanor within the past five years. House majority publicist Stephanie Grisham also wanted the background checks to enable "House staffers to ask any individual or corporation, including but not limited to current and former employers, for any and all records and documents related to that person," according to Fischer. That provision was later dropped.
The background checks came after two days of negotiations between the counsel for the House and lawyers representing several media organizations. The checks include some exemptions for reporters, but not if they were involved in crimes that include violence, assault, rape, extortion, bribery, eavesdropping, or trespassing. Fischer says it's noteworthy that trespassing was included: A local reporter at the Arizona Capitol Times who exposed Arizona House Speaker David Gowan's travels at state expense was once convicted of trespassing. (The reporter's trespassing conviction was in relation to a bar fight, according to Fischer.) Gowan eventually agreed to refund the state more than $12,000.
Times publisher Ginger Lamb told Fischer: "This new protocol would have an adverse effect on a member of our reporting team that has written several stories that are critical of the speaker's leadership. I would hope this is coincidence, but past experience leads me to believe otherwise."
Rep. Gowan told Fischer that the checks did not single out reporters, but were focused on "non-employees," following a March 28 incident that took place after a three-and-a-half-hour House Elections Committee hearing in which a man was pulled out of the House gallery by troopers from the Arizona Department of Public Safety. Several people who attended the hearing went up to the House gallery to watch the day's proceedings, and the man, who bystanders claimed had done nothing wrong, was forcibly removed by troopers.
Fischer notes the gallery is open to the general public, and a memo written by the House Counsel said the "non-employees" who access the House floor are almost always law enforcement officials and reporters. Gowan acknowledged there hasn't been a safety incident between House employees and reporters on the floor in at least 34 years.