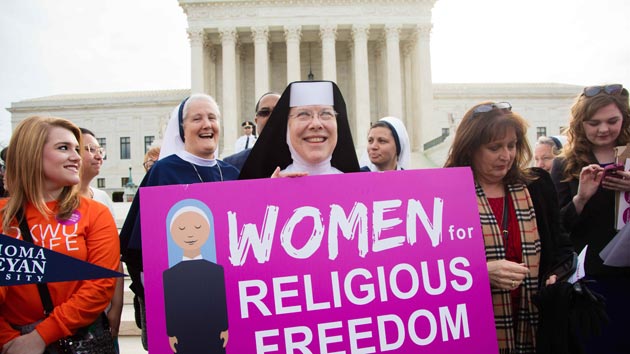 Fight disinformation:
Sign up
for the free
Mother Jones Daily
newsletter and follow the news that matters.
On Tuesday afternoon, the US Supreme Court issued an order in Zubik v. Burwell, one of two critical reproductive rights cases currently before the court. In this case, several religious groups—including the Little Sisters of the Poor—contend that the Affordable Care Act's current protocol for religious groups seeking to opt out of covering contraceptives for their employees still violates their religious beliefs.
In their order, the justices asked both sides to present ideas for how contraceptive coverage can be provided for employees without any direct involvement by the religious employer. That's because the plaintiffs—which also include groups of priests, bishops, and several religious universities—take issue with even tangential involvement in facilitating birth control coverage, saying that the form they must complete to opt out of Obamacare's birth control mandate violates their beliefs because it requires them to help employees get birth control elsewhere.
The order suggests one workaround: The employer could voice their opposition to birth control in its initial contracts with insurance companies, and then leave the rest to the insurer. The insurance company would then be responsible for facilitating alternative birth control coverage, eliminating the need for groups to file any additional forms opting out of birth control coverage on religious grounds.
Still, the distinction here is quite thin: If notifying the government violates a religious group's beliefs, it's unclear how shifting the process to one where they notify the insurance company instead will do much to alleviate their concerns.