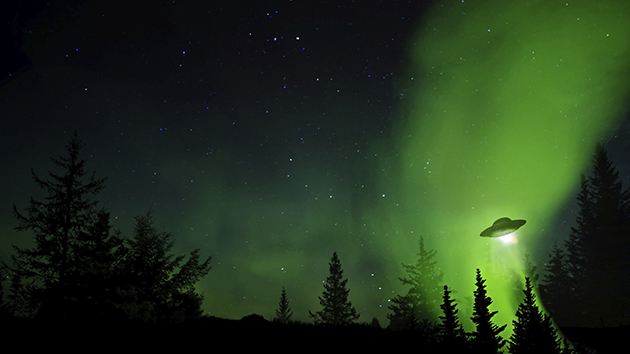 Once again, Hillary Clinton has pledged that she will discover as much as possible about government involvement in UFO research and share the information with the American people. Clinton was on Jimmy Kimmel's talk show Thursday night, and Kimmel brought up the fact that he'd asked former President Bill Clinton about his efforts on UFO disclosure during his administration. (Kimmel has also asked President Barack Obama about UFOs.)
"He said that he did do that and he didn't find anything," Kimmel said. Hillary Clinton replied, "Well, I'm going to do it again."
This is the second time during the last few months that Clinton has said she wants to tackle this issue. In late December, Clinton told a New Hampshire reporter that she thought "we may have been visited already," and that she would "get to the bottom" of the issue if elected president. Three weeks ago, Clinton campaign chairman John Podesta, an X-Files fan and longtime Clinton aide, told a Las Vegas television station that he's pressed Clinton on the issue.
"I've talked to Hillary about that, this is a little bit of a cause of mine which is that people really want to know what the government knows, and there are still classified files that could be declassified," Podesta said at the time.
And while many dismiss UFOs with eye-rolling skepticism, Clinton showed Kimmel that she's familiar with the more scientific side of the issue, correcting his use of the term "UFO."
"There's a new name—it's 'unexplained aerial phenomenon,'" she said. "UAP, that's the latest nomenclature."
UAP is the term used by the scientific and evidence-based wing of the UFO research community, and is an attempt by those interested in the issue to get away from the derision and mockery that the term "UFO" typically provokes. When Podesta was interviewed in Las Vegas, he said, "I think I've convinced her that we need an effort to kind of go look at that and declassify as much as we can so that people have their legitimate questions answered and more attention and more discussion about unexplained aerial phenomena can happen without people who are in public life who are serious about this being ridiculed."
As Mother Jones has reported, the Clintons' interest in UFOs and information about US government involvement goes back at least until the mid-1990s. During that time, the late Laurance Rockefeller, who was a UFO enthusiast, approached the White House and pushed for the information to be released. Documents released about Rockefeller's meetings under a Freedom of Information Act request show that Hillary Clinton was involved in those talks. She met with Rockefeller in August 1995 at his Wyoming ranch and probably discussed the issue, according to the FOIA documents. The effort, known by some as the "Rockefeller Initiative," has been the subject of several big stories lately, including a recent Mother Jones profile of Stephen Bassett, the nation's only registered extraterrestrial-issue lobbyist.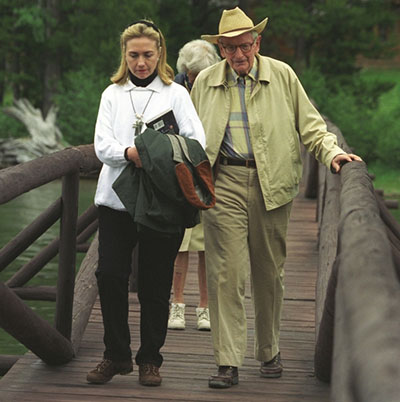 Last night, Clinton told Kimmel that anything that can be released should be released. "I would like us to go into those files and hopefully make as much of that public as possible," she said. "If there's nothing there, let's tell people there's nothing there."
"What if there is something there?" asked Kimmel.
"Well, if there is something there," she replied, "unless it's a threat to national security, I think we ought to share it with the public."
Watch the exchange: