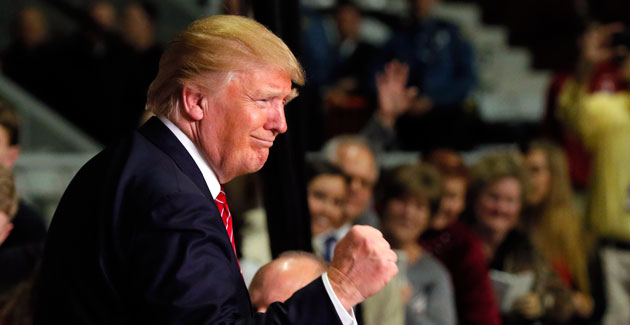 Fight disinformation:
Sign up
for the free
Mother Jones Daily
newsletter and follow the news that matters.
There is one man standing in the way of the Koch brothers' plans to elect a free-market conservative to the White House in November. His name is Donald J. Trump.
The Kochs, whose fascinating political evolution I detail in my book Sons of Wichita, are not fans of the bombastic real estate mogul whose positions on everything from taxes to foreign policy are at odds with theirs. Charles Koch has said Trump's plan to create a Muslim registry would "destroy our free society"—and for months Trump has been a source of debate and discussion within their donor network, which is raising nearly $900 million for the 2016 elections. Early on in the race, some members of the network believed, as did almost everyone else, that Trump would implode on his own. Some still do. And a very small handful of Koch network donors are Trump supporters. But in recent months, the Kochs and their allies—who now are largely leaning toward Marco Rubio and Ted Cruz—have considered a campaign targeting Trump, whose candidacy they believe poses a threat to the Republican Party, if not the country at large.
The Kochs' Trump problem is the topic of my new piece, just out at Vanity Fair. I report:
But Trump's second-place Iowa finish was more a blow to his ego, in some respect, than the viability of his campaign. If he prevails in New Hampshire, where he's maintaining a huge lead in the polls, pressure is likely to mount within the Koch network to launch an offensive before a march to the nomination gains formidable momentum. When the Kochs and several hundred of their allies gathered last weekend for another summit, halting Trump was a major topic of discussion.

What form might this attack take? According to The Hill, the Kochs' operatives have carefully assessed Trump's vulnerabilities—and those of the other candidates—and determined that highlighting his track record of bankruptcies and predatory business deals harms his standing with likely voters. (The Democrats deployed a similar strategy, to great effect, against Romney's "vulture capitalism.")

"As to whether we would mount something like that, everything is on the table," one senior Koch official told me. "But there's no real plan. In all of our meetings we've discussed it."

One thing that has held the Koch network back so far, in addition to the Trump backers within their ranks, is the concern that taking on Trump would inevitably draw the thin-skinned tycoon's legendary invective, which it almost certainly would. If the Kochs go after Trump, rest assured that he will take every opportunity to highlight how he's being attacked by a cabal of billionaires seeking to control the outcome of the election. And this more or less explains their caution to this point. By taking on Trump, the Kochs risk lending credence to his claims of being an outsider who is battling against a corrupt political system rigged by the elites.
If Trump performs poorly in New Hampshire, the Koch network may be able to avoid a damaging showdown. But if he wins, it may already be too late to halt the runaway Trump train, especially if there's no Trump-targeting campaign in the can. So what happens if Trump seizes the nomination? Here's where things get very interesting.
If Trump becomes the nominee and he faces self-declared socialist Bernie Sanders in November, the senior Koch official explains, members of the donor network are likely to hold their noses and back Trump's candidacy. But there's another scenario that could prove far more controversial and possibly damaging for the network: a Trump-versus-Clinton matchup. There is absolutely no love between the Clintons and the Kochs, whose company experienced one of the most traumatic periods in its history as it fought off regulators during Bill Clinton's presidency. But, so strong is the dislike for Trump within Koch network, that a Clinton-Trump race is a tough call. "I could see the network not participating in the presidential election at all," says the senior Koch official.
This doesn't mean the Koch network would stand down in 2016 entirely. Under this scenario, donors would instead channel their resources into other races. If this were to occur—and it's a very big if—that would be a stunning development for a network of donors that has been amassing such a huge warchest for the presidential race.
Read the full story here.