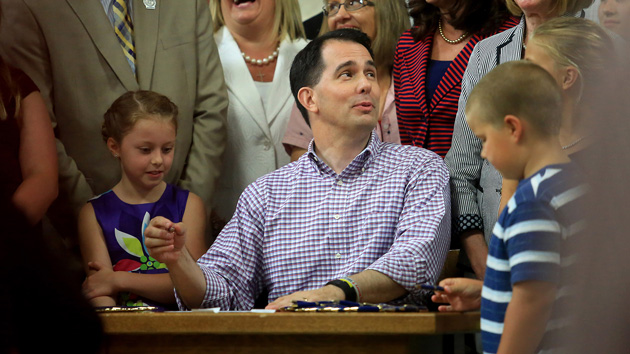 Fight disinformation:
Sign up
for the free
Mother Jones Daily
newsletter and follow the news that matters.
Wisconsin Gov. Scott Walker went to a crisis pregnancy center in Waukesha to sign two bills that will cut Planned Parenthood's funding in the state.
"Certainly, over the past year there's been a lot of controversy nationally about Planned Parenthood," Walker said before signing the legislation. "For those of us who are pro-life, this is important…taxpayer dollars at the federal and state level should not be spent…particularly when there are noncontroversial alternatives."
The first measure concerns prescription drugs. It restricts the amount Planned Parenthood gets back in Medicaid reimbursements for birth control prescriptions by requiring the health care organization to charge the actual acquisition cost of the birth control and the standard dispensing fee when billing Medicaid for reimbursement. This practice is estimated to cost Planned Parenthood $4.5 million annually. Other family planning clinics will still be able to acquire birth control at a discounted price through Medicaid's 340B program. The bill singles out Planned Parenthood by referring to "a covered entity that is an abortion provider." Of the 22 Planned Parenthood clinics in the state, only three perform abortions. Planned Parenthood affiliates in Wisconsin serve more than 60,000 patients annually.
Assembly Bill 310, also signed by Walker today, was approved by the state Senate last month. It prevents the state from relaying federal money from the Title X grant program to any group that either provides abortions or is affiliated with an abortion provider. Title X money is used for family planning and health screening for the poor and the uninsured—it cannot be used for abortions, according to federal law. Planned Parenthood of Wisconsin receives about $3.5 million from Title X each year, and 61 percent of Planned Parenthood patients in Wisconsin live below the poverty line, according to the group's 2014 annual report.
During the signing ceremony, Walker repeated a point often made by abortion opponents in their push to defund Planned Parenthood, saying that community health care clinics can replace Planned Parenthood in providing services, especially to low-income women. As previously reported in Mother Jones, those clinics are unlikely to be able to handle the surge of patients from the defunded Planned Parenthood clinics.
Nearly four years ago, Republicans in Wisconsin made comparable funding cuts to Planned Parenthood, resulting in the closure of five rural health care clinics—none of which provided abortions. These new cuts build on Walker's strict stance on abortion, which first helped to elect him to the State Assembly in 1993. As governor, Walker has signed a number of anti-abortion bills into law; in addition to cutting Planned Parenthood's family planning money from the state budget, he has signed a 20-week abortion ban that left no exemption for cases of rape or incest.
In 2013, he signed a bill that required women to undergo a mandatory ultrasound before having an abortion. During his failed presidential run, he said in an interview that the ultrasounds are "just a cool thing" for women. Ultrasounds can add significantly to the cost of a clinic visit, and the Guttmacher Institute says ultrasounds are medically unnecessary for first-trimester abortions, describing them as a "veiled attempt to personify the fetus and dissuade a woman from obtaining an abortion."
Tanya Atkinson, executive director of Planned Parenthood Advocates of Wisconsin, spoke out against the $8 million in total cuts. "Planned Parenthood is Wisconsin's oldest and most trusted nonprofit reproductive health care provider, and we're committed to making sure our patients continue to receive the high-quality, non-judgmental health care they deserve," she said. "These political attacks won't stop PPWI from being there for those who rely on us."