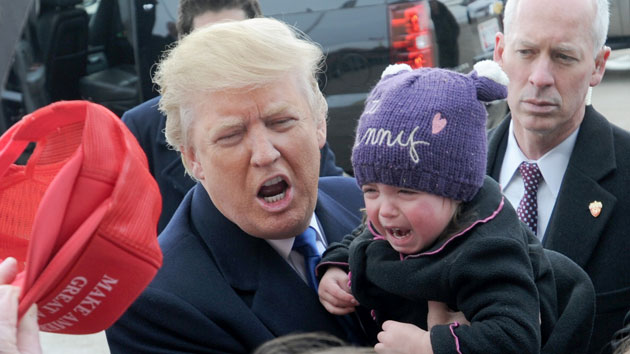 Fight disinformation:
Sign up
for the free
Mother Jones Daily
newsletter and follow the news that matters.
For Achilles, it was the heel. For Samson, it was the hair. For Beast, twas' beauty. Donald Trump may appear impervious to the sharpest Republican barbs, but he has one proven weakness over the course of his four decades in overly public life: stubby fingers.
Trump has presumably had short fingers for as long as he's had fingers, but it wasn't until 1988 that anyone called attention to it. That year, Spy magazine began the practice of needling Trump at every opportunity by referring to him in virtually every story as a "short-fingered vulgarian." ("Queens-born casino profiteer" would also do.) Trump defended his honor in the New York Post, stating that "my fingers are long and beautiful, as, has been well-documented, are various other parts of my body."
In an essay last fall, former Spy editor Graydon Carter revealed how much this pissed Trump off: To this day, the Republican presidential front-runner continues to mail Carter photos of himself, and "[o]n all of them he has circled his hand in gold Sharpie in a valiant effort to highlight the length of his fingers." The most recent one even included a message: "See, not so short!" On Friday, Republican Sen. Ben Sasse of Nebraska even joined in on the fun, responding to an insult from Trump by joking, "you'd think I asked Mr @realDonaldTrump abt the length of his fingers or something important like that."
So just what do Trump's Bart Simpson hands have to do with making America great again? According to Madame La Roux's 1993 treatise on palm reading, The Practice of Classical Palmistry, quite a lot!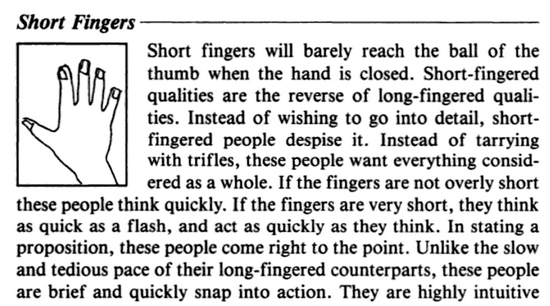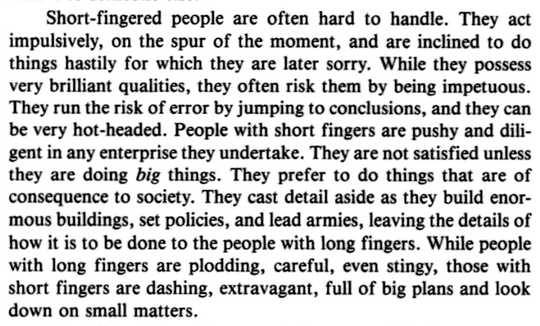 Disdain for detail? Impulsive? Impetuous? Hot-headed? Pushy? Obsessed with doing "big" things like building enormous buildings?
This sounds like someone we know.
Now, I don't think Trump's baby-carrot fingers have any bearing on his presidential temperament. But then, I'm not the one who routinely cites the results of post-debate online surveys conducted by the Drudge Report as some kind of science and believes that the "concept of global warming was created by and for the Chinese in order to make U.S. manufacturing non-competitive." It's only a matter of time before this shocking revelation hits voters in New Hampshire.