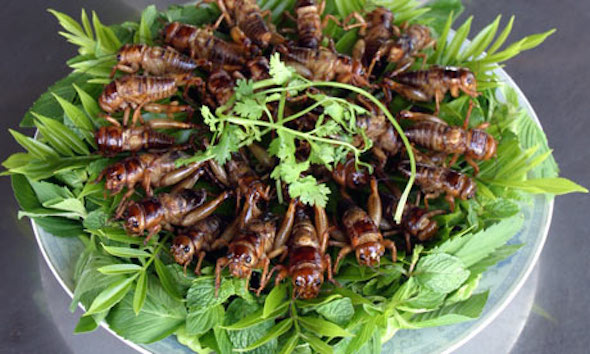 Fight disinformation:
Sign up
for the free
Mother Jones Daily
newsletter and follow the news that matters.
Packed with protein, loaded with vitamin C, or boasting "15 times the amount of iron in spinach," so-called superfoods continue to seduce health nuts and marketing gurus alike. You probably remember the quinoa craze, the hype surrounding coconut oil, the excitement about acai berries, or the hoopla about kombucha. They're not necessarily better for you than more familiar fruits and veggies, but their exotic names and stories convince consumers to fork over extra for these supposed elixirs.
So which superfoods will catch on in 2016? The good news is that this year's top trends combine appealing nutritional qualities with a lighter environmental footprint than the average provision. The only problem? They don't necessarily look or taste great, so companies are currently rushing to repackage them for mass appeal.
A roundup of the most promising (but not necessarily appetizing) new superfoods:
Crickets: They thrive in hotter climates and survive off decaying waste and very little water and space, making them seem like the perfect protein for the warming, drought-stricken landscape we humans have engineered for ourselves. Starting in 2014, edible cricket farms have sprung up in Ohio and California; San Francisco's Bitty Foods grinds the bugs into a baking flour, and Six Foods uses them in its "chirps." But Americans haven't seemed quite ready to embrace the age of the edible insect. Marketing research group Blueshift Ideas revealed in September that one in five of those surveyed were likely to buy a product with an insect-based ingredient, but that marked a 10 percent decrease in enthusiasm from six months ago. Maybe due to the bugs' subtle aftertaste?
Hemp: Many consider hemp a wonder plant—it's naturally resistant to many pests, it can require half the water wheat does, it grows in tight spaces and in many climates, and it outcompetes other weeds. But laws prohibiting marijuana cultivation in the United States have meant that production of hemp, which contains miniscule amounts of THC, has also been off limits. As pot prohibition lifts in some states, people have been stockpiling seeds to plant more acres of hemp for use in textiles, building supplies, batteries, and edibles (no, not that kind).
According to a study in the Journal of Agricultural and Food Chemistry, hemp seed oil contains high levels of minerals, vitamins, and omega-3s. And move over, almond milk: Hemp milk offers way more omega-3 fatty acids, thought to help prevent heart disease. But online reviews of its flavor run the gamut, with some pointing out its "pleasant slight maltiness" and others saying "it tastes like rope." Bitter notes mean hemp milk might not be the best cream substitute; the blogger behind Veganbaking.net writes that it made her coffee "almost undrinkable."
Moringa: I wrote about this ingredient after attending a San Francisco event called the Future of Food last summer:
Over to the Kuli Kuli Foods table, where women in acid-green aprons peddle samples of bars made of moringa, a leafy plant that Time recently deemed the new kale. Kuli Kuli is the first US company marketing moringa. Its founder, Lisa Curtis, first learned about the plant while in Peace Corps in Niger in 2010. Feeling malnourished on the local diet, she was urged to try the nutrient-dense moringa plant, which is high in calcium, protein, amino acids, and vitamin C. The plant grows super fast and thrives in hot, dry climates. Curtis realized that locals weren't marketing the superfood because they had no international market, so she set out to create one in the US by importing the plant in powder form. Aside from fueling her own fruit and nut bar company, she tells me that local juice joints around San Francisco are picking it up for use in smoothies. (Side note: Fidel Castro is a huge moringa fan.)

I want to love moringa. If the current California drought is any predictor, we're going to need plants that survive harsher conditions and provide such an impressive array of nutrients. But this one tastes rather grassy, and goes down like a shot of wheatgrass, which is to say, abruptly. So power to Kuli Kuli, but here's hoping its moringa recipes continue to evolve.
Seaweed: New Yorker writer Dana Goodyear recently deemed seaweed one of the "world's most sustainable and nutritious crops." It requires neither fresh water nor fertilizer to thrive, and it grows at lightning speed. And rather than contributing to our carbon footprint, as many fertilizers and food sources do, seaweed cleanses the ocean of excess nitrogen and carbon dioxide. As far as its benefits on the dinner plate, certain types of the marine algae offer lots of protein and vitamin B12. That's all well and good, but remember, we're talking about a type of plant that tends to be dark green or brown, leafy, and slimy. As one of Goodyear's sources put it, seaweed is going to be "one of the toughest food types to convince Americans to eat."
Then again, unpalatability hasn't stopped other obscure ingredients from zooming to the top of American shopping lists in short periods of time. Chia, slightly bland little seeds that puff up with moisture, gained massive momentum due largely to savvy marketing; the number of food products with chia seeds in them shot up more than 1,000 percent between 2009 and 2013, reports Mintel. Many people stomach turmeric, an anti-inflammatory yellow spice that can be acrid on its own, in capsule form. If all else fails, there's always the blender. Cricket seaweed banana smoothie, anyone?