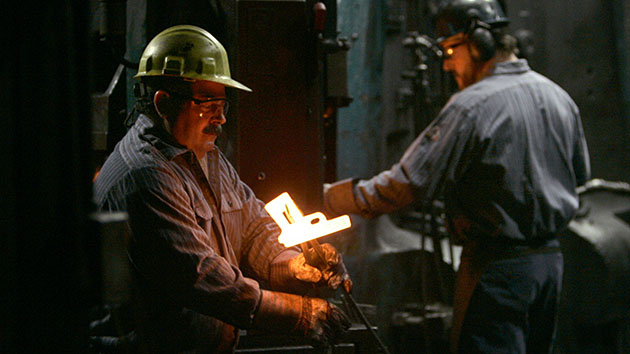 Fight disinformation:
Sign up
for the free
Mother Jones Daily
newsletter and follow the news that matters.
In January 2013, a month after the mass shooting at Sandy Hook Elementary School, the state of New York passed gun control legislation that included a ban on the retail sale of assault weapons. Soon after, Remington Outdoor Company, the maker of the Bushmaster assault rifle used in the massacre, announced it would lay off workers at its 200-year-old factory in Ilion and move production to Huntsville, Alabama. Then CEO George Kollitides explained in a letter to New York officials that the move was brought on by "state policies affecting use of our products."
The gun lobby crowed about political payback: "We hope that sends a very strong message," remarked then National Rifle Association's president, Jim Porter, on an NRA radio show. What Porter didn't mention was what Alabama had done to sweeten the deal: By relocating to Huntsville, Remington, a $1 billion firearms conglomerate owned by the Manhattan private-equity firm Cerberus Capital Management, would receive state and local grants, tax breaks, and other incentives worth approximately $69 million—the equivalent of getting about $14 from every resident of Alabama.
"I've had CEOs tell me that the offers are so extraordinary that they could essentially move their factories for free," said one gun industry leader.
Since 2003, state and local governments from Alabama to Tennessee have given more than $120 million worth of taxpayer funds to at least seven major firearms companies, according to research by Mother Jones. Most of those subsidies—nearly $100 million—have been pledged just over the past three years by states seeking to lure gun producers from the Northeast, where new firearm regulations have angered industry leaders.
"I've had CEOs in New England tell me that the offers from states' economic development teams are so extraordinary that they could essentially move their factories for free," Larry Keane, senior vice president of the National Shooting Sports Federation, told Guns & Ammo. "In some cases they've received these offers almost daily over extended periods of time."
After Maryland passed stringent new gun regulations in 2013, Beretta announced it would shutter its factory there and relocate to a state that has shown "consistent, strong support for Second Amendment rights," as its attorney, Jeff Reh, put it at the time. But politics wasn't the only factor in Beretta's move. The city of Gallatin, Tennessee, eventually won the new factory after it offered Beretta $14.4 million in state and local subsidies. "The level of community support was better," a Beretta spokesman acknowledged in the Charlotte Business Journal, explaining why that city had lost its bid for the plant.
Southern states have long relied on financial and regulatory incentives to attract manufacturers from more industrialized parts of the country. "I think Remington is doing what Mercedes did for us in the automobile business—it opens the door to opportunity," Porter told the Birmingham Business Journal. Yet Porter suggested gun companies would enjoy an exceptional welcome: "You will have the support of the administration, you will have the support of the population—everybody in the state is going to be lining up to work for Remington."
Tennessee Governor Bill Haslam flew to Italy and met with the Beretta family in a posh wine country villa.
Major politicians have gone the extra mile to attract gun companies. In wooing the Beretta factory, Tennessee Gov. Bill Haslam flew to Italy and met with the Beretta family in a posh wine country villa. Haslam later invited Franco Gussalli Beretta, the head of the company's American subsidiary, to the governor's mansion for dinner. Nobody in Tennessee seemed to object to the deal's $14.4 million price tag. "We believe that our brand as the state of Tennessee has taken on new luster because Beretta has chosen to locate here," Haslan said at the groundbreaking ceremony, "and we are forever grateful."
Another incentive for gun companies to relocate south has been lax labor laws. In an interview with the New Hampshire Union Leader, a Sturm Ruger spokesman admitted the company built a new plant in North Carolina instead of expanding an existing one in Newport, New Hampshire, because it wanted to set up shop in a right-to-work state. Similarly, Remington's move from New York to Alabama, another right-to-work state, decimated the New York plant's trade union.
Some Northeastern states have also funneled tax dollars to the firearms industry. Between 2009 and 2014, New York-based Kimber Manufacturing received nearly $1 million in tax abatements and state and local grants—money meant to ensure the company would keep cranking out upwards of 150,000 handguns a year with its factory in Yonkers. Maine, New Hampshire, and Massachusetts have also offered incentives to attract or retain gun manufacturers. But most such enticements are now in the South.
Here are the seven gun companies that have received state and local subsidies in recent years:
Remington Arms, Madison, North Carolina
Move: Owned by a New York private equity fund, Remington in 2014 laid off more than 100 workers at its 200-year-old unionized factory in Ilion, New York (the site of its original headquarters) and opened a new nonunion factory in Huntsville, Alabama.
Subsidy: $68.9 million in cash, worker training, tax abatements, real estate, and construction work from state and local governments. The company also received nearly $12 million in grants, tax credits, and other benefits from New York, Kentucky, Arkansas, and Oklahoma in exchange for training workers and expanding or retaining factories.
Sturm Ruger, Southport, Connecticut
Move: In 2014, the nation's largest gun company opened a new factory in Mayodan, North Carolina, instead of expanding an existing factory in New Hampshire.
Subsidy: $15.5 million in state tax breaks, employee training, infrastructure construction, and other incentives. The company has also received $150,288 in training subsidies from New Hampshire.
Berretta USA, Accokeek, Maryland
Move: The Italian gun maker last year closed its Maryland plant and moved all US production to a massive factory in Gallatin, Tennessee.
Subsidy: The company will receive $10.41 million in state-funded building improvements and job training grants. The town of Gallatin also kicked in land and tax abatements worth nearly $4 million.
Smith & Wesson, Springfield, Massachusetts.
Move: Publicly traded Smith & Wesson announced in 2010 that it would move its hunting rifle division from New Hampshire to Springfield, Massachusetts.
Subsidy: $6.6 million in state and local tax breaks. The company has also received $158,791 in worker-training subsidies from Massachusetts.
Colt's Manufacturing, Hartford, Connecticut
Move: In 2011 Florida Gov. Rick Scott announced a deal in which the 180-year-old gun company would open a factory in Kissimmee, saying it showed the state was "a defender of our right to bear arms." But then Colt walked away from the project for unknown reasons. The company declared bankruptcy last year.
Subsidy: $1.66 million in state and local incentives. Government officials are now trying to claw back the money.
O.F. Mossberg & Sons, North Haven, Connecticut.
Move: The world's largest manufacturer of pump-action shotguns has gradually shifted manufacturing from Connecticut to a factory in Eagle Pass, Texas. In 2014, it added 116,000 square feet to the factory, which now accounts for 90 percent of its production.
Subsidy: A $300,000 grant in 2014 from the taxpayer-funded Texas Enterprise Fund.
Kimber Manufacturing, Elmsford, New York
Move: America's largest manufacturer of 1911 pistols hasn't moved out of New York—at least not yet. In 2012 the company warned that the state's NY SAFE gun control law might "cause it to reconsider its current expansion."
Subsidy: In 2009, Kimber received a $700,000 state grant to expand its manufacturing capacity in Yonkers. In 2012 and 2013, it received nearly $300,000 in local tax credits.