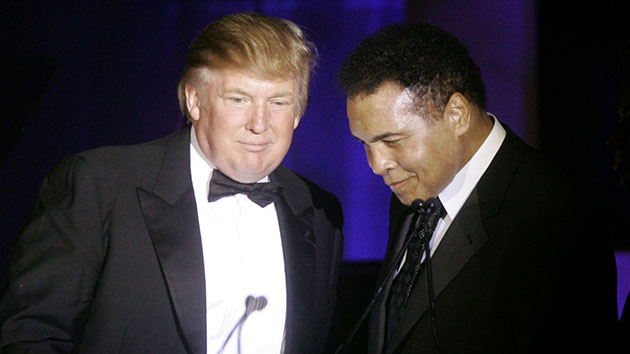 After President Barack Obama's address to the nation on Sunday night, GOP front-runner Donald Trump criticized Obama for calling Muslim Americans "our sports heroes."
Obama said in his speech that Muslims are our sports heroes. What sport is he talking about, and who? Is Obama profiling?

— Donald J. Trump (@realDonaldTrump) December 7, 2015
Given his history, Trump should have known better. Muhammad Ali, Shaquille O'Neal, Kareem Abdul-Jabbar, and Bernard Hopkins are a few athletes who should come to mind when discussing Muslim American sports heroes. On several occasions in the past, Trump pointed to his friendship with boxing legend Ali.
He even received an award from Ali in 2007.
https://t.co/wuuAhmn8wM Donald Trump, left, accepts his Muhammad Ali award from Ali at Muhammad Ali's Celebrity Fight Night. Real-estate mag

— Lisa Curtis-Bridgman (@godschild1966) December 7, 2015
Trump is also chums with boxer Mike Tyson, another Muslim American athlete. In fact, the two were so friendly that Trump even tried to help Tyson avoid prison after the boxer was convicted of rape.
During his time in prison, which ended in March of 1995, Tyson converted to Islam. Trump's friendship with the boxer predated his conversion. But even later, when Tyson was defeated by Evander Holyfield in 1996, Trump claimed that he and Tyson were friends.