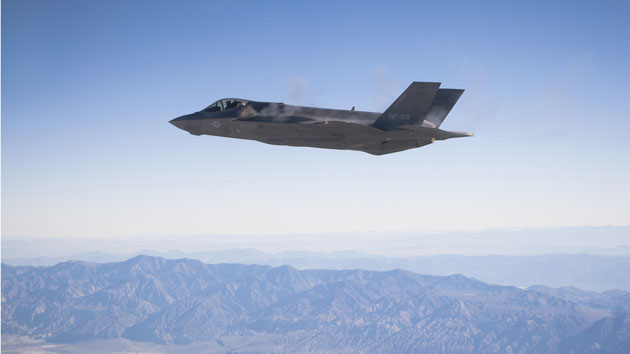 Fight disinformation:
Sign up
for the free
Mother Jones Daily
newsletter and follow the news that matters.
When the New York Stock Exchange opened Monday morning, less than three days after Islamic State terrorists attacked in Paris, five leading American weapons manufacturers saw their stock prices jump. Fox Business attributed the bump to a "reaction to the attacks in France." Over the weekend, French President Francois Hollande had announced that his country would "lead a war which will be pitiless" against ISIS and launched a "massive" airstrike on its stronghold in Syria.
Shares of Lockheed Martin, known for its Hellfire missiles and its lead role in the troubled $1.5 trillion F-35 project, jumped 3.5 percent. Raytheon, manufacturer of Tomahawk missiles used in air strikes against ISIS, climbed 4.1 percent. Northrop Grumman, which in October landed a $55 billion deal to build the next stealth bomber, saw a 4.4 percent rise. Both General Dynamics, maker of F-16s, and Boeing, whose Small Diameter Bombs and Joint Direct Attack Munitions have been used in the air campaign against ISIS, ended the day with increases of 1.9 and 1.3 percent, respectively. On the first day of trading after the Paris attacks, the Dow Jones average rose slightly less than 1.5 percent.
The five companies' stock continued to do well on Tuesday:
Does likelihood of an expanded military response to ISIS signal a boom for the arms industry? Aerospace and defense industry analysts at Stifel, a brokerage and investment banking firm headquartered in Missouri, penned an industry update on Monday, writing that the Paris attacks are likely to lead to "stronger support for defense spending and ongoing operations in the Middle East." Overall, that's good news for defense contractors.
But historically, the real driver behind defense spending has been troop deployment, not political sentiment, Stifel notes, and support for redeploying American troops in the Middle East is scant. "We would be surprised to see any significant shift in strategy from President Obama and expect instead to see an acceleration and broadening of current efforts—an increase in aerial attacks and a possible increase in the number of special ops forces deployed," the industry update noted. Nonetheless, "We view the most likely outcome as increased political support for defense spending and for national security/terrorism to become a greater focus of the 2016 election cycle dialogue, which is likely to create positive headlines for defense companies."