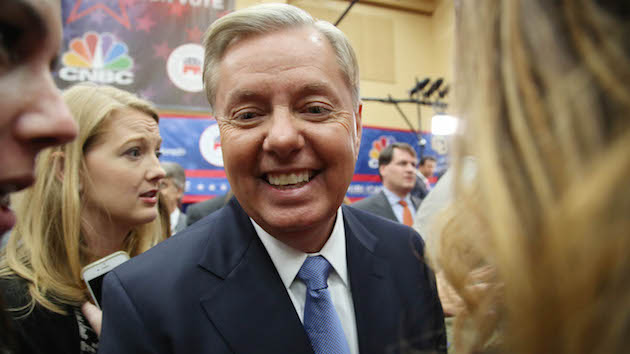 Fight disinformation:
Sign up
for the free
Mother Jones Daily
newsletter and follow the news that matters.
Sen. Lindsey Graham's quick wit and unapologetically hawkish stances made him a darling of the GOP undercard debates, but his falling poll numbers meant he was barred from the stage on Tuesday night. Both he and former New York Gov. George Pataki were booted from the debate stage altogether after their averages in national polls fell below 1 percent.
The senator from South Carolina instead held court on Sidewire, a newly released app that serves as a kind of distilled version of political Twitter. There, he posted his own commentary on the debate and fielded questions from the political journalists, analysts, and campaign staffers who populate the app. Here were the best moments of his solo pseudo-debate:
1. Didn't we fight a war about this? When debate moderator Gerard Baker of the Wall Street Journal began speaking, Graham didn't take to Baker's English accent.
2. It's all in the details. Carly Fiorina brought up her proposal for a three-page tax plan to replace the current, much longer version of the tax code. But Graham requested an important clarification.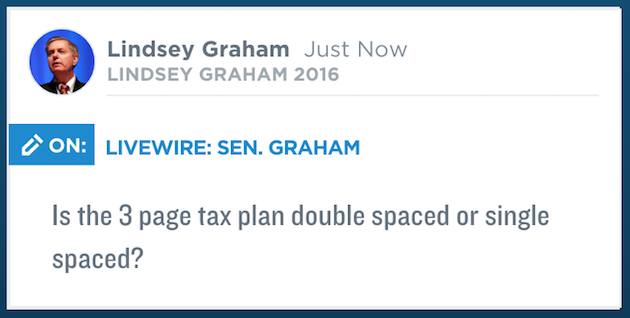 3. Sick burn, bro. Inevitably, Graham's longtime friend and campaign trail buddy, Sen. John McCain of Arizona, showed up on Sidewire to offer support for Graham. In return, Graham warned his 79-year-old colleague not to miss his bedtime.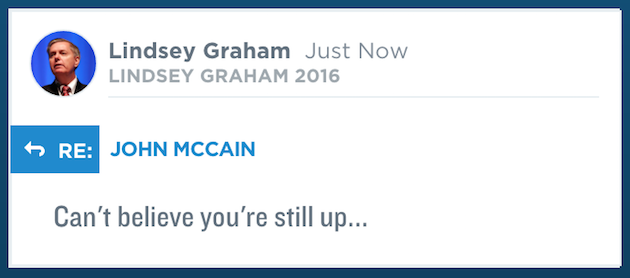 On the whole, Graham seemed to enjoy kicking back and lobbing answers and one-liners from his computer: