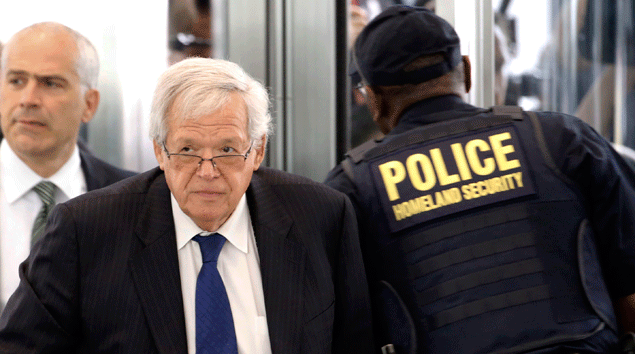 Fight disinformation:
Sign up
for the free
Mother Jones Daily
newsletter and follow the news that matters.
Update, 10/28/15: Former House Speaker Dennis Hastert (R-Ill.) pleaded guilty today in a Chicago federal court to a felony charge for violating federal banking laws designed to combat money laundering. As part of the plea agreement, another charge for lying to the FBI about his cash withdrawals will be dropped. The judge could sentence the former legislator to five years in prison, but news reports indicate that he's more likely to face up to six months incarceration or probation. He will be sentenced on February 29.
Lawyers for former House Speaker Dennis Hastert (R-Ill.) told a federal judge on Thursday that Hastert would be pleading guilty to federal charges related to the payment of hush money to cover up alleged sexual misconduct during his days as a gym teacher and wrestling coach at Yorkville High School in Illinois.
A federal grand jury indicted Hastert in May for allegedly lying to the FBI after investigators questioned him about $1.7 million in cash withdrawals he made that violated federal reporting requirements that guard against money laundering. The indictment alleged that Hastert was using the cash to secretly pay off "Individual A," a man believed to be a former student at Yorkville during the time Hastert taught there, between 1965 and 1981. According to the indictment, at one point last year, Hastert was delivering as much as $100,000 a month to the individual in question, and he'd promised to deliver $3.5 million in total to prevent the man from publicly disclosing Hastert's past alleged sexual misconduct. The scheme described in the indictment is perhaps one of the most unsophisticated Washington cover-ups in recent memory. When the FBI asked Hastert about the cash withdrawals, he claimed he just didn't trust the American banking system—a strange excuse for a former member of Congress turned Washington lobbyist.
Politico reports that the plea deal will likely involve at least a year in prison for Hastert for violating federal banking laws. But the plea deal will likely keep any alleged sexual misconduct hushed up by sparing Hastert a trial, in which the details of his alleged abuse of a high school student may have received a full public airing. Since his indictment, reports have surfaced suggesting Hastert may have sexually abused at least two other boys from his high school. A plea deal may also put an end to any further inquiries by law enforcement into his past.