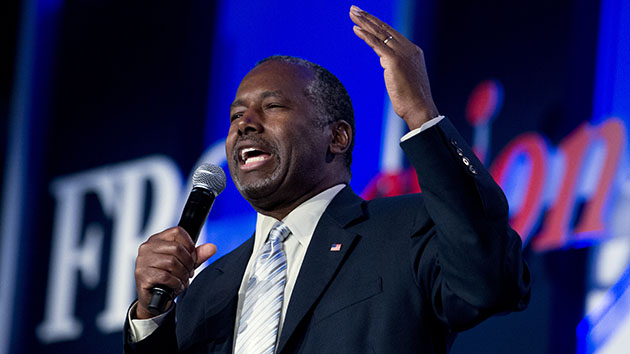 Fight disinformation:
Sign up
for the free
Mother Jones Daily
newsletter and follow the news that matters.
Ben Carson, the retired neurosurgeon who's in the top tier of the GOP's 2016 contenders, holds some unusual beliefs. In defending creationism, he has said Satan is behind the Big Bang theory and the promotion of evolution, and he has embraced and endorsed a paranoid McCarthyesque conspiracy theory that claims nefarious Marxists for decades have infiltrated every echelon of American society—including PTAs—in order to destroy the United States. But, it seems, Carson's conspiratorial worldview goes beyond all this. In a talk he gave a year ago, Carson, who is a Seventh-day Adventist, indicated that he accepts a dark prophecy rendered a century and a half ago by a founder of his church. She claimed that as part of the End Times (the apocalyptic period when Jesus Christ supposedly will return and battle with the devil), a time will come when Seventh-day Adventists will be imprisoned by the government and even put to death merely for observing the Sabbath on Saturday, not Sunday.
Some background: The Seventh-day Adventist Church traces back to the 1820s, when William Miller, a veteran of the War of 1812, told people that Jesus Christ was heading back to Earth in 1843 or 1844. After "the Advent" didn't occur, Miller's followers didn't give up. They concluded that he had gotten the date wrong, and the church continued. A crucial part of its theology was that the Sabbath starts on Friday night and concludes on Saturday at sundown.
This Saturday Sabbath was no small point. Ellen White, one of the founders of the religion who, according to church doctrine, was a prophet, dwelled on the persecution of Seventh-day Adventists for Saturday worshipping in many of her writings, and repeatedly claimed that the Sunday Sabbath was the "mark of the beast"—that is, Satan's doing. In one of her books, Love Under Fire, she charged that the Roman Catholic Church had changed the day of worship from Saturday to Sunday and that this had led to Christians "worshipping the beast and his image." (Such sentiments may have led some to believe the Seventh-day Adventist Church is anti-Catholic or anti-papal.) And in the 1800s, as some Christians advocated and some states enacted "Sunday laws" that made it illegal to do business on Sundays (in order to promote this day as a time for churchgoing), Seventh-day Adventists considered these moves as an act of persecution against their religion.
"I don't know what role the Lord has for me in all this. I do know—and looking at prophecy—that the United States will play a big role," Carson told a crowd of fellow Seventh-day Adventists.
In her writings, White was not only looking backward. She was—and remains—a visionary prophet for Seventh-day Adventists. In her book, The Great Controversy, she peered ahead and provided her take on the Book of Revelation and the coming "final conflict" between Satan and Jesus Christ. And the Sabbath, she declared, would be a key element of this titanic clash.
During the ultimate conflagration, White noted, Satan would "plunge the inhabitants of the earth into one great, final trouble. As the angels of God cease to hold in check the fierce winds of human passion, all the elements of strife will be let loose. The whole world will be involved in ruin more terrible than that which came upon Jerusalem of old." In this period of anarchy, corruption, and disaster, millions would turn to religion, but "in the great drama of deception," Satan would pretend to be Jesus Christ, and, with the Catholic Church and many Protestant denominations falling for the ruse, much of the world would end up worshiping a false and evil god who commands people to mark Sunday as the holy day.
Seventh-day Adventists would have an especially hard time in this stretch. Governments, White foresaw, would enforce the "observance of the false sabbath." She noted, "As the defenders of truth refuse to honor the Sunday-sabbath, some of them will be thrust into prison, some will be exiled, some will be treated as slaves." She added that those who do not obey will even be sentenced to death. In fact, as Jesus Christ and Satan wrestle to decide the fate of the world, she predicted, the Sabbath will be the "final test" separating those who serve God from those riding with Satan.
The picture is clear. The End Times will bring about a sweep of false religiosity and the persecution of Christians who stick with the Saturday Sabbath. And this has made many Seventh-day Adventists highly sensitive about any actions that may be interpreted as discouraging Saturday worship.
It's a belief that some Seventh-day Adventists continue to spread. In a 1983 book that was something of a condensed version of White's The Great Controversy, Jan Marcussen, a Seventh-day Adventist minister, wrote that during the final Armageddon, "the whole wicked world is really angry. They've decided that those who honor God's Sabbath of the Bible are the cause of the horrible convulsions of nature and they determine to blot them from the earth! The date is set. When the clock strikes midnight on a certain day, God's obedient people will be sentenced to death!" (But Seventh-day Adventists need not worry. Just as Satan is about to enforce the death decree, "God steps in to save His people.") In 2008, Marcussen declared that observing the Sabbath on Sunday "is the biggest hoax the world has ever seen."
As a former member of the church who became a critic put it a few years back, "I remember vividly when minister Jan Marcussen…came to our church with a pile of newspaper clippings purporting to show the imminence of a national Sunday law. He solemnly held up his hand and declared to the congregation that it would happen so soon that a child could count the number of months. That was 19 years ago."
So does Ben Carson believe that when the big spiritual bang comes, his co-religionists will be rounded up, imprisoned, and executed? Though he frequently cites his faith in God when he speaks publicly and campaigns, he has not discussed this core tenet of the Seventh-day Adventist Church. But about a year ago, he did refer to it when he was a guest sermonizer at a Seventh-day Adventist Church in Australia. Asked to describe the political landscape of the United States, Carson noted that most people in the United States were afraid to declare their faith. He then continued:
I don't know what role the Lord has for me in all this. I do know—and looking at prophecy—that the United States will play a big role, that there has to be a return first to a religious awakening, and, more than likely, any persecution, particularly of the Sabbath, will come from the right, not from the left.
Here's the video:
This was a brief comment, but in front of a Seventh-day Adventist crowd, he mentioned prophecy, which has a well-defined meaning for this audience, and what he said jibed with White's prediction: In the End Times there would be a (false) religious awakening and persecution of Christians who stick to the Saturday Sabbath. Interestingly, Carson said this persecution would be waged by conservative forces—a notion consistent with White's fixation on the Catholic Church as the lead player in the Sunday Sabbath conspiracy.
Asked by Mother Jones whether Carson believes in the Sabbath persecution prophecy and thinks Seventh-day Adventists will at some point be considered criminals, arrested by government forces, and ultimately sentenced to death, a spokesman for the candidate said in an email that this was "not a fair interpretation at all." He added, "Trying to twist a person's faith is quickly becoming a favorite sport of the left. That kind of intolerance exposes who they really are, not what they claim to be. He never mentioned prophecy, you did." When Mother Jones followed up by noting that Carson indeed had referred to "prophecy" and Sabbath "persecution" in the video, the Carson spokesman replied by sending the original statement, but with the false claim that Carson had not mentioned "prophecy" now excised.
Even though political candidates often emphasize their faith, the specific religious beliefs of office seekers are usually not scrutinized. But Carson has made a series of anti-Muslim comments, and as a fellow seeking the presidency, Carson might fairly be asked about his penchant to believe in extreme conspiracies and whether he truly fears a plot to criminalize Saturday worship and use state force to round up Seventh-day Adventists and others who don't wait until Sunday to commemorate the Sabbath. Carson, who has said present-day America "is very much like Nazi Germany," has forthrightly stated that he believes Satan has pushed the theory of evolution and embraced the notion that commies have secretly infested the schools, media, and government of the United States. If his dark vision of the world extends further, he probably ought to share it with the voters.